To celebrate the Lookfantastic Beauty Box turning two, we had to share our favourite easy chocolate cake recipe with you all! It's gorgeously lightweight, beautiful in texture and tastes incredibly indulgent. It's everything you would want in a birthday cake!
The sponge itself is chocolate, while in the middle, delicately whipped cream balances out the deep cocoa taste. To top it off, make sure you use fresh and seasonal berries to add an extra touch of sweetness, we can't wait to delve in!
The recipe itself is inspired by BBC Good Food.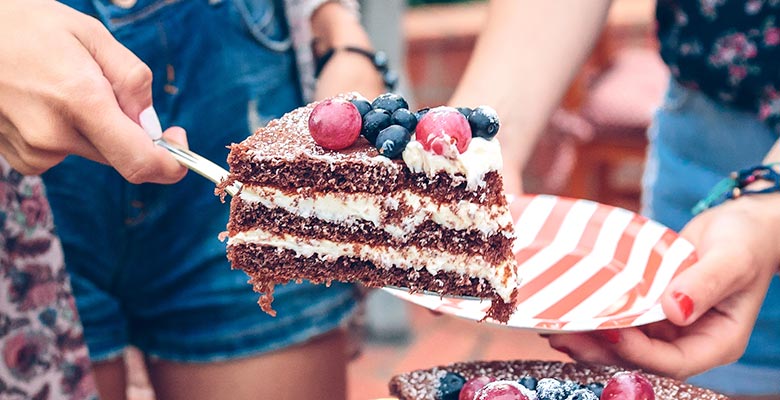 Easy Chocolate Cake Recipe
This easy to make chocolate cake will leave you and your guests wanting more thanks to its gorgeous texture and taste.
You will need 1 x 20cm Springform Cake Tins
Ingredients
175grams - Unsalted Butter
150grams - Golden Caster Sugar
100grams - Dark Brown Soft Sugar
75grams - Self Raising Flour
75grams - Cocoa
50grams - Melted Milk Chocolate
150ml - Sour Cream
50grams - Full Fat Cream Cheese
200grams - Plain Flour
1tsp - Bicarbonate of Soda
3large - Eggs
500grams - Icing Sugar
250grams - Unsalted Butter
150grams - Full Fat Cream Cheese
50grams - Melted White Chocolate
50grams - Berries
Instructions
Preheat the oven to 160 degree (fan oven).
Grease your baking tin with a little butter and line it with baking parchment.
Beat the butter and the sugars together until you get a smooth and even consistency.
Beat the eggs in, one at a time until they are fully incorporated into the mixture.
In 2 separate bowls, mix together the cocoa, bicarbonate of soda, plain and self-raising flours, and the soured cream and cream cheese. Add half of each mixture into the egg and butter mixture, alternating each one.
Pour the mixture into the cake tin, and bake for approximately 1 hour.
Leave the cake to fully cool once it comes out of the oven. This will give you time to make the icing!
Now it's time to make the icing. The last 5 ingredients on this recipe are for the icing mixture. Beat the 250g of butter until you get a very pale consistency. Add in the icing sugar and mix until fully incorporated.
Add in the cream cheese and melted white chocolate and mix until fully combined. If you feel like the icing is too runny, then you can always add a little more icing sugar!
Split the cake into 3 even cakes once they have fully cooled.  Spread the icing on the bottom, middle and top layers evenly and then decorate with the fresh berries.
Enjoy straight away!

Our team of beauty experts cover everything from makeup to skincare, picking out the most effective products from the best brands and latest trends. Stay up to date on everything beauty with the LOOKFANTASTIC blog, and find all your essentials in one place.