Nothing gives a more fabulous finish to your makeup than a brush and complexion sponge, and there is no brand we trust more with this task than Real Techniques.
Real Techniques are at the forefront of makeup accessories, with their brushes, sponges and cleansing palettes of the highest quality. Whether you are a makeup novice or a serious cosmetic enthusiast, everything is formulated to make sure you put your best face forward.
What Makes Real Techniques Brushes So Special?
All of the brushes from Real Techniques are made from a synthetic material known as Taklon, which is not only cruelty-free (so suitable for vegans!), but also suitable for those with sensitive skin as it is less likely to cause skin irritation compared to brushes made with natural fibre materials.
As the brushes have been made with this high-quality material, they also wash brilliantly, stay in shape, and most importantly give a flawless finish to your complexion thanks to their tight shape.
The brand has grown from strength to strength, and what began as a core collection of makeup brushes now includes a range of different textured and sized products, alongside new exciting innovations.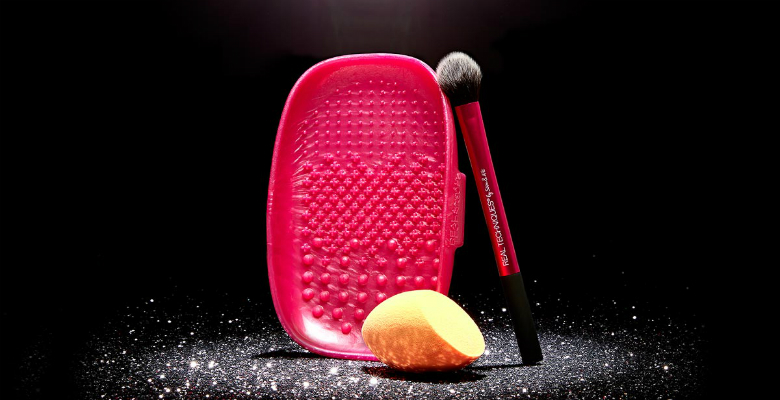 Top 3 Real Techniques Makeup Brushes And Accessories
Buy now

with LOOKFANTASTIC

The original collection; the Core Face Brushes are the ideal gift for someone entering into makeup or want a capsule collection for every day wear and travels.

The kit itself contains a Detailer Brush, which is great for lip application or foundation touch-ups, a Buffing Brush for powder and mineral foundations, bronzer and blush, a Contour Brush for the perfect sculpted finish, and a Pointed Foundation Brush for liquid foundation and concealer application.

Buy now with free delivery

Buy now

with LOOKFANTASTIC

For those of you that have joined the beauty sponge trend, the Real Techniques Miracle Complexion Sponge is one of the best we have tried.

You can use it with both cream and liquid textures, making it great if you like switching between foundations. The different contours of the brush allow you to do your whole face with it rather than reaching for a selection of brushes. The round side if great for applying your base, while the flatter and edgier sides can be used for spot-concealing.

Buy now with free delivery

Buy now

with LOOKFANTASTIC

While you can clean your makeup brushes by hand, this can cause damage to them and not actually clean them properly.

Using a cleansing palette not only makes washing your brushes a lot easier, but thanks to its little nodules, gets into the nooks and crannies of the brush to deep cleanse it without causing damage to the bristles. The Real Techniques Palette comes with a trial-size of their Brush Cleanser too so you can give your brushes a super deep clean.

Buy now with free delivery
Want to find out more about our Spotlight Saviours? Browse our edit of the best makeup around for this Black Friday and get that shopping list ready.