Now we've told you all about the Laura Geller face makeup, it is time to add some colour! Laura Geller is known for her baked makeup, with amazing pigmentation and shimmers, so no it is the turn of all her gorgeous colour makeup.
We're talking all about the best blush, bronzer, lipstick and eye makeup from her range, with all the information on the shades and formulas. Find your new favourite!
The Laura Geller Colour Range
With all of her baked makeup made in Italy, the Laura Geller makeup offers beautiful colours with a soft sheen and skin nourishing ingredients. Find out all about the different products and which shades you need to try.
Baked Blush n Brighten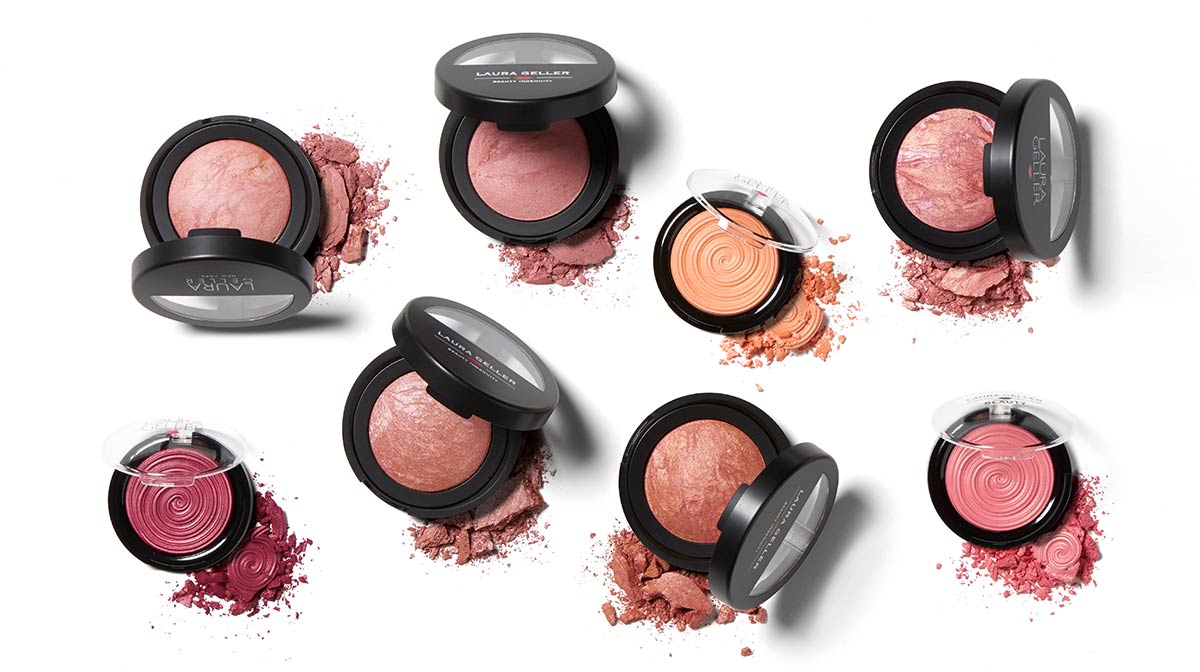 This is one of the most well-known blushes from Laura Geller. With a swirl of different pigments in each one that blends together for a beautifully luminous pop of colour, there are 5 different shades to try.
Tropic Hues

 has a mix of coral, pink and bronze.

Pink Grapefruit

 is a gorgeous rich mauve with tones of beige and shimmering pink.

Roseberry

 is a pretty pink with rose pigment and a touch of gold.

Sunswept

 has a mix of pink, golden peach and a bronzy beige that make a gorgeous Summer shade.

Golden Apricot

 swirls together a gorgeous combination apricot, cream, gold and rose.

Pink Buttercream

is the perfect combination of petal pink with touches of copper and gold.
Bronze n Brighten & Baked Matte Bronzer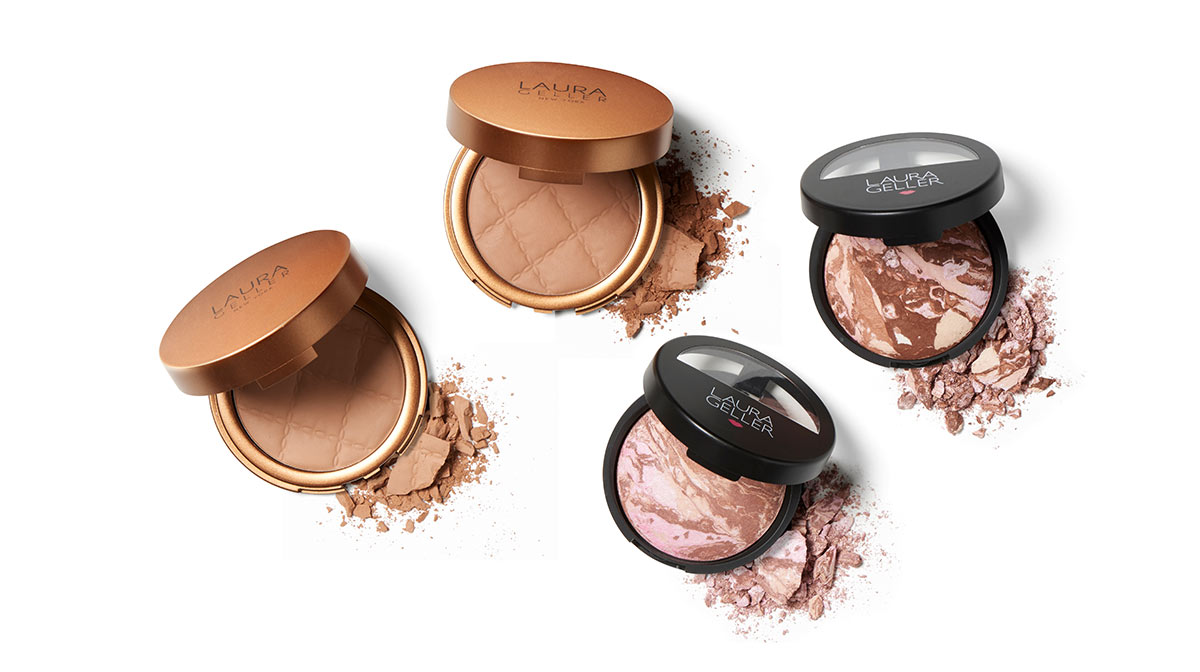 The Laura Geller bronzers include both a beautifully matte formula and the Bronze n Brighten formula, which brightens and illuminates.
The Beach Matte Baked Hydrating Bronzer comes in 3 beautifully rich shades: Fair, Medium and Deep.
Because they are totally matte, they add gorgeous definition and warmth to the face, looking perfect along cheekbones. The baked formula gives a velvety smooth result that can blend out perfectly.
In contrast, the Bronze n Brighten bronzers use a combination of silky, luminous pigments that swirl together for a glowing finish. The mix of pigments mean that these adjust to your skin tone to give a naturally radiant look in just a sweep of a brush. Fair combines soft pink, gold and tan tones whilst the Medium contains rich cocoa with coppers and a touch of pink and beige.
Delectables Eyeshadow Palette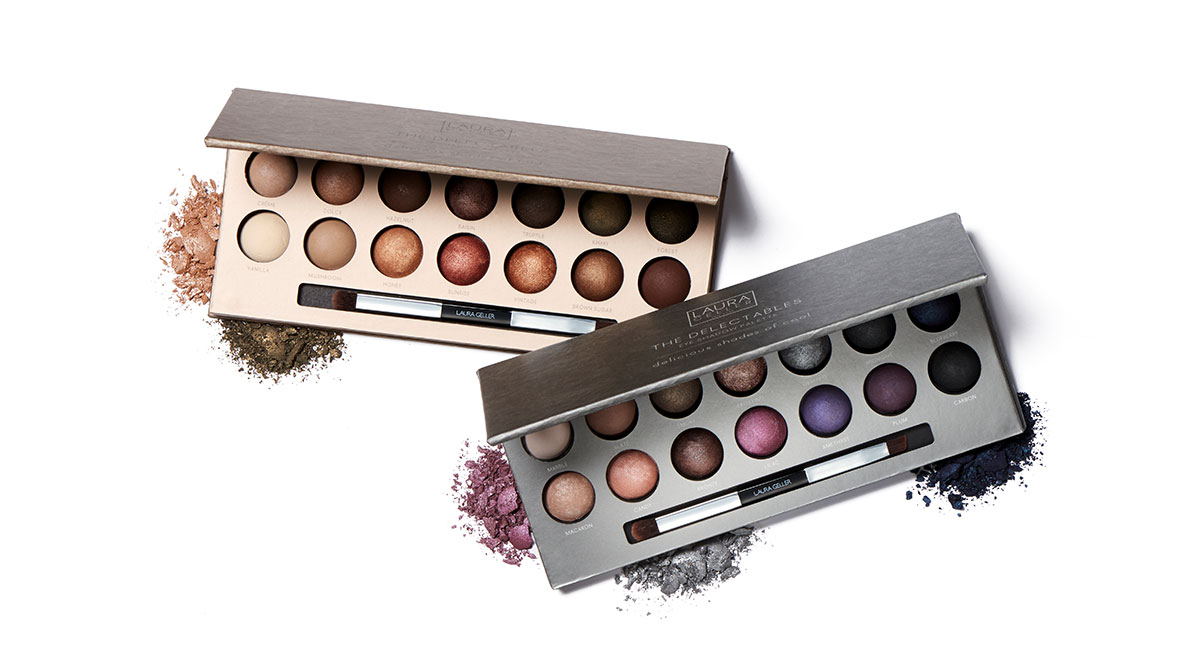 The beautiful domed shadows in the Delectables Eyeshadow Palettes have us swooning. They use baked pigments for intense colour payoff that feels weightless yet lasts all night long.
They can be used dry for a softer shimmer, or applied wet for a more vibrant, metallic look. These are all you need to get a whole mix of different looks to take you from day to night.
The palettes are available in 2 different colourways.
Shades of Cool

includes 14 different cool toned colours, ranging from soft nudes to deep purples and blues.

Shades of Nude

includes 14 different warm neutrals that include pale golds all the way to rich coppers and greens.
INKcredible Waterproof Gel Liner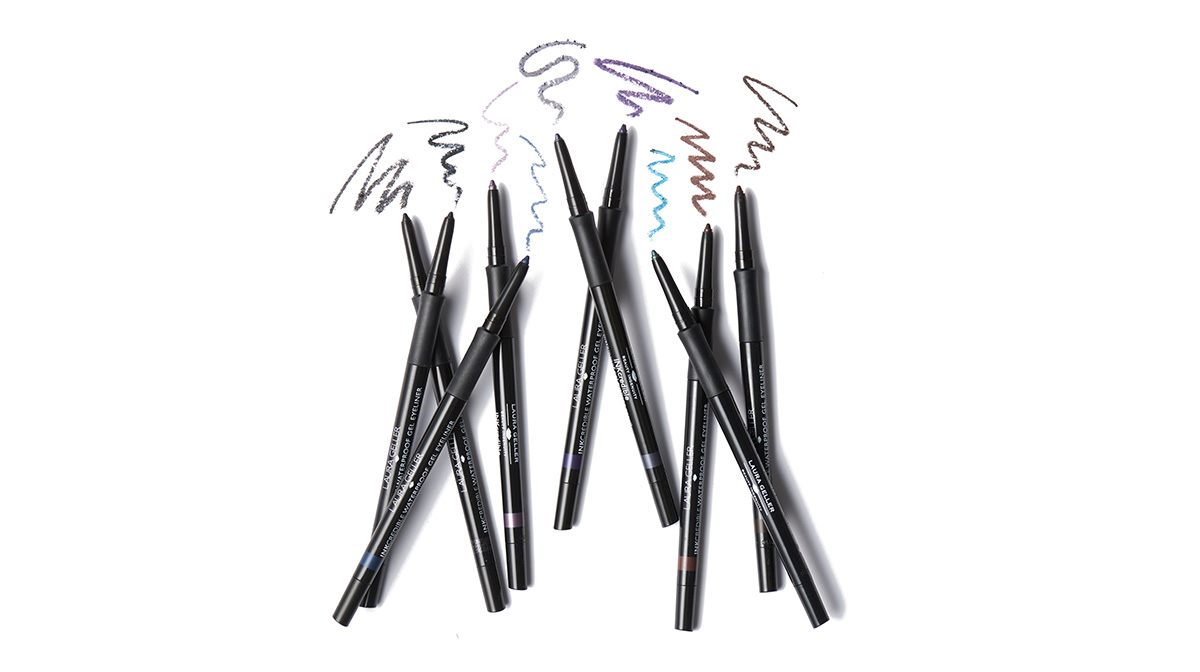 These silky eyeliners glide on with a soft gel formula that gives an intense colour that won't smudge.
With a combination of rich and vibrant colours, these liners also give a gorgeous multi-tonal finish thanks to the addition of soft shimmers, perfect for topping up a smokey eye look as well as worn alone.
Available in 9 different shades from classic black to vibrant teal:
Purple Rain

is a beautiful iridescent purple

Teal Waters

is a vivid aquamarine teal

After Midnight

is a soft black with a pearlescent shimmer.

Blackbird

is a pure, deep black.

Blue Lagoon

 is a deep navy blue with silver shimmer

Blue Velvet

 is a brighter cobalt blue infused with silver shimmer

Brown Eyed Girl

 is a deep espresso brown with silver shimmer

Brown Sugar

is a pure, rich brown

Fade To Grey

 is a dark steel grey shot through with silver shimmer
Iconic Baked Sculpting Lipstick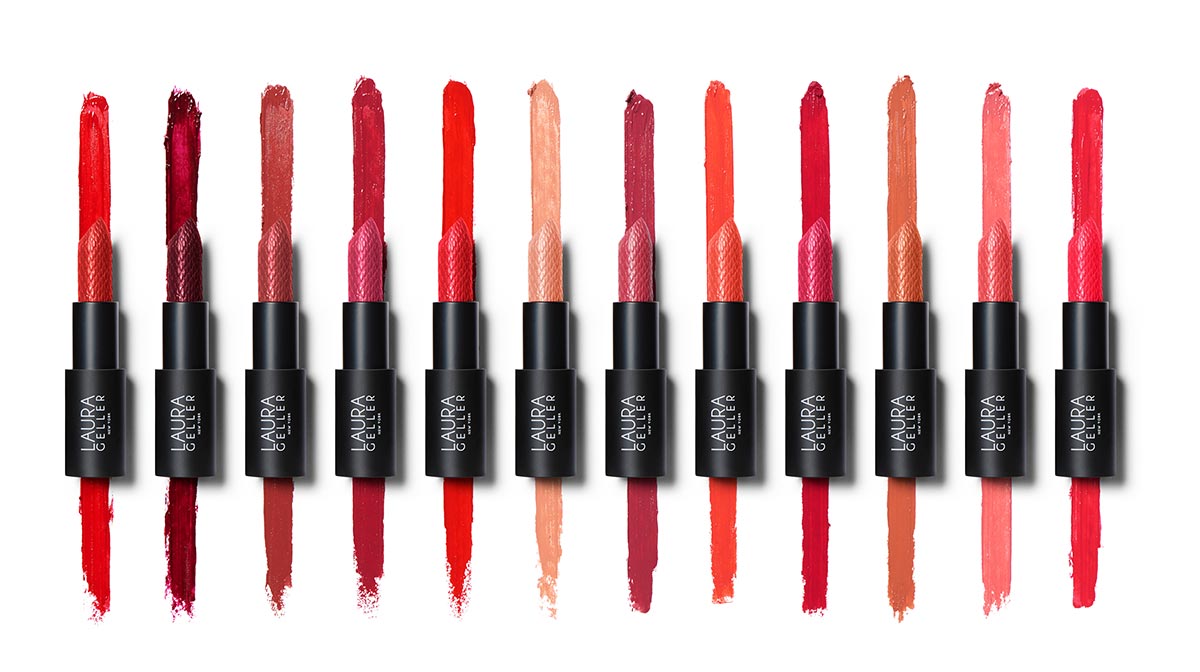 These classic lipsticks are a must try. With vibrant pigments and a soft, creamy formula that helps to hydrate for all day comfort and colour, these give amazing pigmentation.
Specially designed with a curved bullet, you can apply them straight onto the lips in one swipe. The range is available in 12 luscious shades that go from soft neutrals to rich brights:
East Side Rouge

 is a pretty dusky rose

Soho Nude

 is a rich, creamy neutral

Tribeca Tan 

is a warm beige nude

Central Park Spice

 is deep cinnamon

Mulberry Street

 is a rich raspberry

Madison Ave. Pink

 is a bright fuchsia pink

Fifth Ave. Ruby

 is a pure crimson red

Lexington Ave. Coral

 is a bright coral

Big Apple Red

 is a true bright red

Bleeker St. Peach

 is a pinky coral peach

Greenwich St. Berry

is a bright berry pink

Broadway Plum

 is deep plum aubergine purple
Luscious Lips Liquid Lipstick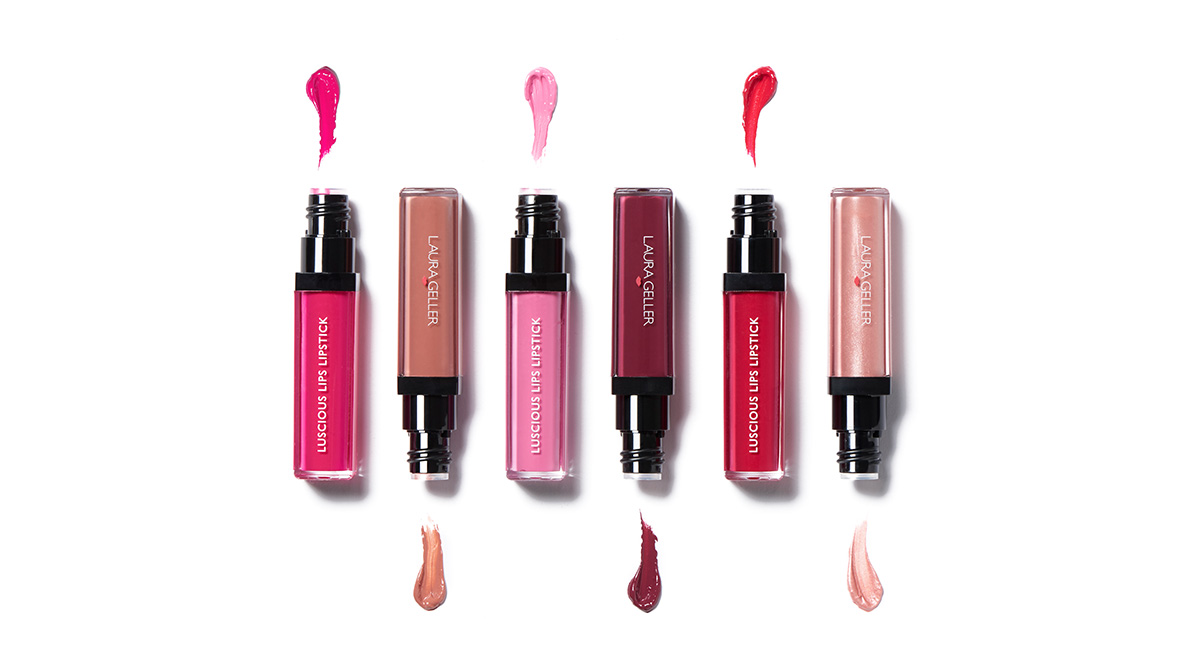 Liquid lipsticks are always a favourite and the Laura Geller Luscious Lips Liquid Lipsticks are a must-try. Thanks to the Vitamin E enriched formula, they don't dry out the lips, instead drying down to a semi-matte finish that lasts all day long.
With 6 different shades each with a touch of shimmer and shine, these give you gorgeous and healthy looking lips, whatever shade you choose.
Candy Pink

is a pure, blue toned pink with a touch of silver

Cherry Almond

is a pretty, coppery warm nude

Cherry Sorbet

is a bright raspberry red

Chili Spice

is a rich, dark magenta

Fuschia Fever

is a bold, bright hot pink

Peach Buttercream

is a soft peachy coral
Shop the Bestsellers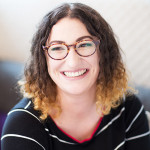 Major fan of scented candles, Make Up brushes and Highlighter. I'm always on the hunt for those Holy Grail products and my dressing table is covered in more beauty products than I like to admit. As an adopted Northerner originally from Brighton, I spend most my days wondering what all this rain is about. My hair isn't grateful for the move. Currently loving:
NIOD Photography Fluid