Find your new favourite signature with our Discovery Fragrance Edits – a bundle of 5 FREE travel-size scents in an exclusive travel bag from brands such as Armani and Valentino. PLUS, get £10 off your full-size favourite! *   
Delve into the story behind each scent and learn how these luxurious fragrances make you feel the mood they evoke: from bright and fresh to rich and sensual...
Fragrance for HIM Discovery Edit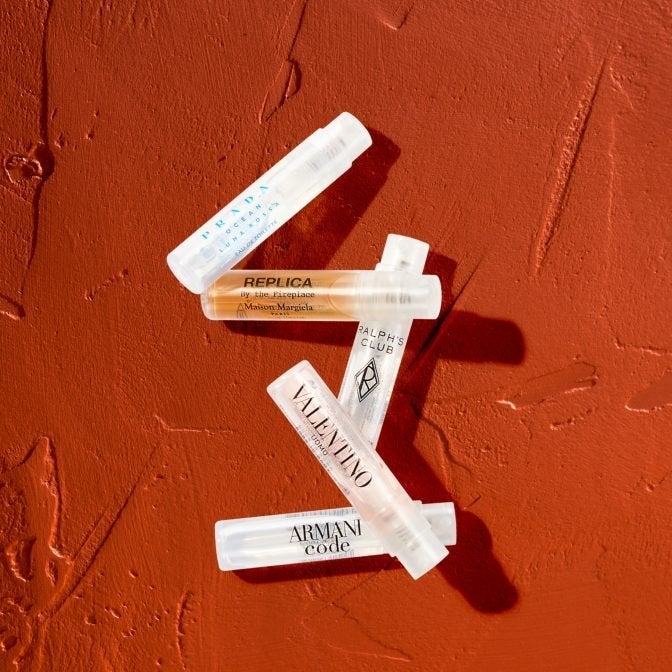 The date night fragrance - ARMANI CODE ABSOLU EAU DE TOILETTE SPRAY 1.2ML 
With a heart of aphrodisiac tonka bean and smooth guaiac wood, this unique masculine fragrance evokes the scent of seduction, the perfect fragrance for date night. 
The beachside scent - PRADA LUNA ROSSA OCEAN EAU DE TOILETTE 1.2ML   
Inspired by modern adventure, the refreshing bergamot and sophisticated Iris, evoke a cool sophisticated freshness resembling the ocean, the perfect cool and sophisticated fragrance for a hot summer day spent by the beach. 
The evening drinks scent - RALPH LAUREN RALPH'S CLUB EAU DE PARFUM SAMPLE 1.2ML   
Crafted with exclusive, refined and precious raw materials, Ralph's Club encapsulates the most glamorous night of your life in a bottle, a night where anything can happen.  
The night in scent - MAISON MARGIELA REPLICA BY THE FIREPLACE EAU DE TOILETTE 1.2ML   
The enveloping and cocooning sensation of a cosy room warmed up by a fireplace in the midst of winter is recreated through the blend of Clove Oil and red berries. The delicious sensation of chestnuts roasting in the fire is evoked through the chestnut accord.  
Cocktails at sunset - VALENTINO BORN IN ROMA UOMO FOR HIM EAU DE TOILETTE 1.2ML   
A cool vibrant and aromatic Geranium & Sage twisted with the colourful fresh apple accord. Inspired by the coral shade of sunsets over Rome, this is the perfectfragrance to have by your side as you enjoy some cocktails over a beautiful sunset. 
*Voucher redeemable on the full-size fragrance included within the box ONLY & on LOOKFANTASTIC only. See voucher for full details.
Fragrance for HER Discovery Edit- now sold out!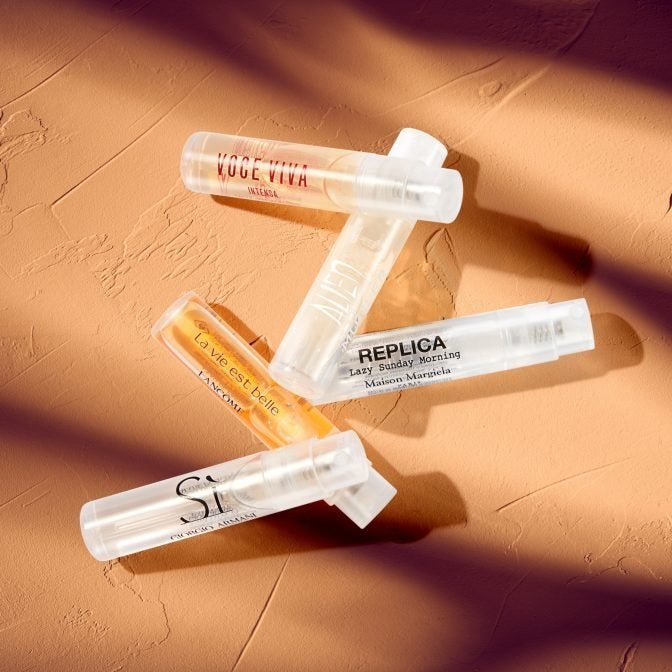 For the dance floor - ARMANI SÌ EAU DE PARFUM 1.2ML 
Sophisticated and sweet. With notes of rose, freesia, vanilla and wood, emitting feelings of confidence, sensuality and strength, helping women feel empowered, liberated and powerful! 
The garden party perfume - MUGLER ALIEN GODDESS EAU DE PARFUM 1.2ML   
Floral, oriental and woody notes- bringing imagination to the soul.A garden party where you are the floral goddess. Feel fresh and elegant with a hint of mysterious warmth when spritzed A summer picnic must-have. 
The European summer scent - VALENTINO VOCE VIVA INTENSA EAU DE PARFUM 1.2ML 
Transport yourself to an Italian orchard where femininity is celebrated to the highest degree. Feel softly sensual and at one with nature and your body, with notes of orange blossom and vanilla. 
The bedroom scent - MAISON MARGIELA REPLICA LAZY SUNDAY EAU DE TOILETTE 1.2ML   
Floral notes of rose iris and white musk, allowing you to dream of a lazy Sunday morning in fresh cotton sheets. Wake up feeling inspired for the day ahead and take a deep breath of relaxation. The perfect lazy-day feel-good scent. 
The picnic perfume - LANCÔME LA V'IE EST BELLE 1.2ML 
Run through a blooming sweet flower garden, bursting with fresh floral notes and spun sugar, bringing happiness and freedom every day. Angelic and mystical. 
*Voucher redeemable on the full-size fragrance included within the box ONLY & on LOOKFANTASTIC only. See voucher for full details.
Why not discover new beauty every month with a subscription to LOOKFANTASTIC The Box? With over £50 worth of beauty delivered to your door, our 12-month membership is just £13 each month and includes FREE Premier Delivery worth £9.90 to use across all your LF beauty purchases, meaning you're always eligible for our fastest delivery option at no extra charge!
Not to mention, you'll be first in line for our limited and seasonal boxes with £10 off Limited Editions. If you're also signed up to our LF Beauty Plus+ rewards club, this subscription will boost your points to redeem on your orders! What's not to love? Subscribe today.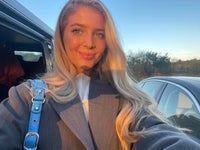 As a content executive with a passion for beauty, I am always looking for ways to streamline my routine. I'm obsessed with minimalist skincare and I like to focus on natural products to highlight my features and give my skin the ultimate glow!