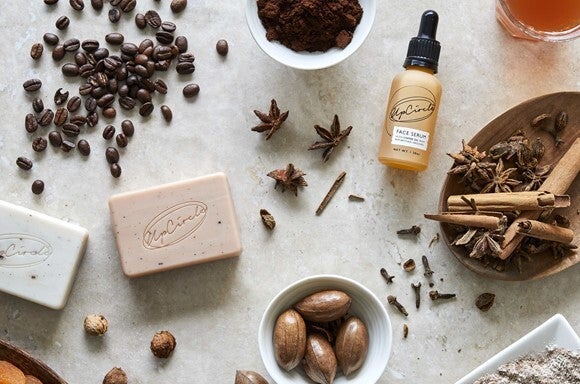 About the Brand
UpCircle are doing things differently and are now known in the industry as the pioneers of "circular skincare". Five years back, they decided to start collecting coffee from cafes across London and transforming them into skincare products. They also repurpose more than ten other by-product ingredients from varied industries, including the argan, tea, juice, date, olive and wood industries. The brand has seen staggering growth in the last five years, selling hundreds of thousands of products per year worldwide.
Rather than bombarding people with doom and gloom headlines they focus on positive change. For example, each of their face scrubs rescues the equivalent of four espresso shots from being discarded. It's tangible, it's uplifting, it makes you feel good, it's something to be proud to support.
They really have taken the beauty world by storm. Their press coverage is constant and extensive, with features by press giants like Vogue, Refinery 29, Cosmo and Grazia.
"Nothing is safe from being UpCircled – only our imagination can limit us! Next up, we're saving flower petals from florists and wedding venues."
- Anna Brightman, co-founder of UpCircle