Having risen through the ranks of the haircare world, Color Wow is the brand name on everyone's lips. With their expert formulations, celebrity stylist endorsements and TikTok viral hacks, their products have fast become haircare must-haves.
Not sure which ones to try? From their Dream Coat Supernatural spray, to the Money Masque, we asked the experts which were their favourite Color Wow products and why.
The viral haircare sensation that has got the beauty community talking, this heat-activated formula works to waterproof locks using polymer technology, helping you to achieve your silkiest, sleekest hair yet. Also available in a curly hair formula, this spray offers 72 hours of protection without any greasy residue.
"Without a doubt, Dream Coat Supernatural Spray [is my Holy Grail]. Not only does it have the weather-proof finish, but it also improves and transforms the texture of the hair, ensuring it's frizz-free and silky smooth. There's not a client that I work on that I don't start the styling process with Dream Coat." - Chris Appleton, celebrity hair stylist and global creative director
A pre-shampoo treatment, this formula is designed to remove minerals from tap water that can build up in the hair over time and dull your colour. A wash-day hero to keep your colour in check between salon visits, this lightweight treatment detoxifies locks for a brighter finish.
"Dream Filter is incredible and will refresh your hair in as little as 1-3 mins. It will remove all the harsh metals, minerals and toxins found in the water you use to wash your hair in, leaving you with bright, fresh, clean flowing strands." - Dom Seeley, celebrity hair stylist and international creative director.
One of the brand's most iconic products, this weightless hairspray gives your hair all the hold, without any of the crunchiness that typically comes with styling products. A reparative formula, this hairspray contains hydrolysed keratin to strengthen fragile colour-treated strands, hydrolysed silk to fill and smooth hair's surface and UV filters for colour protection.
A regular feature in Chris Appleton's styling kit, the stylist owes one of his favourite haircare hacks to this product: "[my favourite hack is] my volume pony hair hack using Color Wow's Cult Favorite Hairspray that went viral on TikTok." 
A one-step treatment to achieve your most expensive-looking hair, this moisturising mask targets the hair cuticle to deliver expert hydration. Infused with blue sea kale to strengthen, and Mediterranean sea kelp to condition strands, this weightless mask quenches all hair types from root to tip.
"Money Masque gives incredible hydration and helps with the strength of your hair in as little as 1-3 mins (or 20+ minutes if you want to intensify the benefits). Its quick delivery system infuses your hair, leaving it hydrated and repaired, but has no waxy films or coatings. It's a weightless formula that rinses away so leaves no build up - just glossy, expensive-looking hair." - Dom Seeley, celebrity hair stylist and international creative director.
A rich, leave-in treatment designed to enhance silkiness and manageability, this coconut oil-infused formula penetrates deep into strands to hydrate hair. Creating a 'lubricating film' that coats the outside of each strand, dry, dull locks are left silky and soft.
"Coconut Cocktail is incredible - think a boost of hydration or food for your hair. It's weightless, and absorbs into your hair with no sticky or heavy build up, working as a treatment that you leave in and a blow dry aid. Using heat to activate, it moisturises your hair and replicates the actual surface layer of your hair, locking down the cuticle layer to give incredible shine and softness to dry dehydrated straw-like strands." - Dom Seeley, celebrity hair stylist and international creative director.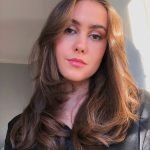 As someone with an affinity for all things beauty, discovering fantastic new products is my not-so-secret obsession. Over the years I've tried and tested a mountains worth of creams, serums and cleansers, finding some of my favourite 'holy-grail' products along the way. However, I'm always on the lookout for more ways to nourish my hair, perfect my dewy base, or enhance my skincare routine. Working as a beauty blogger for over 3 years, I've been lucky enough to collaborate personally with lots of amazing beauty brands including Christian Dior, The Body Shop and Dermalogica. I've used the Dermalogica special cleansing gel religiously since I first got it and their products are some of my ultimate skincare faves. When it comes to cosmetics, NARS Sheer Glow foundation is definitely my go-to - I live for a light, glowy base!