Whether you're a fake tan newbie or just need some handy tips to up your tanning skills, we've created a step-by-step guide on how to fake tan so you can achieve that gorgeous sun-kissed skin as well as our top tips for a fabulous, streak-free faux glow.
Top tips for perfect tanning
If you struggle to get your tan streak free and perfect, you may be making some small mistakes which are affecting your glow:
Don't apply deodorant or perfume

before tanning or while it develops. It can prevent the tan from adhering to the skin and may even turn some tans green.
Make sure you

allow your fake tan to fully dry

before dressing. When you do dress, stick to something that's loose and dark, so it doesn't rub against your skin or show any marks.
It is

best to apply in the evening

 and let tan develop overnight. This will give it the best amount of time to full develop (most tans need at least 4-6 hours).
When you wash off your tan after it has developed,

keep water slighter cooler

than usual and resist the temptation to use scrubs or soap; it can fade your tan. Just rinse until the water runs clear.

Hair removal should be done 24 hours prior to tanning

. Fake tan is prone to sticking into those loosened pores, creating dark dots all over your skin which disrupts your tan often causing it to look patchy.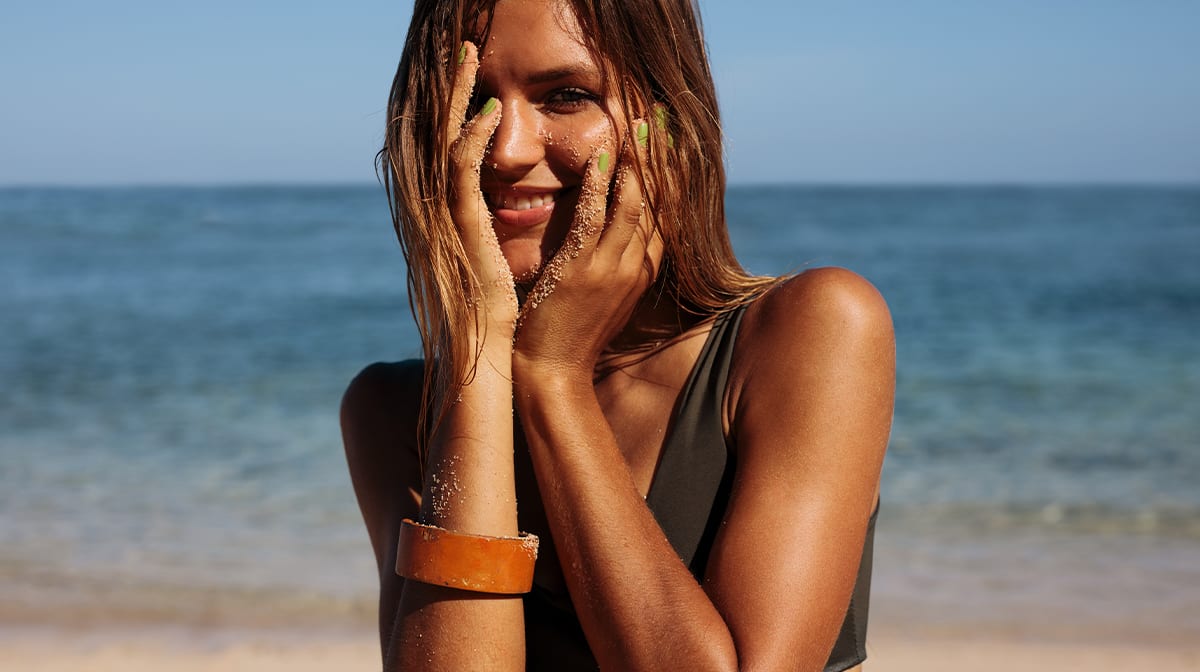 Advice
5 Myths About Fake Tan
Debunking the myths around fake tan. We're taking 5 common fake tan misconceptions and setting it straight when it comes to self-tan application.
Your step-by-step tan routine
Step 1: Find your perfect self tanner
First, you should decide on the type of tan you want to apply. If this is your first time tanning, you may want to opt for a gradual self-tan like the Vita Liberata Fabulous Self Tanning Gradual Lotion for subtle and natural colour change. If you're feeling a little more adventurous and want a stronger and deeper-looking tan, then we recommend choosing a dark glowing self-tan like the Bondi Sands Self Tanning Foam in extra dark. For different options of how dark to go, the St Tropez Self-Tan Express Advanced Bronzing Mousse gives you full control. Leave it on for 1 hour for a sun-kissed effect, 2 hours for a golden glow, or 3 hours for a deep, dark bronze colour.
Step 2: Exfoliate
Before you apply any tanning products, it's really important to exfoliate. We recommend doing this 24 hours prior to tanning. Not only will this get rid of dead skin, but it will also create the perfect base for your chosen tanning products. When exfoliating, it's really important to pay extra attention to those really dry areas like your feet, ankles, elbows and knees. If you have any other areas that are super dry, make sure to exfoliate them as well. For the best results, we like to alternate between using a gentle but effective scrub like the Forest Essentials Exfoliating Body Polish or using an exfoliating mitt, like the AMELIORATE Exfoliating Body Mitt, every other day.
Step 3: Moisturise
After exfoliating, it's crucial that you apply plenty of moisturiser. Fake tan will annoyingly will cling to any dry areas, so you want to make sure you are well-hydrated beforehand. It's really important to go over and moisturise those dry areas, making sure to leave at least 2-3 hours before tanning, as you could prevent the tan from adhering to the skin. We love the Aveeno Daily Moisturising Lotion for a rich and creamy feeling, hardworking moisturiser that really replenishes hydration and softens the skin. It also creates the perfect, even base for applying your tan smoothly and patch-free.
Step 4: Apply your tan
When applying, we suggest using a tanning mitt like the St. Tropez Tan Dual Sided Luxe Tan Applicator Mitt to ensure that your hands stay protected from any unwanted orange palms. Using a mitt ensures that the tan application is as smooth and easy as possible. For fool-proof application, it is best to start from the bottom up. Start with the shins, applying in circular motions and adding more product as required. Applying methodically helps make sure you don't miss any patches. Just be careful around the hands and feet; the best way to avoid orange streaks is to buff any leftover tan from the legs and arms lightly over these. Less is definitely more. As for the back, it really is best to ask someone to give you a hand with getting it all covered.
Step 5: Maintain
Now you have got yourself bronzed and beautiful, the trick is keeping it even and long-lasting. The main way to keep tan fading evenly is to keep exfoliating gently and moisturising. This will also help keep your skin in tip top condition if you want to top up your tan again in a few days. We find that most tans last for about 5 days, but for an extra long-lasting effect, try out the Vita Liberata PHenomenal 2-3 Week Tan. It really does stay around and is brilliant before heading off on a holiday.
To boost your glow, we also love using body oils like the NUXE Huile Prodigieuse Golden Shimmer Multi Usage Dry Oil. It makes limbs looking silky smooth and beautifully bronzed, perfect before a night out.
Step 6: Remove
When your tan does eventually start to fade or it's time to repeat the process all over again, remove your tan properly using a tan remover such as the Isle of Paradise Over it Magic Self-Tan Eraser. The vitamin enriched formula, gently chemically exfoliates the skin to remove all tan and dead skin, allowing you to start from fresh. The formula doesn't dry out the skin and contains a nourishing blend of Avocado and Coconut Oil to maintain moisture levels.
For a 3-in-1 kit that does it all, the St. Tropez Bestsellers Kit contains everything you need from application to removal. The set contains a Bronzing Mousse, Applicator Mitt and Remover, made with the highest quality ingredients to ensure a level all over tan and nourishing removal when the time comes.

Our team of beauty experts cover everything from makeup to skincare, picking out the most effective products from the best brands and latest trends. Stay up to date on everything beauty with the LOOKFANTASTIC blog, and find all your essentials in one place.