Shea Butter is the fat (the good kind!) that is extracted from the nuts found on the Native West African Shea Tree. Shea butter is an incredibly diverse and nourishing ingredient that is widely used in skincare and body care thanks to its high concentration of fatty acids and vitamins. Here, we'll be sharing the main benefits of using shea butter on your hair and body, as well as introducing you to our favourite shea butter infused products.
What is Shea Butter?
Shea butter is made up of a number of beneficial ingredients including Vitamin A and Vitamin E, as well as fatty acids such as linoleic acid, palmitic acid, oleic acid and stearic acid. Shea butter is extremely conditioning thanks to the inclusion of other fats such as triglycerides and cetyl esters which help nourish and lock in moisture.
The Benefits Of Using Shea Butter
 1. Shea butter is intensely hydrating
Thanks to shea butter's high concentration of fatty acids, when it is applied directly to the skin, shea butter restores the barrier between your skin and environmental aggressors that can cause the skin to dry out. Shea butter also seals in moisture within the epidermis (the outermost layer of the skin) so your skin looks and feels hydrated, soft and supple.
2. Shea butter is suitable for all skin types
Shea butter works to improve your skin's natural collagen production and doesn't contain chemical irritants known to dry out the skin. What's more? It won't clog pores, making it a great all-rounder for all skin types from oily to dry. Learn more about shea butter and how it can benefit your skin.
3. Shea butter is a natural antioxidant
With high levels of Vitamin A and Vitamin E, shea butter is a natural antioxidant which is significant in helping reduce the signs of ageing. This is all thanks to the protective barrier that those key vitamins form.
The Best Shea Butter Products For Hair And Body
Looking for a restorative conditioning treatment for your hair? If your hair is relaxed, texturised, coloured or permed, choose the Cantu Shea Butter Leave-in Conditioning Repair Cream. Infused with pure shea butter, this leave-in conditioner will enhance the softness and overall manageability of dry hair. Use daily to experience visibly stronger, healthier hair.
Give your hair a treat with the Jamaican Black Castor Oil Strengthen, Grow & Restore Shampoo from Shea Moisture. Made with a cocktail of beneficial ingredients such as apple cider vinegar, organic shea butter and omega-rich Jamaican Black Castor Oil, you can look forward to cleansed, soft strands with a lustrous shine.
Do you have heat styled, frizzy, or chemically processed hair? The Jamaican Black Castor Oil Strengthen, Grow & Repair Edge TreatmentfromShea Moisture is a nutrient-rich formula that works to strengthen, condition and promote healthy hair growth. Organic shea butter, peppermint and Jamaican Black Castor Oil strengthens, conditions and promotes healthy hair growth.
The Best Shea Butter Products For Your Body
Do you have dry skin? Relieve itchy, flaky and irritated dry skin with the Aveeno Skin Relief Body Lotion with Shea Butter. For long-lasting comfort, this nourishing, quick-absorbing and highly moisturising lotion is fortified with shea butter and a naturally active Triple Oat Complex to help restore the skin's natural protective barrier.
Nourish and treat your skin with the Garnier Intensive Shea Butter Body Lotion. This fast-absorbing, ultra-moisturising lotion is enriched with shea butter to help create a barrier against harmful external aggressors. Skin is left silky, smooth and hydrated after just one use.
Looking for a 100% natural multi-tasking product? The Dr PAWPAW Shea Butter Balm can be used on the lips, skin and hair. Formulated with a host of natural ingredients, including rich shea butter, moisturising Aloe Barbadensis Leaf Juice and Carica Papaya to aid hydration.
Treat your lips to some shea butter goodness with the PIXI Shea Butter Lip Balm in Scarlet Sorbet. This lightweight balm features a subtle slick of sheer colour and the unique 'lip-texture' formula is hand-poured into a luxurious base of Shea Butter to moisturise and soften.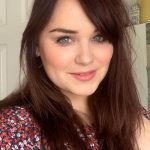 I've been writing about hair and beauty for over 10 years. I am a collector of vintage perfume and my go-to look always includes a bold pink lip! For more, visit https://www.goodgollymisshollie.co.uk