Post last updated: 19/01/2023
Water based foundations are great if you like lightweight coverage and a natural looking finish. However, they are also super to use in your makeup routine if you have especially dehydrated skin, or skin that is prone to excess shine and gets a little oily throughout the day.
If you suffer from severely oily skin, these may not be mattifying enough for you (read about our best foundations for oily skin here), but if you need a little extra coverage, these are our favourite options.
Our Top Picks of the Best Water Based Foundations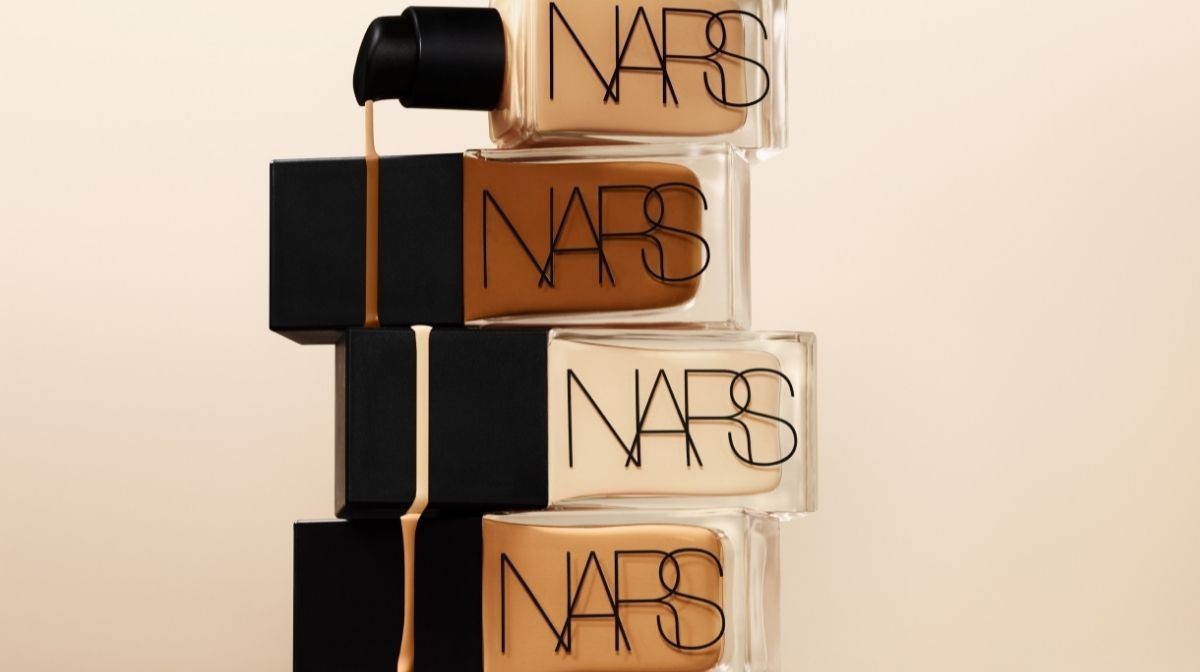 Why are Water Based Foundations Good for All Skin Types (Including Oily)
A lot of water based foundations tend to be oil-free, making them great if you suffer from excess shine. However, even if they're not, the high water content in them makes them super nourishing without being heavy, meaning your skin stays hydrated without becoming shiny or oily throughout the day.
Additionally, water based foundations are super lightweight and can be built-up to your desired coverage without going cakey, making them great if you do suffer from excess shine (which can typically break up makeup molecules and leave your skin looking streaky).
Which Water Based Foundations are the Best
Discover our selection of the best water based foundations below for beautifully hydrated and luminous skin.
Cover FX Natural Finish Foundation
Cover FX's Natural Finish Foundation has been specially formulated with a water-base to help deliver unrivalled hydration into the skin without making it look shiny. The formula is also infused with Vitamins C and E to shield against environmental aggressors, making it a great foundation if you live in a city and are concerned with the effects of pollution on your skin.
Buildable and with a natural satin finish, it melts into the skin upon application to give your complexion a flawless glow.
Estée Lauder Double Wear Light Soft Matte Hydra Makeup
Estée Lauder's Double Wear Light Soft Matte Hydra Makeup is infused with hyaluronic acid to hydrate, whilst also boasting incredible oil-controlling properties to keep shine at bay. It has a super lightweight texture which blends effortlessly into the skin and leaves the complexion flawless and natural with coverage that lasts all day.
The foundation is also non-acnegenic and fragrance-free, making it great if you suffer from sensitivity or breakouts.
Lancôme Teint Miracle Foundation
Formulated with a super high water concentration, the Lancôme Teint Miracle Foundation provides 18 hours of hydration without making the skin go shiny. With a lightweight, natural and matte finish, the face base keeps oil at bay and is fragrance-free so won't cause irritation or aggravation.
It also contains pearlescent pigments which add radiance so that even though the skin looks mattified, it doesn't look flat. As a result, this is one of our favourite water based foundations when our skin looks a little fatigued.
MAC Studio Waterweight Foundation
As it's name suggests, MAC's Studio Waterweight Foundation is a unique water based serum-gel foundation that provides 8-hour wear against sweat, heat and humidity. Using a water-base, it provides continual hydration throughout the day without adding excess shine, while its elastic formulation works into the skin as you apply for a gorgeously flawless finish.
It's both cake-resistant and streak-free, and won't go patchy throughout the day, making it great with anyone who has a slightly oily or combination complexion.
bareMinerals barePRO Liquid Foundation
bareMinerals is a brand synonymous with being perfect for anyone with slightly oily or blemished skin thanks to its blend of mineral pigments which are breathable and lightweight.
Their barePRO Liquid Foundation has unique Mineral Lock™ Long Wear Technology, which contains mineral pigments and lipids to hydrate and keep the makeup in place for 24 hours. Its blend of nourishing ingredients hydrate the skin without feeling heavy, and it's both non-comedogenic and hypoallergenic, as well as being free from oil, making it great for oily skin types.
NYX Total Control Drop Foundation
The second ingredient in NYX's Total Control Drop Foundation is water, making it one of the most hydrating yet lightweight water based foundations we have ever tried. It's perfect for wearing as a sheer and natural face base, or building up for a fuller coverage finish. It has a custom application which makes it easy to distribute the right amount of product for you, and comes in a huge shade range so you can find the right colour for your skin tone.
Chantecaille Future Skin Oil-Free Foundation
Made with 60% water, Chantecaille's Future Skin Oil-Free Foundation is perfect for oily and combination skin types as it's incredibly hydrating whilst also being oil-free. Aloe leaf and camellia extract soothe the skin, while a blend of colour pigments blur imperfections and give the appearance of a flawless complexion. The buildable formula can be worn sheer for a natural finish or built-up to your desired finish.
Pixi H20 Skintint
Enriched with rose water, green tea, chamomile and lavender, Pixi's H20 Skintint is made from the very best botanicals to nourish and soothe the skin without clogging pores. Lightweight and breathable, it helps to conceal minor imperfections and provide sheer coverage when you need a little extra concealing without wearing a full face base.

Our team of beauty experts cover everything from makeup to skincare, picking out the most effective products from the best brands and latest trends. Stay up to date on everything beauty with the LOOKFANTASTIC blog, and find all your essentials in one place.