"Collagen" is always a buzzword in the beauty industry. From keeping your skin healthy and firm, to glowing and elastic, it's an ingredient we should be including in our daily routines to keep our own natural production levels high.
What is Collagen?
A protein naturally found in the skin, collagen is one of the important protein structures for keeping your skin healthy and plumped-up. In fact, it actually makes up 75% of your skin's natural structure, but as we age this figure decreases, and our skin can become less elastic, less radiant and fine lines and wrinkles can appear.
When we start our skincare routines from our 20's, it's so important to include collagen creams and skin treatments that work in harmony with your skin's collagen production to keep it elastic and firm. Our edit below details our favourite collagen creams and treatments, which can easily be added into any regime.
What are Collagen Creams and How do They Work?
Collagen creams are powerful anti-ageing skin treatments which either contain collagen or boost the skin's own natural collagen production.
They also usually contain other potent ingredients which keep the skin healthy and youthful-looking such as peptides and botanical extracts.
Our Top 10 Picks of the Best Collagen Creams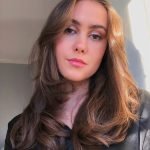 As someone with an affinity for all things beauty, discovering fantastic new products is my not-so-secret obsession. Over the years I've tried and tested a mountains worth of creams, serums and cleansers, finding some of my favourite 'holy-grail' products along the way. However, I'm always on the lookout for more ways to nourish my hair, perfect my dewy base, or enhance my skincare routine. Working as a beauty blogger for over 3 years, I've been lucky enough to collaborate personally with lots of amazing beauty brands including Christian Dior, The Body Shop and Dermalogica. I've used the Dermalogica special cleansing gel religiously since I first got it and their products are some of my ultimate skincare faves. When it comes to cosmetics, NARS Sheer Glow foundation is definitely my go-to - I live for a light, glowy base!