In an era where Love Islanders rule our social media screens and Netflix rom-coms go viral overnight, it can feel like everywhere you look, a new love story is blossoming. The pressure (particularly for women) to be in a relationship is no new phenomenon, but our constant exposure to #couplegoals and Instagram boyfriends has shifted the way we view our love lives in recent years. By default, the word single has somehow become synonymous with the word unhappy.
What the single life stigma fails to consider however, is how being single can positively impact your life. From building your independence, to helping you rediscover your sexuality, singledom can be a truly liberating experience at any age. No stranger to the dating scene, we asked fashion Influencer Millie Shields (aka @milliegshields) to share some advice for singletons, and talk all about the benefits of single life. So whether you're fresh out of a relationship, or you've been flying solo for a while, read on for her words of wisdom.
What advice would you give someone who has just come out of a long term relationship?
The most important thing is to spend time with your friends and family, and to do more of what makes you happy. But at the same time, don't forget to process the emotions you're feeling right now. This means having a good cry and letting it all out in a safe and comforting environment. All of these things combined will help you start to heal.
The mood-boosters
Are there any unexpected benefits you have found from being single?
Coming out of a relationship is a really draining process. Not only mentally, but also physically. But since I came out of my previous relationship, I can see the positives from the situation. Not only has it given me back my independence, but it has also given me back my confidence! I've also made a lot of new friends since becoming single which has been one of the huge positives for me.
What are your top three self care products when dealing with those post-break up 'down days'?
My top three products for when I'm going through a down day would definitely be the Tan-Luxe gradual tan to give myself a golden glow, a Project Lip Lipgloss to make me feel glam, and any of the So Divine toys because they are amazing!
What advice would you give to someone who feels pressured to be in a relationship?
First and foremost, if anyone is putting pressure on you, then they don't have you best interests in heart! Try to ignore this pressure and focus on other important things like yourself, your career and improving your mindset. Good things come to those who wait so don't rush!
Do you think being single can positively affect your sex life?
Yes! I think being single massively affects your sex life. It gives you a chance to reconnect with your sexuality, and it can definitely allow you to experience and experiment with things that you may not have been able to do when you were in a relationship. If you have any fantasies or kinks that you're into, then now is your time to explore!
Our sexual wellness staples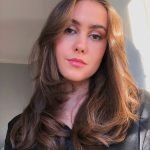 As someone with an affinity for all things beauty, discovering fantastic new products is my not-so-secret obsession. Over the years I've tried and tested a mountains worth of creams, serums and cleansers, finding some of my favourite 'holy-grail' products along the way. However, I'm always on the lookout for more ways to nourish my hair, perfect my dewy base, or enhance my skincare routine. Working as a beauty blogger for over 3 years, I've been lucky enough to collaborate personally with lots of amazing beauty brands including Christian Dior, The Body Shop and Dermalogica. I've used the Dermalogica special cleansing gel religiously since I first got it and their products are some of my ultimate skincare faves. When it comes to cosmetics, NARS Sheer Glow foundation is definitely my go-to - I live for a light, glowy base!