Forget yoga, oat milk, or matcha, the booming wellbeing trend of the year is sexual wellness, with searches for the term across the globe up by an incredible 123%.
Social media and Gen Z are opening up the conversation and the misty sex taboo is finally clearing. We are once and for all championing our sexual identities and we want to celebrate it. So let's stop beating around the proverbial bush, and get into what this sexual wellness trend really is.
Sex has become more than just physical. These last two years in and out of lockdown have made people really evaluate their own sexual existence, for example not depending on others for satisfaction has led to the growing understanding of sexual wellness as crucial for our emotional and physical wellbeing.
Cameron Long-tel, Sex-Educator from LELO explains, "I think it's the lonesomeness of COVID and the increased availability of sex toys online and in mainstream settings. We're moving away now from fem-tech and sex-tech and we're moving into actual sexual wellbeing, where we're really thinking about supplements, sex toys, menstrual cups, ovulation kits as fundamental to our general wellbeing. It's a sustainable and exciting shift to see people making.''
But how big has this sexual awareness and wellness trend really grown over the past few years? And where across the globe are people embracing it the most? We've taken a deep dive into the world of sexual wellness to kick-start some frank conversations.
THE SEXUAL WELLNESS CAPITALS OF THE WORLD
Sexual wellness isn't just about the act of sex or performance; it's all in how we think about it from a holistic perspective and embrace our unique sexual existence. Exploring your own sexual wellness varies from person to person: it may be searching the term to learn more about what sexual wellness really is, using STI tests to protect yourself, searching for pornography, masturbation for self-pleasure, or buying sex toys and experimenting with apps like OnlyFans to celebrate your sexual identity - all of these factors contribute to how sexually aware we are.
By analysing monthly Google searches for the following in each country, we have produced a 'sexual wellness score' for every city across the globe and combined these for each country to reveal where in the world people are embracing the sexual wellness trend the most and breaking taboos. We looked at the following searches:
Year on year percentage increase in searches for 'sexual wellness'
Monthly search volumes for STI tests
Monthly search volumes for Pornhub
Monthly search volumes for masturbation
Total Sexual Wellness Products Purchased in 2019-2021
Number of Only Fans Accounts in each country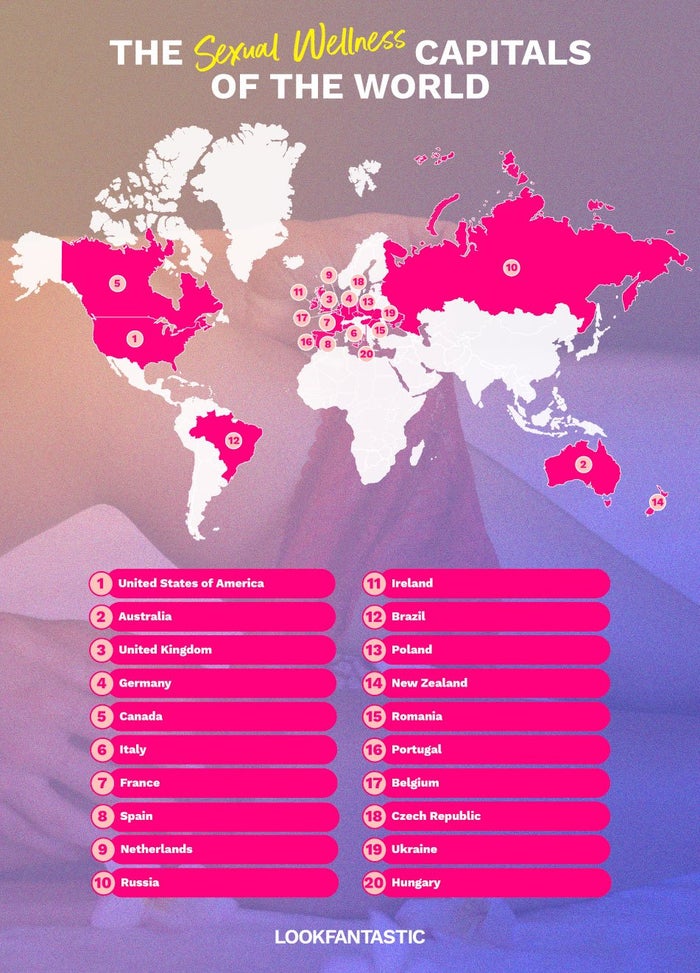 The United States of America comes in at number one as the most sexually aware country. Asides from their major cities searching the most for 'sexual wellness', their sexual wellness score was also ramped up by their avid use of OnlyFans. The UK beat its European neighbours (Italy, Spain, and Germany), and France has Paris to thank for ranking in the top 10. Their capital city not only has the highest search volumes for masturbation in the world but also, alongside London, has the highest search volumes for Pornhub.
Surprisingly, Russia, a country known for being very conservative when it comes to talking about sex, actually ranked in the top 10 most sexually aware countries while the Netherlands, a country known for being very open about sex and still ranked in the top 10, came in at the lower end of the spectrum.
THE SEXIEST CITIES MAPPED
Now it's time to get specific. Countries are big places, and we all know that there are certain cities who lead the way when it comes to embracing new trends. By ranking each cities' monthly search volume for each metric alongside their sales of sex toys and number of OnlyFans Accounts, we have developed an index of the most sexually aware cities across the globe who are making waves when it comes to exploring themselves (and others).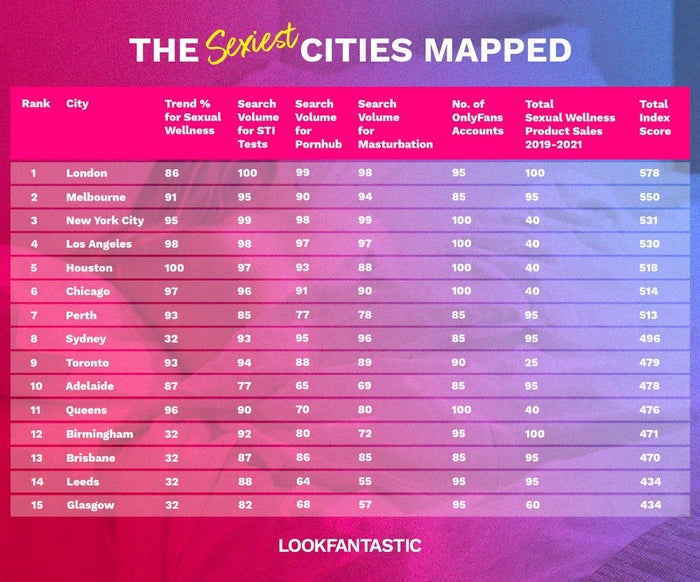 Coming in at number one is London, who has seen a 57% increase in searches for the 'sexual wellness' trend. This curious city ranks number one due to having the highest search volume for STI tests alongside residing in the country that has the highest sales for sexual wellness products. They also draw with Paris in having the highest monthly searches for PornHub. Both cities rake in a whopping 4,090,000 average monthly searches for the site.
Melbourne comes in at number two. They rank above other Australian cities such as Perth and Sydney due to their big interest in PornHub. Compared to Perth's 823,000 monthly searches for the site, Melbourne rakes in an incredible 1,830,000 searches for it alongside searching nearly three times more for STI tests than Perth.
The Big Apple completes the top three most sexually aware cities. Their high sexual wellness score is due, in part, to New York residing in the country with the highest number of Only Fans accounts across the globe. Coming in just behind London, they also have the second-highest search volume for STI tests (4,400) and have seen an incredible 225% increase in searches for the 'sexual wellness' trend.
But it is Houston, who ranks number 5 overall, that has seen the biggest direct spike in interest and curiosity for the sexual wellness trend. Their population has seen an incredible 1300% increase in searches for the term.
ONLY FANS WORLDWIDE HOTSPOTS
Amid a pandemic, OnlyFans quickly became the standout platform for people — both regular folk and celebrities — to make extra money from home. It's a subscription-based digital service where content creators charge their subscribers, or "fans," to access their photos and videos.
But now, in the post-pandemic world, which country has embraced the digital platform the most and can be crowned the ultimate boss with the most OnlyFans Accounts?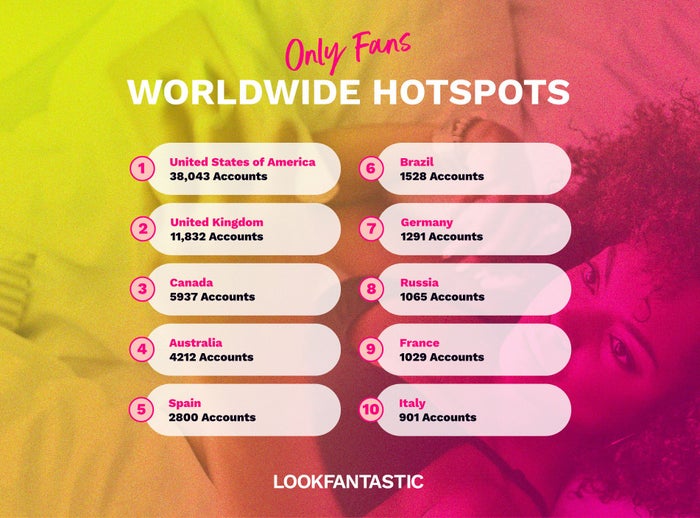 With the size of the country, it may be unsurprising that the USA has the most OnlyFans accounts in the world, with a total of 38,043 accounts. But what may come as a surprise is the UK coming in at number 2. For such a small country, the UK has a whopping 11,832 accounts compared to a country the size of Russia, which has just 1,065 accounts.
For a country that is rather closed when it comes to conversations about sex, however, Russia's use of OnlyFans is a sign in changing attitudes towards sexual openness and wellness. Canada, Australia, and Spain are also big fans of OnlyFans, all ranking in the top 5 countries with the most users. Whilst countries such as Hungary, Poland, and Belgium all have below 300 accounts.
TOP 10 SEXUAL HEALTH CITIES
Whether you're sleeping with the same person or living your best casual sex life, getting STI tests is super important to looking after your sexual health and practicing sexual awareness.
When the first lockdown happened in 2020 and social distancing measures got in the way of many people's love lives, we found that search demand for STI tests dropped by a staggering 66%. But now, with social distancing measures relaxed, we found that globally, demand for STI tests has spiked back by 192%. This shift in demand sheds positive light on the world taking the steps to looking after their sexual health.
But, we wanted to take a closer look at which specific cities across the globe are doing it the most.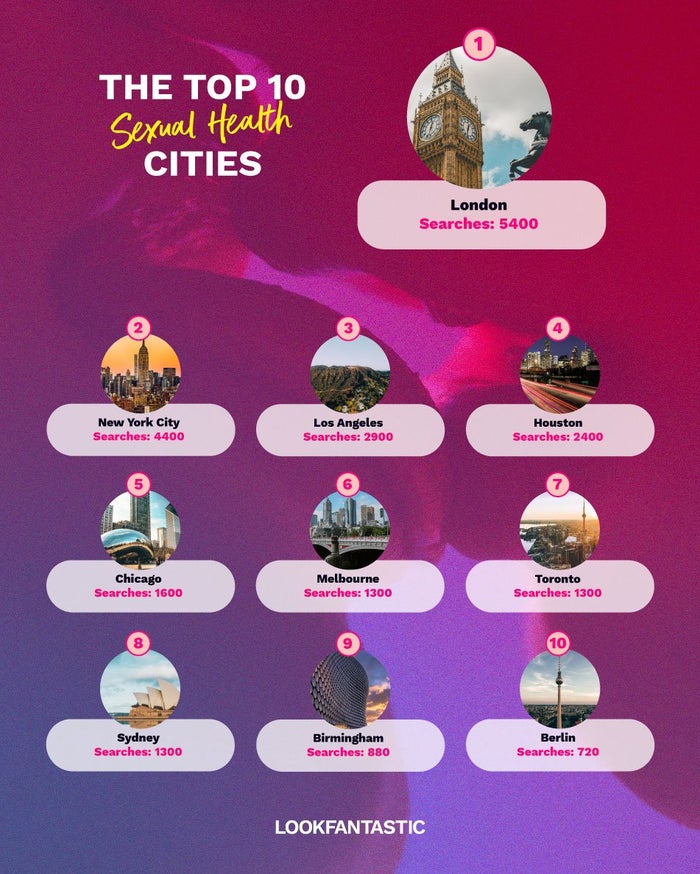 Two cities in the UK ranked in the top 10. London came in at number one, and Birmingham at number 10. US cities, New York, Los Angeles, Houston, and Chicago also proved avid users of STI tests as well as Australian cities Melbourne and Sydney. With the increased visibility and awareness of sexual health promoted by social media and hugely popular shows such as Sex Education, people are more keen to look after their sexual health by taking regular STI tests. (We are here for it).
THE SELF PLEASURE CAPITALS OF THE WORLD
When lockdown hit and our social lives were put on hold, people took sexual pleasure into their own hands and our sales for sex toys surged like never before. Cameron Long-tel explains that "people had the time during lockdown to explore, to decide what they wanted to do with their body and make an investment. What came out of this was a new-found interest in masturbation, self-pleasure, sex toys, and the sexual wellness trend. People discovered the liberation sex toys can offer and the importance of sexual health, things that will not be left behind with lockdown."
But which countries have seen the biggest sales of sex toys and can be crowned the self-pleasure capitals of the world? And which countries' time in lockdown caused a new interest in self-pleasure and saw the biggest increase in sales throughout the pandemic?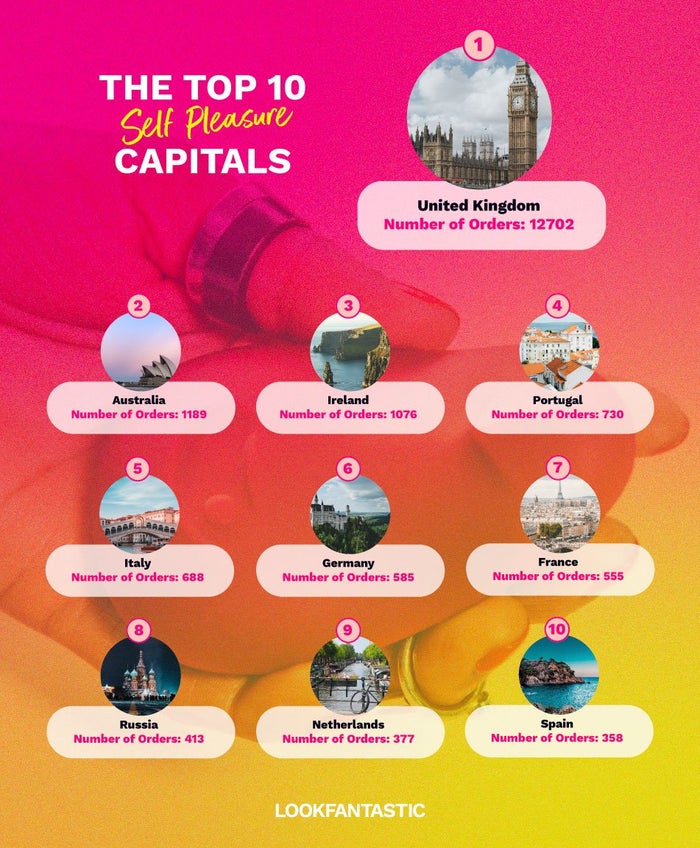 We supply over 200 countries and when it comes to sex toys, the United Kingdom is our biggest fan. With 12,702 orders of sex toys in 2021, a figure which has increased by an incredible 6685% since the pandemic in 2019, they have certainly proved themselves as the self-pleasure capital of the world. Following behind them is Australia, which has also seen an impressive 2123% increase in sex toy sales. Ireland, Portugal, and Italy also rank in the top 10 self-pleasure capitals of the world with the largest sales of sex toys.
Although Romania didn't rank in the top 10 when it comes to orders, they have seen the biggest sales increase throughout the pandemic. Since 2019, their sales of sex toys have increased by an outstanding 21000%. The United States saw the second-biggest sales increase with a 19500% increase, followed by Ireland and then the United Kingdom.
We may be out of lockdown, but with sales still surging like never before, sex toys and self-pleasure are things we will not be leaving behind with it.
The countries with the biggest increase in sex toy sales from 2019-2021
Rank

 

Country

 

Sales Increase os Sex toys
from 2019-2021
1
Romania
21000%
2
United States of
America
19500%
3
Ireland
8277%
4
United Kingdom
6685%
5
Canada
3400%
PORNHUB HOTSPOTS
When it comes to PornHub and perhaps putting these self-pleasure toys to use, London and Paris are the sites' biggest fans. Each month, they both rake in a staggering 4,090,000 searches for the site. Following closely behind is US cities, New York and Los Angeles with 3,350,000 monthly searches. Australian cities Sydney and Melbourne also rank in the top 10 PornHub hotspots, alongside European cities Rome and Madrid. The site's popularity is immense and these figures increase year on year.
While it's great to use porn, Cameron Long-tel from LELO suggests being careful. "If you watch a lot of porn, you can become desensitised because your receptors start to be unable to differentiate between performance and reality. So you need to ensure you're staying healthy mentally by loving yourself within but also know that this can be a shared feeling with a partner, threesome or whatever it is that you want to do. It doesn't have to just be you and you. It can be private, sexy, sub-love but try not to lose the intimacy aspect of sexual wellness, as well, as it's important for your mental and sexual health."
The Top 10 Cities Searching for PornHub the most:
City
Monthly Search
Volumes for 'pornhub'
London
4090000
Paris
4090000
New York City
3350000
Los Angeles
3350000
Milan
2740000
Sydney
2240000
Rome
2240000
Houston
2240000
Melbourne
830000
Madrid
830000
THE WORLD'S BEST SELLING SEX TOYS
So we know where in the world people are most into sex toys and self-pleasure, but which products are the world's favourites? By analysing sales data from 2021 across the globe, we have identified the best selling sex-toys so that you know which ones to invest in.
Smile Makers are the stand out winner, but it is their Surfer product that takes the crown overall. SoDivine and LELO products also dominate the rankings.
The Top 15 Best Selling Sex Toys of 2021 Across the Globe:
When it comes to using sex toys and masturbation, there are multiple health benefits. Sex expert Cameron Long-tel states that "It not only releases sexual tension, but it can reduce stress, improve sleep, self-esteem and it can also relieve menstrual cramps and muscle tension. But aside from these physical benefits, sex toys and masturbating are incredibly empowering for women. They are tools that you can use on erogenous zones, to find where you can experience pleasure, find your clitoris and your g-spot."
TOP TRENDING SEXUAL WELLNESS PRODUCTS
From our research, we have found that is it not just classic sex toys that have increased in popularity. From oils and candles to aphrodisiac scents and elixir oil, we found increased demand for a wider range of products which coincide with the sexual wellness trend.
So when it comes to expanding your sensuality, these are the most popular sexual wellness products in the US and UK according to Google search data.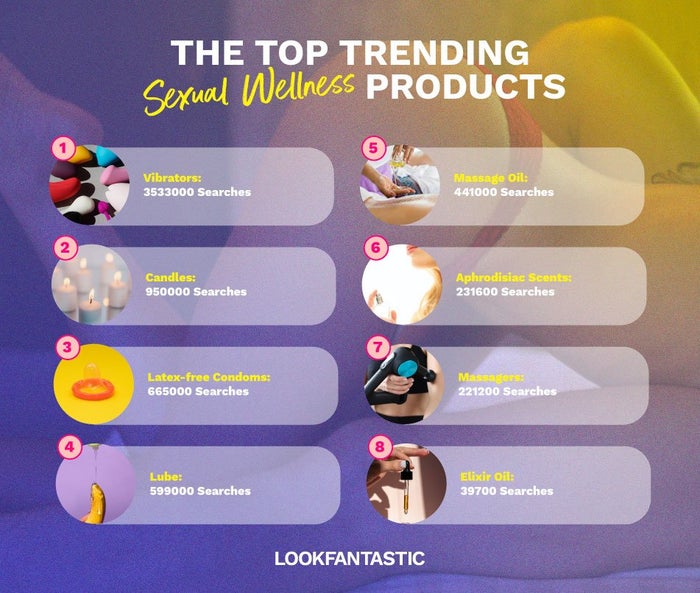 Vibrators are the most popular sexual wellness product and with a whopping 3,533,000 searches each month it will be difficult to steal their throne. But some surprising contenders include candles, aphrodisiac scents, and massagers. The sexual wellness trend has got people thinking less about kinks and more about ambiance.
Explore your Sexual Wellness With LookFantastic Today
Fancy embracing the sexual wellness trend yourself and trying something new? Take care of all of your sexual needs with our extensive range of sexual wellness products here.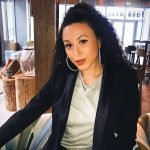 As a beauty obsessive, I'm always trialling and testing new, exciting brands and product discoveries. With over 6 years' experience in beauty writing, including freelancing on the Net-A-Porter beauty desk, I have lots of useful beauty hacks, tips and tricks to share. I'm constantly seeking the latest hair products to make my curls ultra-bouncy and defined. The Cantu Coconut Curling Creme is my Holy Grail! My lipstick collection is always expanding – and my favourite lip product of the moment has to be a nude lipgloss for the ultimate everyday look.