From spring cleans to fresh beauty routines, the arrival spring is a time for new beginnings, and a seasonal signature is a great place to start. As the weather warms up and the day grows longer, a new addition to your fragrance wardrobe signifies a new era full of promise.
Looking to upgrade your scent collection this month? Our beauty editor, Sheeva, shares the spring fragrances that deserve a spot on your beauty cabinet.
"If a sunny spring day could be bottled, this fragrance would be it. Just one spritz of this sweet, fruity scent has me dreaming of picnics and blue skies. Lightweight, yet layered with luxuriousness, the delicious blend of berries, jasmine and musk make Burberry Her my ultimate spring muse."
"Bursting with a botanical blend of white lily, freesia and marigold, this rich fragrance transports me to walking through a fresh spring garden. With super staying-power, a little goes a long way, meaning I'll be reaching for this scent all through the season and beyond."
"I didn't think it was possible for a scent to be so reminiscent of my youth, but this fragrance does exactly what it says on the bottle. The vibrant notes of mango, pineapple and orange blossom bring out my playful side, and with summer on its way, I won't be jet-setting without it."
"With the first signs of spring welcoming the holy month of Ramadan, this fragrance for Him is the first thing I'll be gifting to my dad. I'm in awe of the strength and resilience my dad shows during the fasting period, and with powerful notes of cinnamon and sandalwood, this iconic scent suits his personality to a tee."
"Housed inside elegant reeded glass and topped with a bow, this floral fragrance is my dressing table icon. Boasting a floral, yet woody scent - thanks to a sophisticated concoction of peony, rose and cedar – this classic scent is a surefire keeper."
"I gifted this fragrance to my sister, so whenever I smell it I'm always reminded of her signature scent. I love how scents carry the power to create a sense of nostalgia – whether it's a person, a place or a special memory. The warm vanilla notes of this luxurious fragrance are offset with tangerine and orange blossom, creating a pleasant blend that I (and my sister) can concur is nothing short of 'iconic'."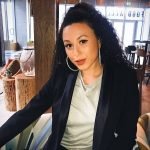 As a beauty obsessive, I'm always trialling and testing new, exciting brands and product discoveries. With over 6 years' experience in beauty writing, including freelancing on the Net-A-Porter beauty desk, I have lots of useful beauty hacks, tips and tricks to share. I'm constantly seeking the latest hair products to make my curls ultra-bouncy and defined. The Cantu Coconut Curling Creme is my Holy Grail! My lipstick collection is always expanding – and my favourite lip product of the moment has to be a nude lipgloss for the ultimate everyday look.