A tan accelerator is an easy way to improve your golden glow no matter whether you're at home or abroad.
If you're not a huge fan of fake tan or hate the look it gives 4 days into application, you will love the effects of a tan accelerator. We're here to give you all the advice you need to nail that natural glow without an inch of self-tanner in sight.
Which are the best tan accelerators?
How does tan accelerator work?
If you struggle to get a natural tan to your skin whilst sunbathing, a tan accelerator will be perfect for you. Although they feel like super luxurious moisturisers, they do a lot more than simply hydrate the skin.
Tan accelerators work by speeding up the skin's natural tanning process so that you get a bronze glow much quicker than usual. Packed with ingredients that encourage your skin cells to produce melanin (the compound responsible for tanning), they are brilliant to use on all skin tones. If you are fair and struggle to tan they can help speed up the process, or have a deeper skin tone, they can add a gorgeous bronze depth.
It's worth noting that tan accelerators do not replace sunscreens, and that you must always use an SPF while you're both in and out of the sun. Discover our favourite sunscreens here.
Why should I use a tan accelerator?
Unlike fake tans, tan accelerators do not cause streaks or make your skin appear orange because they contain no colour or DHA pigment.
They are packed with moisture-loving ingredients that help to hydrate the skin as it tans, so that you minimise the risk of dehydration, peeling and flaking.
When should I use a tan accelerator?
Tan accelerators should be applied 2-4 weeks before heading into the sun to really give your skin chance to build up its melanin production. Because they're super moisturising, they can replace your normal body cream during the summer months without any additional fuss or steps needed. Of course, if you don't want to give up your daily body lotion, just use over the top once it has absorbed.
The best tan accelerators for 2022
1.

Bondi Sands Protect and Tan SPF15 Tanning Oil

This dual-purpose sunscreen from Bondi Sands protects skin against UV rays, whilst enhancing your natural tanning process. Non-greasy on the skin, this formula contains self-tanning ingredients that work with your own skin to accelerate your tan for a beautiful golden glow!

2.

Dr. Russo Once a Day SPF30 Sun Protective Face Gel Tan Accelerator

For those who want to get a golden glow but stay protected, this lightweight and creamy tan accelerator is for you. Infused with Dr Russo's Long Wear SPF Technology, it gives sun protection for an impressive 12 hours. Infused with antioxidants, skin stays protected against external aggressors , whilst vitamin E and ferulic acid encourage a more youthful appearance.

3.

Skinny Tan Choc Gradual Tanner and Accelerator

This faux glow, tan accelerator hybrid is ideal for those who want an instant glow whilst their natural tan develops. Enhanced with an indulgent milk chocolate scent, this delicious formula is enriched with cocoa extract and vitamin E to condition the skin, allowing for an even coverage for an all over glow.

For those who want to develop their natural bronze from the inside out, these vegan gummies are a great alternative to body creams. Created with essential plant nutrients, these raspberry flavoured gummies are designed to support the skin's natural tanning process to promote a deeper, longer lasting tan all year round.

5.

Lancaster Sun Tan Maximizer After Sun Lotion

For those that want to prolong their summer glow, opt for this tan boosting lotion from Lancaster. Formulated with the brand's Tan Activator Complex, the lotion contains naturally-derived Buriti oil to intensify melanin production to maintain your golden, sun-kissed complexion. Suitable for use on both the face and body, this calming lotion rehydrates and softens skin to prevent premature peeling.

6.

Dr. Russo After Sun Body Repair Tan Maximizer

Cool and moisturise your complexion after a day in the sun with this lightweight, fast-absorbing formula from Dr. Russo. Created with vitamin E and Ferulic acid, skin is shielded from environmental aggressors and supported in its natural regeneration process. Locking in moisture, your golden goddess status is extended and maintained for as long as possible!

7.

Institut Esthederm Tan-Prolonging After Sun Body Lotion

For those who want to keep their natural tan looking flawless for as long as possible, this tan-prolonging lotion from Institut Esthederm is the one for you. Formulated with a soothing complex designed to calm burning sensations and keep skin moisturised, this calming product will give keep your tan looking glam long after you've stepped off the plane.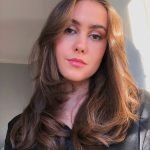 As someone with an affinity for all things beauty, discovering fantastic new products is my not-so-secret obsession. Over the years I've tried and tested a mountains worth of creams, serums and cleansers, finding some of my favourite 'holy-grail' products along the way. However, I'm always on the lookout for more ways to nourish my hair, perfect my dewy base, or enhance my skincare routine. Working as a beauty blogger for over 3 years, I've been lucky enough to collaborate personally with lots of amazing beauty brands including Christian Dior, The Body Shop and Dermalogica. I've used the Dermalogica special cleansing gel religiously since I first got it and their products are some of my ultimate skincare faves. When it comes to cosmetics, NARS Sheer Glow foundation is definitely my go-to - I live for a light, glowy base!