It's time to unwind and pamper yourself, after all, you deserve it! Do you have the evening to yourself? Or perhaps you've got a little more spare time than you thought? What better moment to take a little time out and relax?
If you are in need of some rest and recuperation after a busy few weeks, why not follow our home spa routine and give yourself a pamper?
The perfect home spa day routine
A relaxing pamper evening is all about making yourself feel special and taking the time to give yourself some well-deserved self-care. By setting the scene and treating yourself to experiences and products you wouldn't usually try, you can treat yourself to a spa session worthy of the pros.
Here at LOOKFANTASTIC, we've collated the best ideas for an at-home spa day as well as some recommendations on products to use, to ensure you feel thoroughly treated.
Home spa day ideas
1. Set the mood with a candle
The perfect spa experience is all about the atmosphere. If you are really going to unwind and relax, you need to set the mood. Before even thinking about beauty products, make sure your environment is as soothing as possible. Give things a little tidy up, get out fresh towels and pop on your favourite music so that you can feel like you are really about to enjoy something special.
The finishing touch for the true spa feel is to light a scented candle. We love the pure essential oils in the Aromatherapy Associates Relax Candle, which help to calm and soothe.
2. Use bath salts and have a long soak in the bath
Unless you are lucky enough to have one in your own house, the steam room and sauna experience are hard to replicate at home. Having a long hot bath or shower is the next best thing though. Make sure you are helping your pores open up and your body relax, with scented steam. Try the Ila-Spa Bath Salts for Inner Peace to get that spa touch. The Himalayan Salts help relax muscles and soften skin, whilst the blend of essential oils will help your mind unwind. A touch of luxury that will transport you straight to the spa!
3. Give yourself a DIY facial
There are incredible options available for giving your skin a real treat at home. One of our favourite splurges has to be the Ole Henriksen Power Peel Kit Pods. This is a 3 step facial treatment inspired by professional microdermabrasion treatments, which helps reveal smooth and radiant skin. It contains 6 sets of a scrub, a chemical exfoliant and a soothing mask, all in individual pods so you use the perfect amount for gorgeous skin. If you're on the lookout for a more affordable alternative, try the Dr. Hauschka Clarifying Face Care Kit, which contains everything you need for a real pamper, from cleansing to treatment masks.
4. Soften your skin with a body oil
Those bath salts will do wonders for leaving your skin silky smooth, but why not give them a helping hand for the ultimate spa feel? Try dry brushing before you take a bath (we love the Mio Body Brush), which will help detoxify and invigorate your skin. Then seal all the goodness in with an amazing body oil after you step out the water. The NUXE Huile Prodigieuse smells amazing and sinks straight into the skin for a luminous, healthy finish.
5. Give yourself an at-home manicure
For a long-lasting, spa-worthy mani-pedi, invest in a home Manicure Set. Gel nails last substantially longer than your usual polish, plus it leaves nails with that glossy sheen that we covet from the salon. With the Red Carpet Manicure Gel Polish Starter Kit, you get everything you need to give yourself a salon finish at home, from the LED light to the right topcoats. Plus there are a huge number of shades to choose from on-site. If you're not quite ready to invest in a full kit, try the cheat's method and use the Lottie London SO GEL Topcoat over your usual polish for that extra glossy finish.
6. Relax with a cup of herbal tea
After all your treatments, it is time to wind down and enjoy the last moments of your pamper session. Pop on that fluffy dressing gown and slippers and make yourself a good cup of tea. For the ultimate spa feel, try the Caudalie Draining Organic Herbal Tea. Made for their Vinothérapie Spa Tea Room, this blend contains Red Vine , Cinnamon, Blackcurrant, Orange Zest and Blueberry for a delicious and detoxifying tea. Sit back and relax.
Other ideas for the perfect home spa pamper session
You don't have to stop at our ideas above, you could also treat yourself to a pedicure, hand massage and deep conditioning treatment for your hair.
Time to yourself to recharge and recuperate is really important for your physical and mental wellbeing. So now you're ready for your at-home spa session! All that is left to do is relax and enjoy!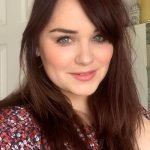 I've been writing about hair and beauty for over 10 years. I am a collector of vintage perfume and my go-to look always includes a bold pink lip! For more, visit https://www.goodgollymisshollie.co.uk