Happiness-inducing and calming by nature, welcome to the replenishing and refreshing world of NEOM. Encompassing 6 relaxing products to refresh the mind and senses from the body to home, enjoy the rich formulas and calming essences of NEOM in this Limited-Edition Beauty Box.
Small steps in your routine can make a big difference: feel the power of NEOM now.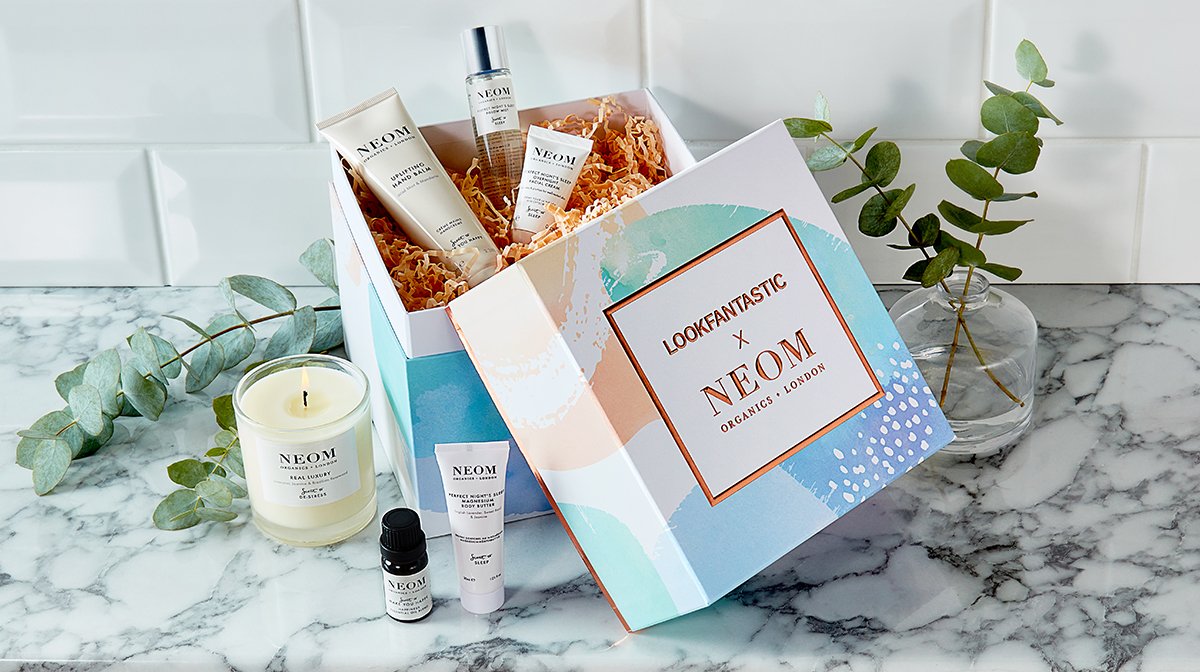 Let's take a look at what's inside this calming Box with NEOM founder, Nicola Elliott:
Uplifting Hand Balm
"This is a real moment of wellbeing in the palm of your hand. It's got those uplifting, fresh essential oils, so when you pull out of your bag or out of your desk drawer and massage it into your hands you can up them over your nose and mouth, breathe in for 7 seconds and out for 11 seconds and all is a little bit better with the world!"
NEOM Happiness Essential Oil Blend
"I remember blending this oil. It's the scent of a meadow on a warm day - and we all need that feeling in the colder months, right? I use a few drops in my Wellbeing Pod (or even in the bath too) and let the oils get to work.
Real Luxury 1 wick Candle
"Ahh, this is the cashmere blanket of our collection. I use this as a post-work staple. An ultimate natural de-stressor after one of those days! Just pure natural wax (burns cleanly) and boy, it is one of those candles that makes you put your feet up and snuggle up and forget about the day."
Perfect Night's Sleep Magnesium Body Butter
"A post-bath body smother - this is how I use the Magnesium Body Butter every night. I even get out of bed if I have forgotten to use it as it really helps me sleep."
NEOM Organics London Perfect Night's Sleep Magnesium Body Butter 200g
Perfect Night's Sleep Overnight Facial Cream
"Works like a dream after cleansing - it has a light pillow-soft texture. I only use a small amount and press in my skin (works great over a face oil too) to get the benefits of the ingredients like Cica, Ceramides and Magnesium which work whilst you sleep. Like you've had a midnight facial in your sleep."
Perfect Night's Sleep Pillow Mist
"I used this on the kid's cots when they were babies and I still use it for the whole family. A little goes a long way. I spritz on my pillows and covers, and if you have kids on sleepovers I always spray on their nightclothes or teddy before they go!"
Subscribed to the LOOKFANTASTIC Beauty Box? Click through your early access email* and shop the refreshing NEOM limited edition Beauty Box for just £35!
Not subscribed yet? Subscribe today and get £5 off when you use code
*valid on 3, 6 and 12 month subscriptions only