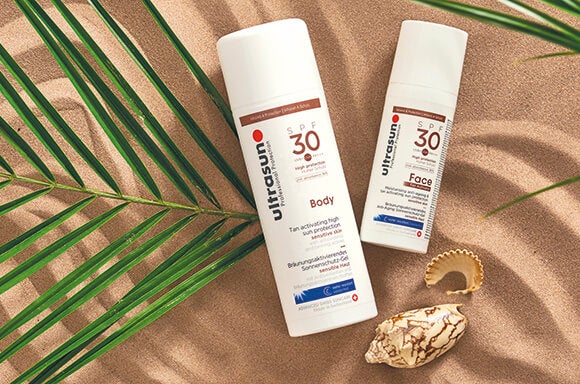 About The Brand
With over 25 years in skin protection expertise, Swiss sun care brand Ultrasun delivers a unique and revolutionary formulation. Ultrasun is known for its photostable, long lasting application, its patented liposome technology ensures just one application will give long lasting, high level, water resistant protection from UVA (ageing), UVB (burning) and Infrared - A rays.
Each Ultrasun product is free from emulsifiers and perfume reducing the risk of allergy, making them especially suitable for children, and those with sensitive skin types. dads, lads, tots, teenagers and busy mums. Offering protection even while swimming, towel drying and showering, the hypo-allergenic, fragrance free formulations will also help to prevent prickly heat.
Shop Now
"Ultrasun was founded in 1995 by the Swiss chemist Tazio Tettamanti. It was created to emphasise the importance of suncare protection as Tettamanti lost his brother to skin cancer. With Ultrasun's award-winning formula, skin will be nourished and protected against UV rays and other daily aggressors.
For over 26 years, Ultrasun has been developing sun protection technology to improve the UV protection of their products. Whether you are lounging in the sun or running errands on an overcast day, taking care of your skin is essential. Ultrasun products are formulated to be nourishing and photostable, meaning they'll take care of your skin and you'll forget you're wearing it.
Each bottle of the cult favourite Mineral Face SPF50 Lotion is packed full of UV ray protectants suitable for every member of the family. Even if you can't feel the sun, it's there, and can speed up signs of UVA ageing by drying out the skin. Ultrasun products can be worn alone or layered underneath makeup and other skincare products.
At LOOKFANTASTIC, we're official UK stockists of the Ultrasun brand, so browse the products we have on offer today."