We all know by now that SPF is one of, if not THE, the most important step in our skincare routine. Whether you're on holiday, sunbathing in your garden, or sat inside on a cloudy day (yep, even then), you need to be protecting your skin from UV rays at all times. Applying an SPF moisturiser, suncream or SPF foundation are simple and effective ways to incorporate suncare into your daily routine, but how do you ensure the protection lasts throughout the whole day? 
Much like during your sunbathing sessions by the pool, your SPF needs to be reapplied over the course of the day to keep you protected. Unfortunately, SPF products can degrade when exposed to sunlight for many hours and natural oils and sebum in your skin can also cause the barrier to break down, meaning that you may lose some of that protection. The way to combat this? Reapply, reapply and reapply again.  
Of course, reapplying suncream throughout the day might work when you're relaxing on a beach, but it's not exactly practical for everyday life. For the typical busy, makeup wearing woman, the thought of putting suncream on your face is not only tiresome, but almost cringe-worthy – why would we want to ruin our fresh full face? Well, the SPF market has come a long way from the sticky, thick, white creams that used to dominate the shelves, and there is now an array of products available that not only work on bare skin, but over your makeup. If you want to top up your sun protection, without ruining your glam, discover our round-up of the best SPF solutions to wear over your makeup.  
SPF Mists  
If you hate the feeling of thicker suncreams on your skin, then SPF mists are a great alternative. Providing a fresh, light coverage that's ultra-absorbent and quick-drying, mists can apply seamlessly over a full face of makeup without smudging or separating your base products. Many people turn to SPF mists to refresh and pep up their look throughout the day.  
Kate Somerville UncompliKated SPF50 Soft Focus Makeup Setting Spray
Not only does this lightweight spray include factor 50 sun protection, but also acts as a setting spray, holding your makeup in place all day, guarding against smudging or shine in the heat. The smart-spray puts the final touches on your look, leaving your complexion looking flawless and feeling comfortable.
Lancaster Sun Sport Cooling Invisible Mist SPF50
Fight against premature ageing with a cooling veil of the Lancaster Sun Sport Cooling Invisible Mist SPF50. Made to resist both water and sweat, the fine mist is the perfect on-the-go protection that can be easily and quickly sprayed over the face and body.
COOLA Refreshing Water Mist SPF15
Perfect for a mid-day skin pick-me-up, this Refreshing Water Mist SPF15 by COOLA defends skin against daily environmental damage, including UV rays, in a quick and undetectable spritz. Also effective in protecting against digital pollution, the mist hydrates, keeping moisture levels topped up in the heat.
SPF powders  
We all love a multi-purpose product, so finding a powder that also has SPF in it is music to any makeup-lovers' ears. Many of us keep a powder in our bag at all times to touch up any oily spots or smooth out our foundation, so by incorporating an SPF powder into your beauty bag, you are automatically giving yourself that extra protection, without having to alter your routine! 
bareMinerals Original SPF 15 Foundation
Top up your look and banish shine with the bareMinerals Original Loose Mineral Foundation. Formulated with SPF15, the cult-favourite foundation is enriched with sin-loving minerals that smooth over the complexion, leaving a flawless, even finish with a lighter-than-air feel.
Rimmel Natural Bronzer (Various Shades) 
Bronze and protect with the Rimmel Natural Bronzer. Enhanced with SPF15, this velvety powder provides a long-lasting, sunkissed glow. Sculpt your cheekbones, or achieve an overall radiance whilst shielding your skin from harmful UV rays.  
SPF lipsticks  
Keeping our pout looking on point is usually top of our list when it comes to refreshing our makeup, but normally at the bottom of our list for SPF protection. Many forget that lips can be easily damaged by the sun and require just as much protection as our skin. SPF lipsticks and balms are an ideal way to freshen up your makeup, whilst ensuring that your lips are soft and protected!  
Perricone MD No Makeup Lipstick Broad Spectrum SPF15 4.2g (Various Shades) 
Perfect and protect your pout with the Perricone MD No Makeup Lipstick. Enriched with Hyaluronic acid and Neuropeptides which activate surface renewal and regenerate the skin, this SPF15 solid-to-serum formula enhances the natural colour of your lips, whilst leaving them soft, supple and hydrated.   
Ultrasun Ultralip SPF 30
Suitable for applying over or underneath your favourite lipstick, this clear lip balm by Ultrasun contains SPF30 to protect your pout from the elements. Infused with blackcurrant seed oil, the balm guards against dryness and chapping and can be reapplied all throughout the day.
Skin In Motion Plump it Tinted Lip Balm SPF 30 - Sheer Peach 15ml 
Discover plumper, more hydrated lips with the Skin In Motion Plump it Tinted Lip Balm. Boasting broad spectrum, SPF30 protection, this Shea butter enriched formula revitalises chapped lips, whilst the peachy tint provides a natural touch of colour.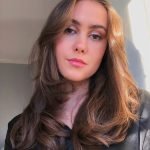 As someone with an affinity for all things beauty, discovering fantastic new products is my not-so-secret obsession. Over the years I've tried and tested a mountains worth of creams, serums and cleansers, finding some of my favourite 'holy-grail' products along the way. However, I'm always on the lookout for more ways to nourish my hair, perfect my dewy base, or enhance my skincare routine. Working as a beauty blogger for over 3 years, I've been lucky enough to collaborate personally with lots of amazing beauty brands including Christian Dior, The Body Shop and Dermalogica. I've used the Dermalogica special cleansing gel religiously since I first got it and their products are some of my ultimate skincare faves. When it comes to cosmetics, NARS Sheer Glow foundation is definitely my go-to - I live for a light, glowy base!