When it comes to protecting your skin against sun damage and premature cellular ageing, we always recommend using a high SPF sunscreen to ensure your delicate complexion has the best protection possible. But, for extra protection and everyday use, we have rounded up our favourite moisturisers with SPF that are perfect to use if you're running around town or heading to work and don't need to wear a traditional sunblock.
When to use SPF moisturisers
An SPF should be worn every day to protect the skin from damaging UV rays that can be harmful even on cloudy days. SPF moisturisers keep the skin supported and shielded from damage and keep the complexion looking even and youthful, however studies have shown that many users don't adequately cover vulnerable parts of the face such as the eyelids[1]. Therefore make sure to ensure that the whole face is covered with your SPF, especially during the hotter months.
Which are the best moisturisers with SPF?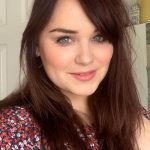 I've been writing about hair and beauty for over 10 years. I am a collector of vintage perfume and my go-to look always includes a bold pink lip! For more, visit https://www.goodgollymisshollie.co.uk