This September, it's all about our star saviours and beauty heroes. We've packed 6 incredible products into this months box, and we can't wait to show you what we've been working on.
But we didn't want you to just see the products in this months Beauty Box… we wanted you to experience them in full colour; in all their glory. To help get you started on your journey of discovery, we've compiled a list of just some of the reasons we chose this months products, and just WHY they stand out from crowed.
First, It's a celebration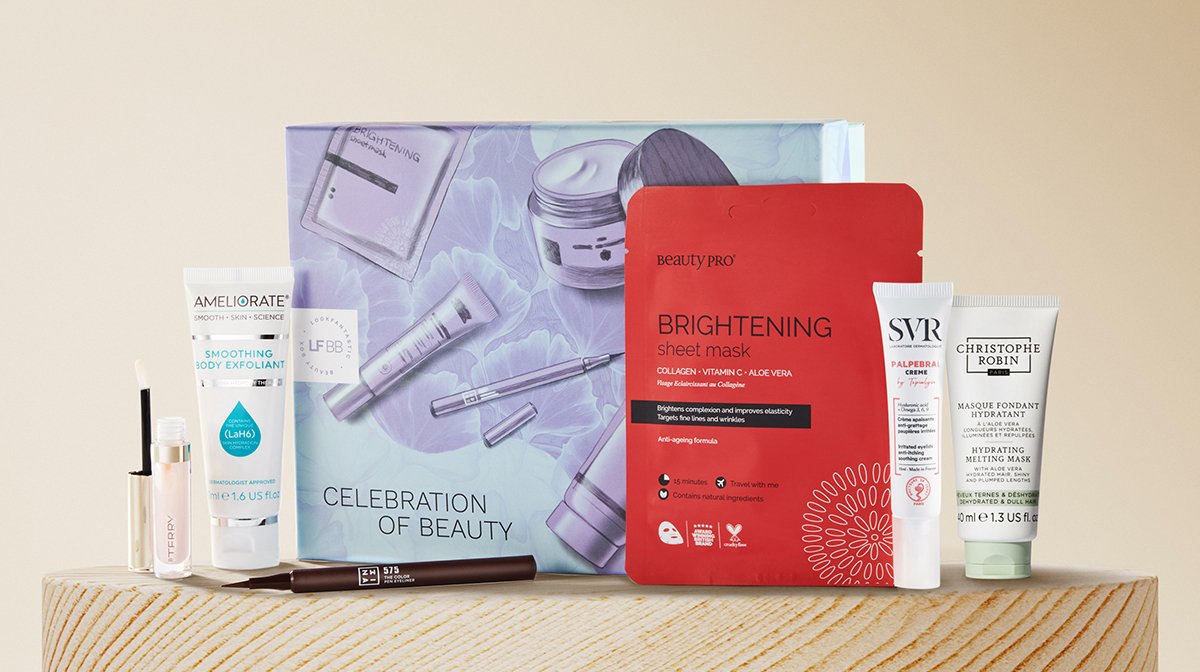 What would a 'Celebration of Beauty' themed box be without celebrating our favourite beauty products? Not a good one, that's for sure. That's why all the products you'll find inside your beauty box this month have been handpicked by our in-house experts for being some of the top products on the market. From By Terry's best-selling, cult-classic lip balm to Christophe Robin's luxuriously decadent hair mask, it's a box of beauty worth shouting about.
We teased this box back in our August 'Edit', but we're so pleased this month to bring you a box specially designed by one of our lovely subscribers. Back in January, we launched a competition on our Instagram to give a budding designer the chance to design our Celebration of Beauty box. After countless entries, Anastasiya was a clear winner – wanting to encourage all of us to 'celebrate beauty in every moment.'
Why we chose them?
By Terry Baume de Rose Flaconnette
This cult favourite was an easy first choice for the Beauty Box. Nourish and protect your pout with By Terry Baume de Rose Flaconnette; a mini version of the brand's signature Rose-scented lip balm. This was always going to be a fan favourite.
Ameliorate Smoothing Body Exfoliant- 50ml
Its 5 stars from us… Clinically proven and dermatologist tested, AMELIORATE makes Keratosis Pilaris look and feel better, deeply hydrates very dry skin and leaves normal skin amazingly soft and smooth. Its no wonder this formula has won awards right across the skincare sector.
Christophe Robin Hydrating Melting Mask- 40ml
The masters of haircare have arrived… An intensive express hair treatment that boasts a formula made up of 98% natural-origin ingredients. Quenching parched locks with its star ingredient Aloe Vera, the moisturising hair masque envelops tresses with its rich texture, boosting the hair fibre's resilience and elasticity with a blend of fatty acid-rich oils.
3INA The Color Pen
Chosen for their intense colour, cruelty-free products, the 3INA The Color Pen is everything we need for our makeup bags. This hidden gem deserves the limelight, and we're here to provide.
SVR Palpebral Eyelid Cream- 15ml
Free from fragrances, parabens, colourants, preservatives and alcohol. This formula is also Hypoallergenic. Seriously, what more could you want?
Beauty Pro Brightening Sheet Mask
The BeautyPro Brightening Sheet Mask is one of their best-selling masks and will make a great addition to your skincare routine. The mask works to rebalance uneven skin tones and diminish pigmentation while also improving and brightening your complexion. The key ingredients in the Brightening Mask are never-ending, with big skincare winners like Vitamin C and Collagen, there's no end to the benefits of this mask.
As the Beauty Editor for LOOKFANTASTIC Beauty Box I'm always hunting for a good beauty story, I like to remain ahead of the trends. But aside from this, I'm a keen reader and writer in my spare time. You'll find me with my head in a good book most of the time- Beauty & Fashion related or otherwise! You'll often find me obsessing over the latest tropical-scented body oil or lathering on the coconut moisturiser. As you may have already guessed, I have a natural affinity for all things tropical. Beauty and grooming for me is escapism, a little slice of heaven away from the day-to-day.