What is my curly hair type?
Ever wondered which curly hair products will work best for you? Rather than overflowing your shelves with a bunch of products that turn you into Sideshow Bob, get to know your hair better so you can skip to the good bit. Everything you need to know starts with this chart, which organises every curl, kink and coil into a satisfying system.
Since the natural revolution, us curly girls are wanting to know more and more about our luscious locks. Long gone are the days when crunchy mousse was the only option, now, we're almost overwhelmed with choice.
To complicate things further, every curly girl and boy I know has completely different hair, and even within the wavy, curly and coily categories, there's lots of variation.
But don't worry, with this trusty chart you'll soon be fluent in curl language and completely curltured.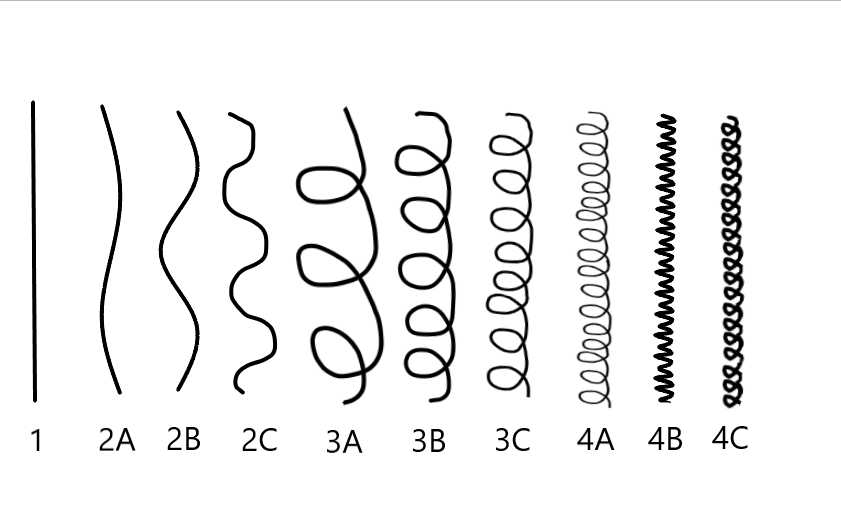 How to work out your curly hair type:
If you look closely, you can see the subtle difference between a wave (2c) and a curl (3a). This distinction separates each category; 1 is straight, 2 is wavy, 3 is curly and 4 is coily. Caucasian people usually range within the 1s and 2s, mixed-race people tend to fall somewhere in the 3s, while afro textures usually sit within the 4s. The difference between the As, Bs and Cs depends on how curly or coily your pattern is.
Compare a single curl of yours to this chart, or if your pattern is irregular, use a two or three. Look carefully at exactly how your hair curls. See if it comes full circle to create a ringlet, and how far apart each curl forms. Don't worry if many of them are different, variation is natural.
Why do I need to know this?
It's vital that you know which hair type you have, as it determines which products will work best with your hair, saving you time and money.
While 1a - 2c need lightweight products, 3a - 4c need all the moisture they can get. Curly and afro hair is naturally drier and more prone to breakage, so it must be treated with care and regularly moisturised.
This chart will also help you understand which methods work best with your hair. If you have wavy hair, you can get by with a brush, but 3s and 4s should opt for a wide-tooth comb to minimise breakage. Although 2s can get away with simply tying their hair up overnight, most 3s and 4s need to use a bonnet or scarf.
What's more, it also means you can follow beauty influencers and YouTubers with your hair type, because their results will be the most similar to yours. This is super helpful when you're reading reviews or deciding which products to buy.
So that you don't have to, I have compiled a list of which shampoo, conditioner and mask will work best for each hair category and help you to achieve the curls of your dreams.
Best hair products for 3A – 3C:
Shampoo:
Specially designed for afro hair types, Shea Moisture knows everything there is to know about curly hair. The Shea Moisture Coconut & Hibiscus Curl & Shine Shampoo combines Silk Protein, Coconut Oil and Neem Oil to purify, moisturise and soften the strands.
Conditioner:
Although I would usually opt for curly specific brands, the innovative ingredients and mind-blowing formulas used by Kérastase work wonderfully with my hair. Lightweight but with plenty of slip, the Kérastase Discipline Curl Ideal Cleansing Conditioner makes it easy to detangle and manage unruly hair. With a unique lipid compound, it feeds essential hydration deep into the hair follicle, combatting breakage and minimising frizz – you really can feel the difference.
Mask:
An essential for any curly girl, a nourishing hair masque replenishes moisture and revives strength. The Bouclème Intensive Moisture Treatment is packed with hair-loving ingredients, including Marula Oil, Marufa Butter, Camellia Oil and Wheat Bran that work to define, nurture and protect your luscious locks. My top tip when it comes to masks it that you leave it on for at least an hour before you wash it off!
Best hair products for 4A – 4C:
Shampoo:
Designed for coily hair, the hardworking Shea Moisture Red Palm Oil & Cocoa Butter Detangling Shampoo has got it all. Sulphate-free, purifying and hydrating, the formula has got everything your curls could wish for. Thanks to the hi-slip formula, detangling is easier than ever, helping you to ease out kinks and knots without breaking your hair. The blend of Shea Butter, Coconut Oil and Flax Seed work in harmony to fight frizz and feed moisture, reducing shrinkage so you can hold onto your length.
Conditioner:
Specially formulated for dry, brittle hair, the Cantu Shea Butter for Natural Hair Sulfate-Free Hydrating Cream Conditioner is ultra-hydrating. As type 4 is the most prone to dryness, hydrating products should be at the top of your list. Free from all the nasty stuff (sulphates, silicones and parabens), and packed with nourishing ingredients (pure Shea Butter), this creamy conditioner has the perfect amount of slip for easy detangling.
Mask:
Super nourishing and ultra-moisturising, the Shea Moisture Raw Shea Butter Deep Treatment Masque uses a powerful formula to revive lacklustre locks. Infused with the holy trinity of Shea Butter, Argan Oil and Sea Kelp, the mask works to strengthen and repair brittle strands. As if that wasn't enough, it smells great and is free from any sulphates or silicone.
If you're still on the lookout for the perfect product for you, there's an entire afro & curly hair section here on lookfantastic.

Our team of beauty experts cover everything from makeup to skincare, picking out the most effective products from the best brands and latest trends. Stay up to date on everything beauty with the LOOKFANTASTIC blog, and find all your essentials in one place.