Liz Earle skincare is one of the leading authorities on botanical beauty. Founded in 1995, the brand continues to uphold its ethos around the benefits of using naturally active and responsibly sourced ingredients.
Whether you're somewhat familiar with the brand, curious to learn more about the Liz Earle story, or looking for some Liz Earle product recommendations, this guide will cover everything you need to know about Liz Earle Skincare.
Are Liz Earle Products cruelty-free?
Liz Earle skincare is certified cruelty-free by both Leaping Bunny and PETA. The brand does not test its products or ingredients on animals and does not sell its products where animal testing is required by law.
Are Liz Earle products vegan?
We understand how important it is to know what is in the products you are using on your skin and how they are made. Liz Earle products are suitable for vegetarians; however, the brand is not vegan as they use animal by-products such as beeswax, propolis and Manuka honey. The brand has stated that its products will never contain animal-derived ingredients such as carmine, shellac or collagen.
Liz Earle products containing beeswax:
Products containing propolis:
Products containing Manuka honey:
Are Liz Earle skincare products organic?
Liz Earle skincare is not 100% organic as some products do contain parabens. Always check the ingredient list if you are unsure.
What natural ingredients does Liz Earle skincare use?
Some of the natural ingredients used by the brand include:
Shea Butter

, which helps the skin's natural barrier function.

Rosehip seed oil

for its moisturising properties and inclusion of fatty acids, Vitamin A and Vitamin C.

Lavender essential oil

to evoke the senses and enable a calming and soothing skincare experience.

Jojoba oil

to pack moisture into the skin.

Cranberry seed oil

for its inclusion of moisturising Vitamin E.

Borage seed oil

to aid moisture loss.
Is Liz Earle a sustainable brand?
Liz Earle skincare continues to innovate within the areas of sustainability and traceability and is now certified carbon neutral. Over the years, the brand has also been actively reducing its environmental impact.
For example, the Liz Earle Cleanse & Polish Hot Cloth Cleanser is now packaged in a 100% recyclable tube and is made with 55% recycled materials. And Liz Earle's Superskin range is now packaged in recyclable glass jars, aluminium and recyclable card cartons that are FCS and World Land Trust certified.
Are Liz Earle products safe to use during pregnancy?
According to the Liz Earle website, all of Liz Earle's skincare products have been safety assessed to ensure that they are safe for the intended use if you are pregnant. However, we always recommend speaking to your GP and your midwife if you have any concerns or questions about what skincare to use during pregnancy.
Which Liz Earle Products Should I Try?
This multi-award-winning cleanser was one of the first products that the brand created. If you found yourself a part of the Youtube beauty community of the 2010's you may already be very familiar with this iconic product. Liz Earle's Cleanse & Polish became a firm favourite with beauty gurus and the skincare savvy and continues to be a staple product to this day.
The Cleanse & Polish starter pack is a fantastic place to start your Liz Earle skincare journey. When used with the accompanying cotton cloth and warm water, this rich cream cleanser removes the dirt from the dry, dead skin cells and stubborn makeup.
What's more you can truly evoke your senses during your morning or evening skincare routines with the aroma of cocoa butter, rosemary, chamomile and eucalyptus, which work in harmony to help soothe, moisturise and cleanse your skin.
Compliment your Liz Earle skincare routine with the Liz Earle Instant Boost Skin Tonic. This soothing and brightening toner does not contain alcohol so you can rest assured your skin won't dry out. Instead, your skin is treated to a harmonic blend of Aloe Vera, Calendula, Chamomile, Vitamin E and Cucumber, further calming the skin to leave your complexion feeling balanced.
Scented with a refreshing mix of pure essential oils, including rose-scented Geranium, Lavender and Sweet Orange, this refreshing skin tonic perfectly primes your complexion for the rest of your morning and evening skincare routine.
If you're looking for a lightweight moisturiser that does not feel heavy or greasy on your skin, choose the Liz Earle Skin Repair Light Cream. This hydrating moisturiser boasts a grease-free finish, with 92% of women reporting their skin didn't feel oily after use*.
Core ingredients British Borage Oil and Avocado work to condition and hydrate your skin, making it look and feel extra supple. Added Echinacea supports skin that needs calming and soothing, antioxidant-rich, vitamin E shields against environmental aggressors to ward off damage.
*From a user trial of 100 participants after four weeks of use.
Choose the Liz Earle Brightening Treatment Clay Mask if you have dull, sallow skin. This minute mask works quickly to help add moisture and luminosity to your skin. A rejuvenating blend of camphor oil, witch hazel, aloe vera and white clay, the Liz Earle Brightening Treatment Clay Mask helps tone and replenish the skin, promoting a radiant and healthy glow.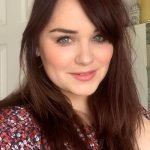 I've been writing about hair and beauty for over 10 years. I am a collector of vintage perfume and my go-to look always includes a bold pink lip! For more, visit https://www.goodgollymisshollie.co.uk