The latest ingredient taking over #HairTok, rosemary oil is the trending treatment haircare fanatics are swearing by for thicker, healthier-looking locks. Having amassed over 1.8 billion views on the platform, this savvy little oil is showing no signs of slowing down, but why is it such a hit? We asked Lucie Macleod, founder of Hair Syrup, to get the root of the ingredient, and share what benefits it has for your tresses.
What is rosemary oil?
"Rosemary oil has gained popularity recently as a sought-after hair care ingredient," explains Lucie. "It's a pale liquid essential oil that's extracted from rosemary plants and has a distinctive herbaceous scent."
What are the benefits of rosemary oil for hair?
Five key benefits of using rosemary oil, according to Lucie, are:
Promotes faster hair growth
Helps to prevent and discourage hair loss
Nourishes hair strands
Can be a great cleanser for the scalp
Leaves hair softer and shinier
Is rosemary oil safe to apply?
"You need to ensure the rosemary oil you're using is diluted to below a safe concentration," explains Lucie. "As a potent essential oil, it should never be applied neat to the scalp."
"In our Grows-mary syrup, the essential oils are safely diluted with other heavily nourishing oils."
How to use the Growsmary Hair Syrup
"This product is to be used as a pre-wash hair treatment," says Lucie. Discover how to treat your locks in just three simple steps:
Step 1
"Simply apply Growsmary to the scalp, lengths and ends of your hair."
Step 2
"Massage the syrup into your scalp, then leave it to sit for 1-4 hours."
Step 3
"Wash out the syrup thoroughly, then condition and style as normal."
How long does it take to see results?
"Some people see results as quickly as 3 weeks," explains Lucie. "But generally, we say that you should notice results in around 6-8 weeks."
More from Hair Syrup
From vitamin C-infused syrups, to nourishing pre-washes, discover Hair Syrup's selection of savvy haircare treatments.
Powered by a blend of nourishing oils including sweet almond and jojoba, this lightweight formula can be left on for an hour, or overnight for a high-shine finish. Giving tangled locks a new lease of life, this non-greasy treatment provides optimal conditions for hair growth, nurturing the scalp and lengths.
Enriched with a blend of spices and botanical extracts, this rejuvenating oil promotes thicker, radiant-looking lengths with its combination of ginger and turmeric. Helping to protect strands from environmental aggressors, this treatment has a warming effect when applied, and leaves locks super soft and healthy-looking.
Formulated to promote silky lengths, this nutrient-rich formula is created with pink grapefruit oil and flaxseed to reduce breakage and encourage a radiant shine. Topped with sweet almond oil, strands are left feeling hydrated from root to tip.
Veiling damaged strands in a nourishing coat of oils, this pre-wash incorporates sweet orange, macadamia and papaya oil together to deeply moisturise and care for locks, reducing the appearance of split ends. Designed to defend hair against environmental aggressors, vitamin C delivers antioxidant protection to reduce the chance of future breakage.
Shop all Hair Syrup on LOOKFANTASTIC.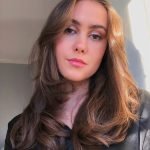 As someone with an affinity for all things beauty, discovering fantastic new products is my not-so-secret obsession. Over the years I've tried and tested a mountains worth of creams, serums and cleansers, finding some of my favourite 'holy-grail' products along the way. However, I'm always on the lookout for more ways to nourish my hair, perfect my dewy base, or enhance my skincare routine. Working as a beauty blogger for over 3 years, I've been lucky enough to collaborate personally with lots of amazing beauty brands including Christian Dior, The Body Shop and Dermalogica. I've used the Dermalogica special cleansing gel religiously since I first got it and their products are some of my ultimate skincare faves. When it comes to cosmetics, NARS Sheer Glow foundation is definitely my go-to - I live for a light, glowy base!