OCTOBER IS ALL ABOUT TAKING SOME TIME OUT AND TREATING YOURSELF TO A MOMENT OF COMPLETE RELAXATION…
October has finally arrived, and as the days get shorter and the nights colder, we've got the perfect remedy for the winter blues… warm your senses with a magical Beauty Box worth over £66. Including 6 luxurious self-care beauty products for some much needed R&R, this is all you need for a relaxing start to autumn.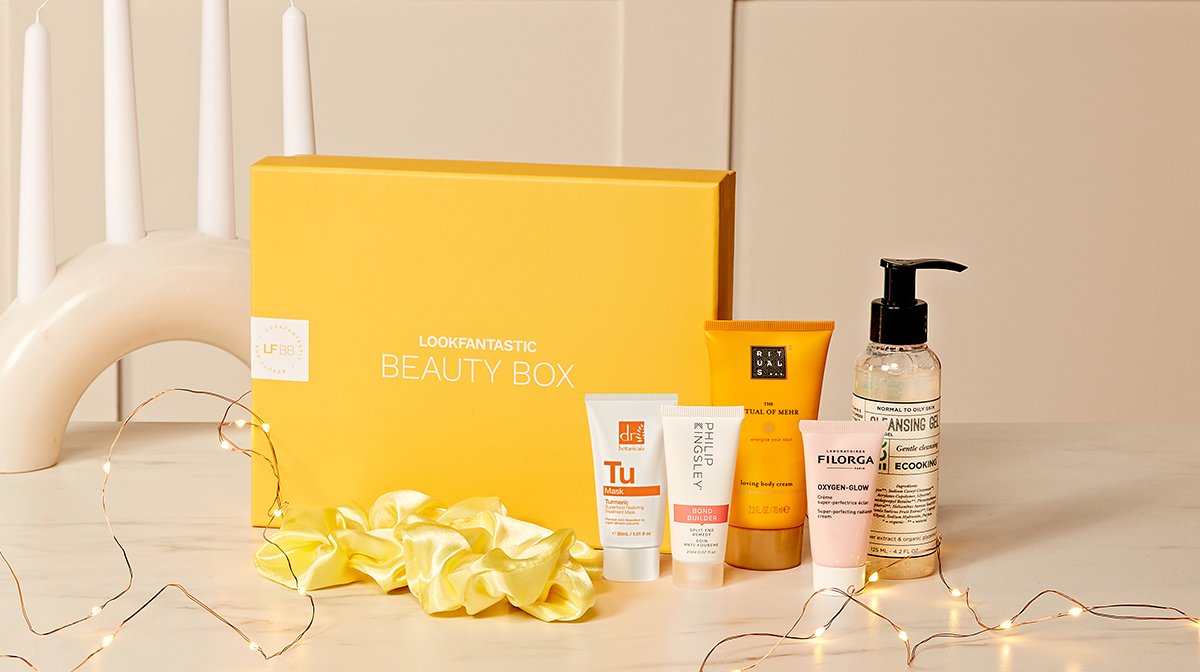 What's in the Box?
Filorga Oxygen Glow Cream – 15ml
This magical moisturising face cream delivers an instant burst of hydration to your complexion. Used over a period of time, the long-term effects of this cream can enhance the overall appearance of your skin. -Hyaluronic Acid -L-enzyme
The Vintage Cosmetics Company Scrunchies
Add some sunshine to your life with this pair of perfect scrunchies. Perfect for throwing your hair up in a pony tail, or styling a ballet bun or topknot, these scrunchies are the must-have essential for every woman's beauty bag.
ECooking Cleansing Gel- 125ml
This powerful formula that is kind to skin helps to restore moisture to your epidermis. Combining a smooth mixture of Aloe Vera and Vitamin E, this gel cleanses your pores from deep down, leaving your skin smoother and more refreshed. -Aloe Vera -Vitamin E
Philip Kingsley Bond Builder- 20ml
This is the perfect remedy for your split ends. Shielding healthy hair against heat damage and UV rays, the lightweight formula revives your hair, leaving it more voluminous and healthy looking. -Green tea leaf extract -Castor Oil
Rituals The Ritual of Melhr Body Cream- 70ml
The quest for smoother looking skin just became that little bit easier. The buttery, smooth formula boosts absorption and helps to provide the illusion of a more supple, airbrushed complexion. -Sweet Orange -Cedarwood
Dr Botanicals Turmeric Mask- 30ml
This ultra-restorative mask helps protect against the effects of external aggressors by providing your skin with an antioxidant boost. Powered by a potent botanical ingredient, the creamy-textured mask helps to plump the appearance of fine lines and wrinkles whilst brightening you complexion. -Turmeric Root Powder -Lavender