My only goal for 2022 is to make fitness a regular part of my beauty routine.
I am pretty much a workout novice. I've never really enjoyed exercise, which I think is fairly standard for most people. I once worked at a gym and was given a free membership – a membership that was used maybe twice over an 8-month period. To put it simply: if I can avoid a workout, I will. But 2022 is the year that's going to change.
Enter VICHY, with their promise of a mood-boosting Pilates class. To celebrate their hero hydrating serum – the VICHY Minéral 89 Hyaluronic Acid Serum – I was invited along to Karve Club in London for a bespoke wellbeing session. The class promised an exhilarating and energy-boosting boutique Pilates experience that supported skin health and wellness. And honestly, that's what it delivered.
My skin definitely felt healthy and supported, thanks to the brand's best-selling, quenching serum. Drenched in VICHY's highest concentration of volcanic mineral water, the serum has a lightweight, ultra-fresh texture that is rejuvenating to apply. The mineral-rich formula left my skin looking supple, radiant and plump with hydration. Day well spent!
When I entered Karve Club, the venue was abuzz with fitness aficionados, ready to take on the class. Upon arrival, I was gifted a quilted VICHY sports bag, complete with gymwear, a bottle of water, and – of course – the Mineral 89 Hyaluronic Acid Serum. My post-workout complexion was already grateful for the newest addition to my skincare collection.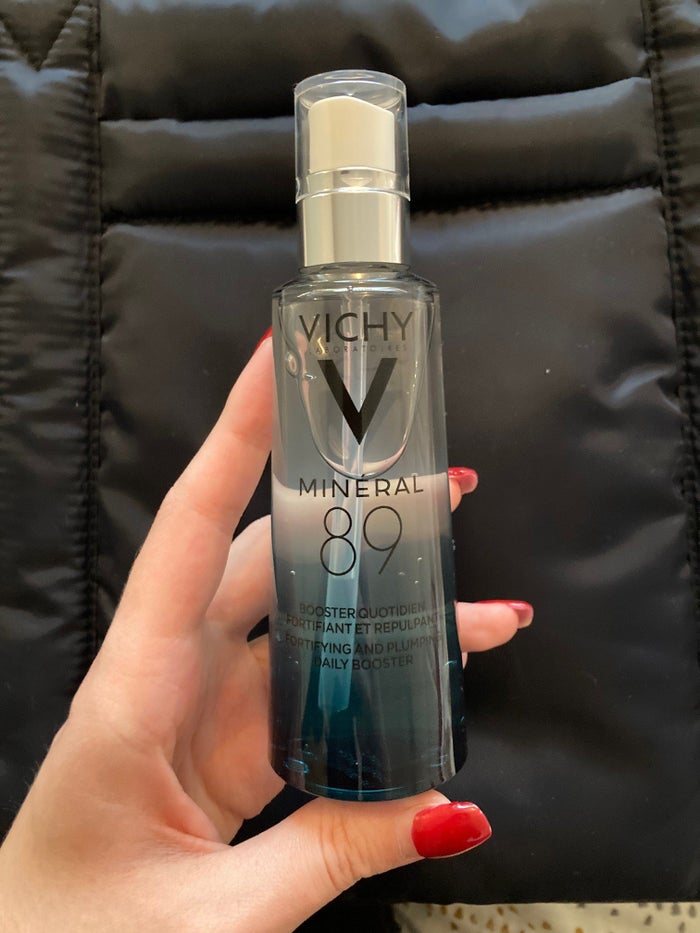 The Pilates Training Instructor, Nadine McCann, lead us into a dark, almost tranquil room, filled with Reformer machines (who knew they were a thing?!) and floor-to-ceiling mirrors. I chose a Reformer in the centre of the room – mainly because I didn't know which was the front and which was the back – and waited for the class to begin.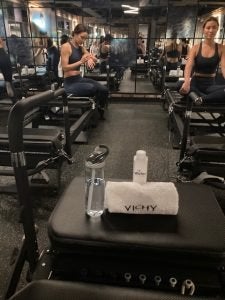 Nadine was upbeat and positive, but never pushy. She encouraged us to go further but at our own pace, which as a beginner I really valued. We were immersed in long stretches, planks and occasional press-ups. My muscles were really put to the test, but in a way that reminded me I probably need to exercise more often.
After the cool down (a favourite part), which included deep breathing exercises to help relax our bodies, we headed out to shower and change. Afterwards, we were rewarded a complementary protein smoothie for all our hard work. I went for the strawberry, blackberry and almond milk blend, and it was delicious.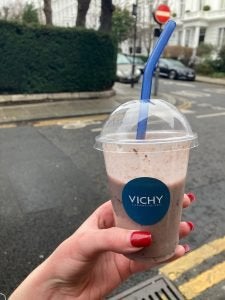 All in all, the class was intense and hard work, but rewarding too. I felt better for doing it, which I didn't expect. The group of attendees were all fun, kind and determined. That meant good vibes all round – exactly what I needed as a Pilates first-timer.
So if, like me, you're a fitness beginner and are looking for motivation to start, here are my top tips for workout newbies…
Top Tips for Workout Beginners
The most important thing to do is START
Getting started is the hardest part. It's all too easy to think, well, I could start exercising, but what's the point when I'm so far behind? This mindset, although one I know well, may be what's holding you back. Nadine McCann, Master Training Instructor at the VICHY event, explains the reason we could be scared to start: "People aren't used to failing. But slow it down and don't rush." If you're really stuck on where to begin, Nadine suggests stretching, swimming or walking as low-impact forms of exercise to try out first.
Do what feels right for you
Everybody is different. We all face different challenges – what works for one person may not necessarily work for you. Nadine explains it's important for beginners to, "lower expectations of what you want to achieve." If I see someone doing deadlifts in the gym, I could aspire to that one day, but it's not something that's going to happen overnight. Your goals need to be realistic. Start small, then build. Your fitness ambitions will feel more attainable that way.
Don't put too much pressure on yourself
It's easy to compare yourself to others, especially with the wealth of fitness inspo across social media apps. During VICHY's Pilates class, it's fair to say I was nowhere near the calibre of the other women. Luckily, they were too focused on their own fitness goals to check how I was doing. Though the others mastered the moves easily and held tough positions much longer than I could, I worked as hard as possible, and that was enough for me. Not beating yourself up about your performance is crucial to remember.
View exercise as a form of self-care
Nadine explains how even a short burst of exercise can help to boost wellbeing. "It's about taking time for yourself, carving out time in the day to not be on your phone, checking emails or answering to family and friends." Taking time for yourself can actually work wonders on your mood. It's a time to really switch off and focus on one thing that deserves your undivided attention – that's you!
However, seeing exercise as self-care might not be the case for all of us. "We shouldn't push that expectation on everyone," Nadine warns. Everyone is different and we all face different challenges – self-care to one person may look completely different to another.
Make it fun!
Exercise doesn't have to be a chore. Find something you enjoy to do – whether that's lifting, stretching, or dancing around your bedroom for 20 minutes. "Learn to laugh at yourself too," Nadine shares. It's good advice – the less you worry about how you look when you exercise, the more you'll enjoy it. She also recommends putting a podcast on during workouts to help the time pass quicker.
Don't forget to hydrate
Drink plenty of water. It sounds like age-old advice but it's important to top up your hydration levels – both inside and out. Topically, we should take care to re-hydrate our complexion too.
The VICHY Minéral 89 Hyaluronic Acid Serum veils your skin in hydration, utilising an 11-ingredient formulation that's powered by hyaluronic acid. Nadine has been using the serum for years: "It's the one thing that's super easy to remember, it's the first thing you do!" she tells me, which means it slots neatly into any skincare routine. If you're searching for a supple, healthy-looking glow, this serum could be the one for you…