When it comes to drying our hair it's often a dreaded job that no matter how hard we try, we never seem to be able to attain the same results as when we visit the salon. Fear not though because we are about to revolutionise your world with the best hair drying brushes that will help you achieve sleek, shiny and swooshy hair at home. 
The best hair drying brushes
What are hair drying brushes?
When it comes to drying your hair just as it's important to nail the technique, it's even more important that you are using the right tools for the job. And with so many hair brushes on the market to choose from, it can be hard to know which is going to be the best brush for you.
That's where brushes specially created for hair drying come in. Hairdryer brushes have air vents to let the air from your hairdryer circulate and specific bristles or 'teeth' that help with ensuring a slick drying experience without any intense heat damage.
The best hair drying brush for frizz free style
For a salon-quality blow dry created by you in no time at all, choose the Tangle Teezer Easy Dry & Go Vented Hairbrush. This hairbrush uses patented teeth technology to quickly dry the hair, delivering natural volume, lift and smoothness. The teeth and vent work together for an easy, frizz-free style. After all, nobody wants frizz! The shape of the teeth means there's no need for the brush to contact the dryer to create tension - the teeth do this all by themselves. Keep the dryer at a safe distance from the brush while drying ensuring less heat damage.
The best barrel hair drying brush
Want to cut down on drying time? Choose the Fast Dry Customizable Round Brush from WetBrush. Minimise the effects of heat styling and achieve a gorgeous smooth blow-dry in no time at all. Brought to you in ceramic traditional barrel brush shape, this hair drying brush glides through your hair from root to tip without snagging hairs. The adjustable vent allows you to customise airflow and HeatFlex™ bristles crafted from ultra-soft nylon bend and flex to unravel tangles with ease and work to smoothen the cuticle. If you thought that wasn't enough, as is the case with all WetBrush hairbrushes, the barrel and bristles wrap each strand with the brand's own Vita-Boost Complex that combines strand-boosting Keratin and Biotin to help reinforce hair and reduce frizz with every stroke. Magical!
The best hair drying from for thick hair
If you have thick hair or coarse hair and you want to detangle your tresses, the WetBrush Volumising Round Brush for Thick/Coarse Hair is designed to detangle your lengths with ease. Developed for those with fuller or thicker hair types, this hairbrush utilises HeatFlex bristles that are gentle but effective on strands, working to alleviate knots and prevent breakages. The rounded brush glides through your tresses, striving to promote a sleek, glossy finish without tugging or snagging. This hairbrush also features a ceramic barrel to help tame unruly frizz and fly-aways.
Say goodbye to the chore of drying your hair and choose a hair drying brush to help save you time and the money you'd have spent in the salon!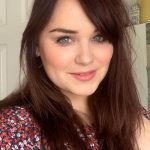 I've been writing about hair and beauty for over 10 years. I am a collector of vintage perfume and my go-to look always includes a bold pink lip! For more, visit https://www.goodgollymisshollie.co.uk