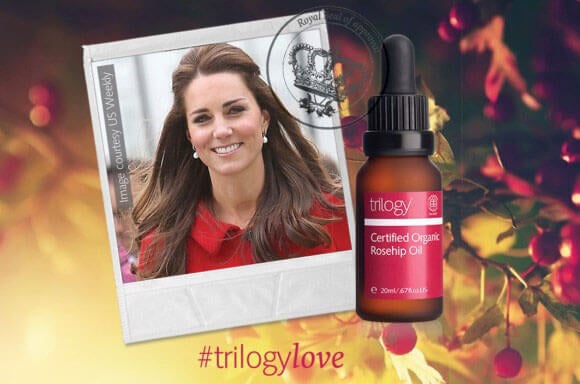 ROYAL SEAL OF APPROVAL
We're ecstatic to hear The Duchess of Cambridge is a fan of our Certified Organic Rosehip Oil. As reported in Us Weekly, during her pregnancy "Kate continues to use rosehip oil in her daily skincare regiment," they added "She loves the effect it has on her skin. Her mother Carole Middleton is also a fan." The article goes on to state "To fight fine lines without using potentially harmful retinoids, the mom to Prince George, applies Trilogy's Rosehip Oil, an all-natural oil that keeps wrinkles at bay."
How does Rosehip Oil work?
Essential fatty acids are vital lipid compounds that work at cellular level to promote healthy cell regeneration. They are super nourishing and moisturising to the skin. Our bodies cannot manufacture essential fatty acids, they must be provided. Rosehip Oil is lightweight and superfine, with a similar pH to our own skin sebum (oil). This allows the oil to be rapidly absorbed, leaving no residue and delivering essential fatty acids to the skin. Ideal for all-over nourishment and repair, skin is left feeling healthy, smooth and hydrated.
SHOP NOW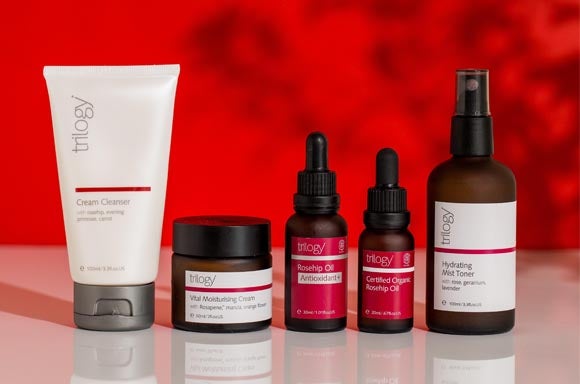 HOW WE BEGAN…
When New Zealand sisters Sarah Gibbs and Catherine de Groot discovered the powerful benefits of rosehip oil for skin, back in 2002, they created Trilogy and took natural skincare into the future. Originally a range of five rosehip skincare products, Trilogy now boasts over 40 incredibly effective natural alternatives to synthetic skincare, body care and hair care and is sold worldwide.
Over a decade later, Trilogy is still driven by discovery. Led by the belief that nature is by far the best laboratory, the brand goes to the ends of the earth to find nature's most ingenious ingredients. They invent formulations that are concentrated, effective and unique for everyday people who want to live beautiful, not complicated, lives.

SHOP NOW