Are your curls lacking in definition, or looking frizzier than you'd like? Your routine is probably missing a curl gel. Featuring at the very end of your routine, curl gels help to lock in moisture and add definition to your style. Curl gels are very different from the sorts of gels you might use to create a mo-hawk. With a more viscous, lightweight consistency, the best gels for curly hair are water-based.
When searching for the best gels for curly hair, there are a few things to look out for.
1. Consistency
Any gel that's used on curly hair needs to have a lightweight consistency. That's how you know the gel is moisturising your hair as well as offering hold. Look for runny honey textures, rather than solidified honey.
2. Ingredients
If you have curly hair, then you've probably heard of the Curly Girl Method. If you haven't, click the link to check out our full guide. Although the full method may not work for your hair type, it's still best to choose gels that are formulated without alcohol. Alcohol is a drying ingredient, which can create frizz - having the opposite effect to what you want from a defining gel.
3. Flake free
What's more annoying than gel leaving white flakes in your hair? Don't worry, our hot list of the best gels for curly hair only features crunch-free formulas.
The best gels for curly hair: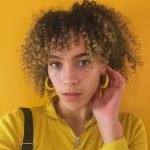 As a haircare obsessive, I'm always on the lookout for new products and methods that will define my crown. I can never stick with a hairstyle for too long, and I love to pair minimal makeup with a bold lip. I specialise in haircare, with a mission to make all hair types and textures look and feel fantastic. If you're after a new routine or product – I'm your girl, I've tried every haircare challenge and all the curl creams I can get my hands on. I couldn't live without my wash-and-go routine, and I follow the Curly Girl Method religiously. Unable to find my perfect salon, I've always cut, braided and dyed my own hair, working as a freelance hairdresser since 2016. Although I'm a long-time fanatic, I've been writing about beauty since 2019, working with haircare specialists from Cantu, Boucleme and Mielle Organics to uncover the best tricks and tips. Felicia Leatherwood is my haircare guru, and Scary Spice is my all-time icon.