Achieve texture, definition and hold with hair mousse from Wella Professionals, Moroccanoil and more. You may not be familiar with how to best use hair mousse, or perhaps you have been put off by older formulas that left your hair crispy or sticky. Don't worry though, as modern formulations have come a long way since those days.
Our Top 3 Best Hair Mousse Picks
How to Use Hair Mousse for Best Results
Use a volumising shampoo and conditioner to wash your hair.
Dry your hair with a towel until it is damp and not dripping with excess water.
Apply a palm-sized amount of hair mousse to your hands, starting less and applying more depending on the thickness of your hair.
Concentrate on working the product into your roots.
Once the hair mousse is distributed evenly, you can start blowdrying your hair. You can either use a barrel brush, or if you're short of time, tilt your head upside down to really enforce some volume at the roots..
Which Hair Mousse is Best for Your Hair Type
Using a hair mousse is the perfect way to define curls or hold a slick ponytail in place, so if you're on the hunt for the best hair mousse then keep reading for our recommendations based on the look you want to achieve and your hair type.
The Best Hair Mousse for Blonde Hair
If you have blonde hair the Brass Banned Correct and Perfect Mousse from Color WOW will banish unwanted yellow and brassy tones from your natural or coloured blonde tresses. The alcohol-free toner is tinted pale violet to prolong your blonde between salon visits.
The Best Hair Mousse for All Hair Types
The Moroccanoil Beach Wave Mousse is so diverse, literally, anyone can use it. The weightless, salt-free formulation leaves your hair textured and tousled with no beach required. Complete with UV absorbers, this hair mousse can protect the vibrancy of your hair from sun damage whilst leaving a lasting hold with no sticky residue.
You can say goodbye to hair mousse that leaves your hair crispy and dry and say hello to hair mousse that allows you to create your perfect hairstyle quickly and easily.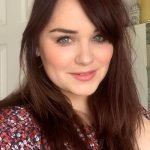 I've been writing about hair and beauty for over 10 years. I am a collector of vintage perfume and my go-to look always includes a bold pink lip! For more, visit https://www.goodgollymisshollie.co.uk