Our Beauty Advent Calendar is finally here, and it's giving us all the Christmas feels! We just couldn't wait to tell you about our biggest launch of the year, featuring £565 worth of beauty for just £99 – that's our biggest worth value to date! Who said you can't start your savvy Christmas shopping in September?! 
We've been on trend-watch all year round, hand-picking the very best in beauty for your most indulgent Christmas countdown yet. Get ready to upgrade your winter beauty routine from top to (mistle)toe as you uncover everyday extravagance, drawer by drawer.  
Inside our most iconic calendar yet, we're spotlighting beauty classics, including Sol de Janeiro, NARS Cosmetics, ELEMIS and MORE! Plus, we've gone bigger and better with our exclusive magazine content, starring expert tips and tricks, beauty team reviews, and 'get the look' advice! 
Start the countdown to Christmas as you unbox the ultimate collection of 27 beauty delights across 25 days to help you find your fantastic!
WARNING: SPOILERS AHEAD! 
What's inside the LOOKFANTASTIC Beauty Advent Calendar 2023? 
Infused with a blend of plumping padina pavonica and mineral-rich sea spring water, the deeply moisturising essence delivers instant and intense hydration that lasts for up to 24 hours. 
A unique combination of gardenia florida flower extract, jasmine sambac, and jasmine flower extract evokes a lively aroma that helps to awaken the senses and leave your skin feeling silky-soft. 
DrPAWPAW Collagen Lip Oil (full-size) – worth £4.95 – NEW TO LOOKFANTASTIC
Powered by PAWPAW, olive oil and aloe vera, this quenching lip oil is also infused with natural collagen to help moisturise and rejuvenate your pout with a captivating high-gloss shine. 
Boost your complexion with this universally flattering blush; a silky, award-winning formula infused with transparent pigments that deliver a natural-looking radiance to help complement all skin tones. 
Disciple Shadow Work AHA/BHA Brightening Serum (full-size) – worth £30 – EXCLUSIVE PRODUCT LAUNCH
This resurfacing serum is packed with natural plant acids, salicylic acid and glycolic acid to help remove dead skin cells, brighten the appearance of dark areas of pigmentation and deeply exfoliate to minimise the risk of breakouts and reveal fresh, bright skin. 
The award-winning body cream visibly tightens the appearance of skin with a blend of caffeine-rich guaraná and cupuaçu butter for fast-absorbing moisture to leave you looking (and smelling) divine! 
LOOKFANTASTIC 4-piece Makeup Brush Set and Velvet Pouch (full-size) – worth £14.99 – EXCLUSIVE PRODUCT LAUNCH
Enjoy flawless makeup application with our bespoke 4-piece brush set, featuring three eye brushes and a bronzer/blusher brush with ultra-soft bristles. Tucked inside an exclusive velvet travel pouch, helping to keep your brushes pristine for longer. 
Smudge-proof and fade-proof, the silky formula soars across the lid for smooth coverage, lending itself to dramatic wings, demure cat eyes or subtle lash-line definition. 
Formulated with a stabilised form of vitamin C and jojoba oil for deep nourishment, the serum delivers visible skin-brightening results while remaining ultra-gentle on sensitive skin.  
This effective cleanser harnesses the power of both AHAs and BHAs to help to gently break down impurities and lightly exfoliate the skin to visibly polish, brighten and decongest the complexion. 
Formulated with Reishi mushroom, this face lotion helps to soothe the appearance of sensitised-looking skin while also strengthening its natural barrier. Skin appears calmer and healthier with boosted, hydrated luminosity. 
Refresh your strands from root to tip with this Colour Security Shampoo and Conditioner Duo. Perfect for colour-treated hair, the high-performance set works to enhance vibrancy while leaving your hair feeling soft to the touch. 
Add a pop of colour to your winter makeup look with this lip and cheek balm, a cruelty-free, vitamin e-infused formula that gel-like shine without stickiness.  
Which product will you receive?
This TikTok-trending makeup brush cleaner helps to keep your beauty tools fresh and ready to use. With the fast-acting formulation, brushes or sponges are both clean and dry in as little as 60 seconds! 
2. ISOCLEAN Sponge Cleaner (deluxe size) – worth £8 
This TikTok-trending sponge cleaner helps to keep your beauty tools fresh and ready to use. With the fast-acting formulation, brushes or sponges are both clean and dry in as little as 60 seconds! 
Infused with a blend of vitamins, peptides, amino acids, and hyaluronic acid, the award-winning, conditioning formula works to improve the look of shorter lashes.  
Aery Living x LOOKFANTASTIC Winter Thyme Candle (deluxe size) – worth £25 – EXCLUSIVE PRODUCT LAUNCH
Get set for the Christmas countdown with this ultimate festive candle! The bespoke Winter Thyme candle is exclusive to our Advent Calendar and filled with notes that capture the cheer, warmth, and familiarity of the holiday season – orange, nutmeg, cinnamon, and thyme. 
Infused with a powerful anti-ageing serum, the gel patches work to hydrate and help to brighten the look of dark circles, and improve the appearance of pigmentation, fine lines, and uneven texture. 
Create customisable definition and level up your look from soft and natural, to bold and dramatic. The bespoke mega brush coats lashes from root to tip with 360-degree coverage to create the illusion of instant lift and length. 
This iconic beauty sponge is created with innovative foam technology, perfect for blending makeup evenly for smooth and enhanced results, from a dewy finish to a full coverage base. 
Enriched with shea butter, eucalyptus, oatmeal and ceramides, this cream moisturiser brings immediate comfort to tired-looking skin. 
An anti-ageing eye cream, formulated with the brand's signature hyaluronic acid to help restore your skin's natural glow, day and night. Jojoba oil helps to hydrate and reduce the appearance of fine lines and wrinkles, while added avocado oil helps to soften under-eyes. 
This vegan and cruelty-free primer delivers a luminous, glass-like glow. The radiance-enhancing formula is enriched with vitamin C to brighten the look of your skin, while a moisturising blend of dragon fruit, yuzu, vitamin E, and hyaluronic acid helps to plump and hydrate your complexion. 
Infused with a tropical fragrance, the mask is enriched with a nourishing blend of shea butter and fig, helping to enhance manageability and moisturise the hair without adding any weight! 
Uniting ultra-fine bamboo particles and a rich, cream base, the body exfoliator helps to purify the skin without stripping its essential natural oils. 
Made with purifying kaolin clay and camphor, this face mask helps to decongest and draw out impurities, hydrate and lightly exfoliate the surface of your skin. 
Make way for your most ICONIC Christmas yet! Starring 20 highly-pigmented, long-lasting, matter, shimmer and glitter shades, this eyeshadow palette is sure to make a statement. 
Love this Limited Edition? Upgrade your beauty every month with a subscription to LOOKFANTASTIC The Box. 
Six beauty essentials worth over £50 each month

 

Just £13 a month for a 12-month subscription

 

Free Premier Delivery (worth £9.90) with a 12-month subscription

 

Early access and £10 off Limited Editions

 

Boost your

LF Beauty Plus+ points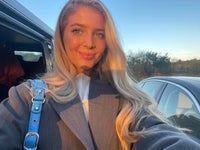 As a content executive with a passion for beauty, I am always looking for ways to streamline my routine. I'm obsessed with minimalist skincare and I like to focus on natural products to highlight my features and give my skin the ultimate glow!