Post last updated: 25/01/2023
When it comes to a flawless foundation application, it's all about the brush you use. Whether you prefer a liquid foundation, powder foundation or a cream foundation, when applied using the right foundation brush, you will see fantastic results in how your favourite foundation blends with your skin and its longevity.  
There are many different foundation brushes available including stippling brushes, buffer brushes, flat top brushes, duo fibre brushes, natural bristle brushes and many more. The choice can be a little overwhelming. but fear not as our experts are here to introduce you to the best foundation brushes that will achieve the most consistent coverage and finish. 
Foundation Brushes or Sponges, Which is Better?
It all depends on the finish you want to achieve. Both Brushes and sponges can be used to get buildable to full coverage. When sponges are damp, they give a dewy finish. To get a dewy finish with a foundation brush, simply spray it with a face mist before applying.
Our Picks of the Best Foundation Brushes
Ready to cover all bases? Here are the best foundation brushes you can buy. 
How to Choose a Foundation Brush
Different foundation brushes offer different finishes, so depending on the effect you're looking for, you'll need to ensure you've chosen the right brush to achieve your desired finish, as well as a brush that works harmoniously with your choice of foundation. 
Consider the bristles and foundation format. For example, synthetic bristles are best for liquid foundations while natural bristles are best for powder foundations as they tend to have a lighter touch on your face.
For full coverage foundations, it's best to use a Flathead Foundation Brush but if it's light to buildable coverage, then opt for a rounder densely packed brush head.
Best Foundation Brushes for Liquid Foundation 
With synthetic bristles formed in a dense and tapered brush head, the bareMinerals Performance Foundation Brush is made to mimic the shape of your fingertips to offer easy and seamless blending. Synthetic bristles don't absorb any product so you're not wasting any of your favourite foundation. Created to use with liquid foundation, this uniquely shaped brush is ideal for reaching contours such as around your nose and eyes. For streak-free, smooth and easy liquid foundation, this is the brush for you.
Bristle Type

: Synthetic

Brush Head Type:

Flat Kabuki
For a streak-free seamless foundation application choose the NYX Professional Makeup Dual Fibre Foundation Brush. Synthetic bristles are densely packed to ensure enough liquid foundation is picked up. An angled tip allows you to work your favourite foundation into the contours of your face with finesse. Create an airbrushed effect that lasts all day and night.
Bristle Type

: Natural & Synthetic Mix

Brush Head Type:

Round Kabuki
Best Foundation Brushes for Cream Foundation 
On the go? Need to take your makeup tools with you? The Real Techniques Expert Face Brush is ideal for applying or touching up your foundation. The densely packed buffing brush is ideal for creating the perfect base using cream or liquid foundation. For a HD-ready finish you can trust the Real Techniques Expert Face Brush will get the job done.
Bristle Type

: Synthetic

Brush Head Type:

Round Wide Kabuki
The ZOEVA 108 Face Finish Rose Golden Vol.2not only looks amazing in your makeup bag, but is also crafted from synthetic hair so the bristles easily pick up cream foundation and gel-based makeup with minimal product absorption. This foundation brush is ideal for buffing out or blending evenly distributing the product for a natural looking and flawless finish. Handmade and hand-bound, this brush ensures minimal fallout and longevity.
Bristle Type

: Synthetic

Brush Head Type:

Rounded, Tapered
Best All Rounder Foundation Brushes 
For the ultimate all-rounder, choose the Smashbox Blurring Foundation Brush. This domed brush head made of synthetic bristles works brilliantly with cream foundation, liquid foundation and powder foundation, so if you don't stick to one foundation finish, you can still use this brush. The slim handle features finger grooves to show you where to hold for buildable, sheer to full coverage that looks natural and flawless.
Bristle Type

: Synthetic

Brush Head Shape:

Domed
Another diverse foundation brush is the Bobbi Brown Full Coverage Face Brush. This expert foundation brush applies liquid foundation and powder foundation with ease. Super-soft synthetic brushes are packed short and dense to give you all the buffing power you need for a HD finish. Use with dry foundations and wet foundation, this Full Coverage Face Brush is everything you need for beautifully applied foundation.
Bristle Type

: Synthetic

Brush Head Type:

Round Kabuki
Best Flathead Foundation Brush 
A classic foundation brush in shape, the MAC 191 Foundation Brush is specially developed to be used with liquid foundation to help professionally blend and buff your foundation without streaking. For a smooth and even coverage, this flathead foundation brush is hand-sculpted and crafted from natural wood to avoid shedding bristles.
Bristle Type

: Synthetic

Brush Head Type:

Flat, Squared
For flawless foundation application, investing in a quality makeup brush like those mentioned above is all you need to achieve the beautiful look and finish you desire.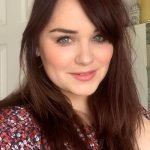 I've been writing about hair and beauty for over 10 years. I am a collector of vintage perfume and my go-to look always includes a bold pink lip! For more, visit https://www.goodgollymisshollie.co.uk