Finding the best makeup brushes can involve a little trial and error, however, we are here to help. Our beauty experts have rounded up the very best makeup brush sets, that will bring you the best quality brushes from respected beauty brands such as Sigma, ZOEVA, Sleek, Real Techniques and more.
Purchasing good quality makeup brushes can be a bit of an investment, but it is totally worth it for a professional finish to your makeup, no bristle shedding and being able to use your brushes for years to come. If you want to make a saving, without compromising on quality, then buying your makeup brushes in a set can actually save you money on the price per brush as opposed to buying each brush individually.
The best makeup brush sets
Makeup brush sets come in a variety of formations. You can buy an entire brush set which includes a makeup brush for every area of makeup application, or you can buy a makeup brush set for specific areas such as base, or eyes.
A uniform makeup brush set also looks pretty gorgeous on your dressing table, or in your makeup bag too as you can buy sets in some pretty amazing colourways and patterns. And if you're looking for a thoughtful gift, makeup brush sets will also make a fellow makeup maven very happy if you're on the hunt for the perfect present.
The best compact makeup brush sets
With everything you need to create a full makeup look, the Real Techniques Everyday Essentials set caters for your base, cheeks and eyes. This synthetic brush set contains everything you need to get started.
The Set Contains:
The fluffy blusher brush is made with soft, tapered bristles to seamlessly blend powder blush.
Miracle Complexion Sponge®
The 3-in-1 makeup blender is made from soft flexible foam to stipple your favourite products with finesse. The precision tip conceals blemishes and targets smaller areas. The flat edge can be used to blend liquid and cream foundations and concealers in the contours around the eyes and nose for a bright highlighted base.
An eyeshadow brush with short, dense bristles for blending cream and powder eyeshadows.
This soft and fluffy makeup brush is designed to dust on highlighter or set powders.
Complete with firm bristles for buffing liquid and cream foundations into the skin.
The Sleek MakeUP 7 Piece Brush Set is made up of seven makeup brushes created using natural and synthetic fibres to help you achieve endless makeup looks.
The Set Contains:
Foundation Brush
Powder Brush
Blush Brush:
Eye Shadow Brush
Eye Contour Brush
Eyeliner/Brow Brush
Lip Brush
The best vegan makeup brush set
You can be guaranteed quality with the EcoTools Start The Day Beautifully Kit. Complete with five essential brushes to cover your entire face, this vegan makeup brush set is made from sustainable bamboo handles and100% cruelty-free synthetic bristles.
The Set Contains:
Angled Foundation Brush
Blurring Brush
Defined Crease Brush
Angled Liner Brush
Full Blush Brush
Storage Tray
The best full face makeup brush sets
The ZOEVA Complete Set includes 15 of ZOEVA's iconic makeup brushes. All handmade, the makeup brushes in the Complete Set are soft on your face but sturdy in your hand. The ZOEVA brushes with black and white bristles are synthetic and designed for using with creams and gels. Ideal for powder-based products, the white bristled brushes are crafted from natural hair blended with synthetic fibres.
The Set Contains:
Crafted from pure synthetic hair. Ideal for applying or blending foundation.
Crafted from pure synthetic hair. Applies and blends foundation, powder and mineral makeup.
Crafted from pure synthetic hair. Applies loose and pressed powder.
Crafted from pure synthetic hair. Contours the face shape with cream and powder products.
Crafted from pure synthetic hair. Applies cream and powder blush.
Crafted from pure synthetic hair. Applies and blends concealer.
Crafted from pure synthetic hair. Accentuates the crease.
Crafted from a blend of natural-synthetic hair and treated goat hair. Softly blends and smooths eyeshadow.
Crafted from a blend of natural-synthetic hair and treated goat hair. Blends and shades eyeshadow in the crease.
Crafted from a blend of natural-synthetic hair and treated goat hair. Accentuates and blends in the crease.
Crafted from a blend of natural-synthetic hair and treated goat hair. Shades and blends with a smoky effect.
Crafted from pure synthetic hair. Applies the outer V with perfection.
You can count on Sigma for high-quality makeup brushes and the Sigma Best of Sigma Brush Set is no exception. Combining seven, signature quality makeup brushes made with thin fibres that softly and effectively pick up and deliver powder, liquid and cream products.
The Set Contains:
F80 – Flat Kabuki™

: Application of liquid or cream products to flat areas of the face such as the forehead and cheeks.

P88 – Precision Flat Angled™

: Use for precise application of concealer products anywhere on the face. Works particularly well around the eyes and nose.

F64

– Soft Blend Concealer™: Best for buffing and evening out concealer applied with a light hand on large areas or all-over finish of the face.

E57

– Firm Shader: Helps you to apply intense colours all over the lid for a controlled colour finish.

E38

– Diffused Crease™: Blends strong colour into the crease for a diffused effect.

E34

– Domed Utility™: Applies and blends intense colour into the crease and outer corner with high colour payoff.

E21

– Smudge: Precise application and smudging of colour onto the upper and lower lash lines.
Looking to buy every single makeup brush you need for some makeup mastery? The Luxie - Rose Gold 30 Piece Brush Book Set is a comprehensive collection of face and eye brushes for beginners and professionals alike. Each handcrafted brush is totally vegan and cruelty-free.
The Set Contains:
Face Brushes:
Rose Gold Large Powder Face Brush 502
Rose Gold Large Angled Face Brush 504
Rose Gold Duo Fiber Stippling Face Brush 508
Rose Gold Foundation Face Makeup Brush 510
Rose Gold Small Contouring Brush 512
Rose Gold Blush Face Brush 51
Rose Gold Duo Fiber Powder Brush 516
Rose Gold Large Powder Face Brush 518
Rose Gold Tapered Face Brush 520
Rose Gold Tapered Highlight Brush 522
Rose Gold Small Duo Fiber Face Brush 524
Rose Gold Large Concealer Brush 526
Rose Gold Concealer Brush 528
Rose Gold Flat Contour Brush 542
Rose Gold Lip Brush 160
Eye Brushes:
Rose Gold Brow and Lash Spoolie Brush 201
Rose Gold Tapered Blending Brush 205
Rose Gold Medium Angled Shading Brush 207
Rose Gold Large Shader Eye Brush 209
Rose Gold Small Concealer Brush 211
Rose Gold Eye Shading Eye Brush 213
Rose Gold Small Angle Eye Brush 215
Rose Gold Pencil Eye Brush 217
Rose Gold Eye Liner Eye Brush 219
Rose Gold Flat Definer Brush 221
Rose Gold Short Shader Brush 223
Rose Gold Blending Brush 227
Rose Gold Tapered Blending Brush 229
Rose Gold Small Tapered Blending Brush 231
Rose Gold Large Fluff Brush 233
As we always say, flawless makeup application starts with the tools you use. The makeup brush sets we have introduced you to here are sure to allow you to create beautiful makeup looks for years to come.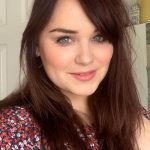 I've been writing about hair and beauty for over 10 years. I am a collector of vintage perfume and my go-to look always includes a bold pink lip! For more, visit https://www.goodgollymisshollie.co.uk