When it comes to getting glam, nothing makes you feel confident quite like a fluttery, flirty set of falsies. For those who are lusting after the full lash effect, but don't want the upkeep of extensions, applying faux lashes is the perfect way to elevate your look. However, it's fair to say that there's a certain knack to achieving the seamlessly blended lashes you see on your favourite MUA's Instagram. From shaky hands to sweaty palms, applying your falsies before a night out can sometimes feel like an extreme sport, not to mention keeping that pesky inner corner at bay whilst on the dance floor.
If you're yet to lockdown your stress-free falsies routine, then don't panic. We caught up with Makeup Artist and false lash aficionado Alisha Heap, who has teamed up with our latest brand launch Doll Beauty to show us her fool-proof guide to applying faux lashes.
How can you stop the inner corner of your lashes coming unstuck?
Using a strong hold lash glue is the key to securing your lashes all day & night. Ensure the glue goes 'tacky' before application by leaving it for 30 seconds, this will give it a stronger hold.
Is it better to apply lashes with tweezers or your fingers?
Tweezers! The Doll Beauty Tweezers give you much more control and allow for the Doll Lash to be applied much closer to your lashline, giving it a more natural look overall.
How do I know whish lash shape to choose?
There are no set rules with false lashes, and you can whichever pair you like and makes you feel good. However, there are some lashes that look particularly great on certain eye shapes such as:
Almond Shaped Eyes - Winged Lash
Round Eyes - Full & Wispy Lash
Hooded Eyes - Natural & Wispy Lash
Is it better to apply lashes on top or underneath the lash line?
On top of the lash line, as this is where the false lashes are designed to go.
How can I keep my falsies in good condition for longer?
Removing the lash glue and combing through lashes with a spoolie after every use!
Should you put on mascara before your false lashes?
You can do either, the aim is to blend the natural lashes with the false lashes.
Is it bad to put mascara over false lashes?
You can apply mascara on top of lashes, but be aware that coating the lashes with mascara will affect the lash hair, potentially shortening their life.
What are your top tips for newbies applying false lashes, or people who struggle keeping a steady hand?
Follow all the simple steps in my Lash 101 video and use all the recommended Doll Beauty lash tools. It's also important to always use a good quality Faux Mink Lash.
What are the most common mistakes people make when applying false lashes?
One of the main mistakes people make when applying their lashes is being impatient and not allowing the glue to go tacky before application. Another common problem is not applying the false lash close enough to your natural lash band, so it doesn't blend as well.
What's the best way to remove false lashes without harming your natural lashes?
To remove your lashes safely, simply gently and slowly pull from away from the lash line, starting at the outer edge of your false lash.
Shop all Doll Beauty on LOOKFANTASTIC.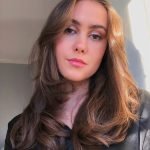 As someone with an affinity for all things beauty, discovering fantastic new products is my not-so-secret obsession. Over the years I've tried and tested a mountains worth of creams, serums and cleansers, finding some of my favourite 'holy-grail' products along the way. However, I'm always on the lookout for more ways to nourish my hair, perfect my dewy base, or enhance my skincare routine. Working as a beauty blogger for over 3 years, I've been lucky enough to collaborate personally with lots of amazing beauty brands including Christian Dior, The Body Shop and Dermalogica. I've used the Dermalogica special cleansing gel religiously since I first got it and their products are some of my ultimate skincare faves. When it comes to cosmetics, NARS Sheer Glow foundation is definitely my go-to - I live for a light, glowy base!