Glitter nail polish is perfect for party season. When it comes to a glittery nail, choose an all-over glitter polish for maximum impact, or layer a little glitter polish over the tips of your nails for a festive twist on your usual mani. Shimmery nail polish is easy to touch up and any chips are nowhere near as noticeable as regular polish. Here at LOOKFANTASTIC, we love glitter nail polish.
Whether you prefer a classic metallic glitter nail polish or want to experiment with other fun shades of glitter polish, we've rounded up the best glitter nail polishes for easy application and long-lasting staying power.
The best glitter nail polish
The best silver glitter nail polish
For a beautiful molten silver nail polish, choose the Rimmel 60 Seconds Glitter Nail Polish in Extra. For all-out shimmer and sparkles, this super quick-drying formula resists chipping and flaking for up to 10 days so you can be sure to have perfectly preened party-ready nails that won't let you down.
The best dark glitter nail polish
Inspired by Swarovski crystals, precious jewels and glistening stones, the CND Vinyluxis a long-wear polish formula that is infused with Vitamin E, Keratin and Jojoba Oil to condition and strengthen the nails. This resilient, chip-resistant formula will become your favourite sparkly polish.
The best gold glitter nail polish
The Ciaté Antique Brooch Paint Potis a beautiful gold shade that's infused with gold flakes to give your nails a touch of movie star glamour! This polish boasts a long handle and a 250 bristle brush for a seriously smooth and even application. Long- lasting and fast-drying, this highly pigmented polish will be sure to compliment your favourite outfits.
The best red glitter nail polishes
Looking for the perfect Ruby red nail polish? The Passionate Kisses polish from Jessica will offer you the red glitter nails of your dreams. Jessica Nails have a fantastic reputation for their high-quality colours that are long-lasting, glossy and easy to apply.
For a dark red glitter polish then choose the 'Star-Spangled' Nail Varnish from ORLY. This long-wearing, chip-resistant colour glides effortlessly onto your nails offering a salon-quality finish.
The best iridescent nail polish
You can count on Barry M to bring you gorgeous iridescent nails. Fortune Teller from Barry M Cosmetics is infused with holographic shards to reflect light and create a beautiful finish. For a stunning sparkle and shine, this is the nail polish for you.
You can always rely on glittery nails to cheer any outfit and mood, whether you love bold and bright glitter, or a classic gold, we've got a glitter nail polish for everyone.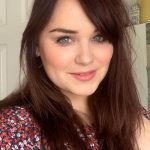 I've been writing about hair and beauty for over 10 years. I am a collector of vintage perfume and my go-to look always includes a bold pink lip! For more, visit https://www.goodgollymisshollie.co.uk