Dreamy LA skin just got easier- The Kate Somerville Limited Edition Beauty Box has dropped! 5 of Kate's radical formulas are housed within this heavenly box- yours for just £65! That's a saving of over 54%! From the Goat Milk Moisturizing Cleanser to the ultra-restorative DeliKate Recovery Cream, your dreams of perfect skin just became reality.
With limited stock available, get your hands on this box before it's too late!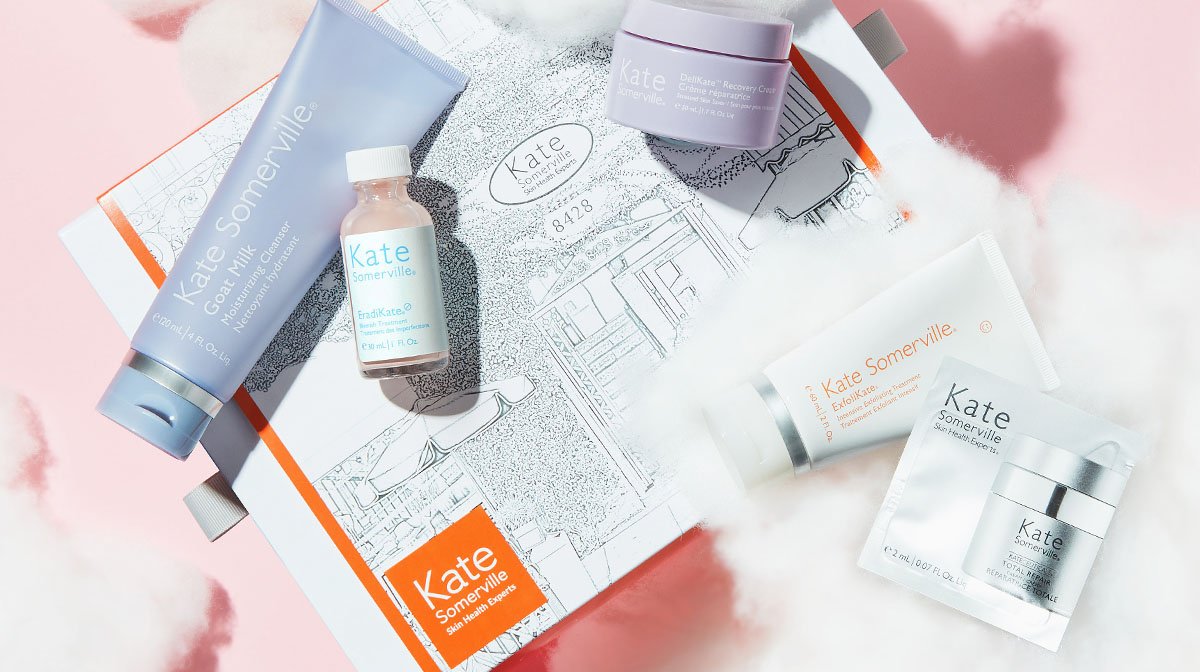 What's in the Box:
Goat Milk Moisturizing Cleanser
Inspired by Kate's personal experiences with goat's milk and healing skin. This nourishing face wash gently removes dirt, oil and makeup without stripping skin. Sulfate-free and clinically tested safe for sensitive skin, you can use this daily to relieve skin tightness and dryness.
How to Use it?
AM and PM. Apply a small amount to damp face and neck and massage gently for 30 seconds. Rinse and gently pat dry.
ExfoliKate® Intensive Treatment
Our clinic-inspired exfoliating scrub reveals smoother texture and pores in two minutes while removing surface dullness, softens fine lines and wrinkles and reveals a smooth, healthy- looking, glowing complexion.
How to Use it?
AM and PM. Once or twice a week, apply a thin, even layer to a clean, wet face, massaging in a circular motion for 30 seconds. Leave on for up to 2 minutes. Rinse and gently pat dry. This product may cause the skin to tingle and flush slightly for a short time. For sensitive skin, leave on for less than 1 minute.
Eradikate® Blemish Treatment
Clinically proven to diminish blemishes in just one hour. Our spot treatment doesn't just dry up blemishes. It effectively clears skin, unclogs pores, controls oils and prevents future blemishes. A must for every skincare toolkit.
How to use?
Use in the evening, after cleansing. Do not shake bottle, but simply dip a clean cotton swab to the bottom and apply only the pink sediment to the affected areas. Let applied product dry and rinse off the in morning.
DeliKate Recovery Cream
This lightweight, fast-absorbing serum helps soothe stressed or sensitized skin, relieving redness & tightness while restoring skin's protective barrier.
How to use?
AM and PM. Apply 1-2 drops to cleansed skin.
KateCeuticals Total Repair Cream
This anti-ageing cream brings together top hydrating ingredients that plump & replenish with deep moisturizers that firm, smooth & restore. In just one week, you'll see improved texture & firmness with diminished fine lines & wrinkles.
How to use?
AM and PM. Apply a thin, even layer to face and neck. Use alone or layer over a treatment or serum.
Subscribed to the LOOKFANTASTIC Beauty Box? Click through your early access email* and shop the dreamy Kate Somerville Limited Edition Beauty Box for just £60!
Not subscribed yet? Subscribe today (https://www.lookfantastic.com/beauty-box/lookfantastic-beauty-box-subscription/11140463.html ) and get £5 off when you use code KSBB5
*valid on 3, 6 and 12 month subscriptions only
As the Beauty Editor for LOOKFANTASTIC Beauty Box I'm always hunting for a good beauty story, I like to remain ahead of the trends. But aside from this, I'm a keen reader and writer in my spare time. You'll find me with my head in a good book most of the time- Beauty & Fashion related or otherwise! You'll often find me obsessing over the latest tropical-scented body oil or lathering on the coconut moisturiser. As you may have already guessed, I have a natural affinity for all things tropical. Beauty and grooming for me is escapism, a little slice of heaven away from the day-to-day.