Protecting your curly hair overnight is the secret to bigger, bouncier and longer hair. If you want to wake up with a crown of curls, rather than a bird's nest on your head – then this article is for you.
Beauty sleep is an important time to unwind and relax. If you like your sleep, like me, then mornings can be a mad rush, trying to fit your routine in as little time as possible. Protecting your curly hair overnight can make both of these times a lot easier.
Rather than getting up early for a wash and go, emerge from your beauty sleep with a crown of defined curls. Protecting your hair overnight will keep your curls crisp for longer – giving you more time between dreaded wash days.
Why do I need to protect my curly hair overnight?
Ever wondered why the back of your hair tends to be shorter than the sides? That's breakage! In your sleep, tossing and turning rubs your hair against the pillow, creating friction which leads to frizz. This can cause breakage, snapping the weaker or drier parts of your hair.
Aside from actual damage, this just really messes up your hair, creating serious bed head. Protecting your hair not only keeps it healthier, it also massively reduces the amount of time you have to spend styling – leaving more time for sleep.
How can I protect my curls while sleeping?
The protective methods you can use depends on your hair type, and also your preferences. Those with hair type 2 can get away with an easy pineapple style (more on that, later), but types 3 and 4 need something more protective. The more textured your hair is, the more prone it is to damage and dryness, so it needs more care. But don't worry, the amount of time these methods can save is definitely worth it.
There are a few options, so let's get into it.
#1 Silk pillowcase
The crème de la crème of curl care has to be the silk pillowcase. No prep is required, just place your heavy head on this sleek surface and drift off to sleep. Crafted from silk, these pillowcases unveil a whole new world of comfort. Soft, silky and hypoallergenic, the luxurious material helps to prevent facial creasing as well as frizz. What's more, the fabric is non-absorbent, meaning it won't draw moisture away from your hair or skin. This lets your precious curl creams and pricey night serums stay firmly in place, so you can wake up bright-eyed and silky, rather red-eyed and bushy.
Pros
Easy
Comfortable
Great for your skin too
Minimal shrinkage
#2 Silk Bonnet
Many curly girls swear by the silk bonnet. Although it can be a bit of a mission keeping it in place all night, the silk bonnet is the number 1 defence against frizz. Great for crazy sleepers who can't always find their pillow in the morning, the silk bonnet keeps your curls in place and frizz-free. However, the bonnet must be properly secured, which can be uncomfortable at first (but it's definitely worth it). Ideal for those who might spend a few nights of the week at a partner or friend's house, the bonnet is super portable.
Once you take your hair out in the morning, you may experience some shrinkage. To get your hair back to the desired size, put your fingers in at the root of your hair and shake it out. You can even use a pick if you fancy it.
Pros
Best for short to medium length hair
Minimises frizz
Portable
Great for crazy sleepers
#3 Overnight Masks & Conditioners
Supercharge your beauty sleep with an overnight mask or deep conditioner. Giving your hair some long-overdue TLC, overnight formulas are the most effortless way to look after your locks.
Many of us struggle to fit that weekly deep conditioning into our busy routines. Wash days can be hard enough, and it's difficult to find the time to do a mask properly.
Forget all that, because overnight masks are where it's at. Doing the hard work for you, these formulas give your crown the haircare equivalent of an overnight spa stay. Fuelled by advanced formulas, these masks feed nourishment to the follicle all night long, while you get some shut eye.
Curly haircare has never been so easy. Simply comb the product through your hair and hop into bed. Thanks to the leave-in formulation, all you have to do in the morning is get up and go.
Not only will your hair feel and smell amazing, it'll be properly nourished - making it so much easier to detangle and style. Who knew a deep treatment could save you so much time?
#4 Plopping
What is plopping?
An essential part of the curly girl method, plopping is a great way to dry wet hair, in the morning or overnight. Flip your wet hair into a T-shirt and use the sleeves to tie a knot behind your head, tucking in the excess material. It really is that simple.
Made from soft cotton, T-shirts are a much safer way to dry delicate curls. Conventional towels are made from rough fibres that create friction, causing frizz or even breakage. Hair is its weakest when wet, and so it needs extra care.
If you have a late-night shower, plopping is the best option. Just make sure you tuck it in tightly to keep it in place throughout the night.
Pros
Great for wet hair
Don't need to buy anything – just use an old t-shirt
#5 Pineapple
This final option is great for those days when you can't be bothered to do anything with your hair, or you don't have anything silky to hand. Gather all of your hair into a ponytail, right in the middle of your head, like so: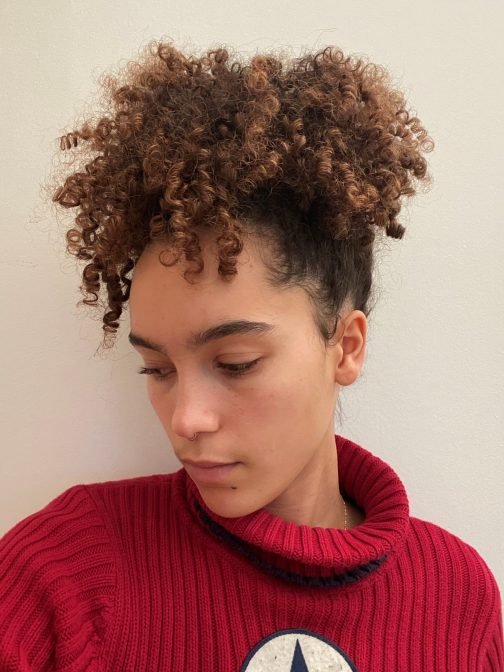 It should be tied loosely, using a scrunchie to minimise denting. Anything made from silk or satin is always best, as it minimises tension on the hair.
Although this method can be used for all hair types, it doesn't stop your hair from frizzing or breaking – so do think about investing in something silky. If you have shorter or type 4 hair, try the multi-pineapple style. Using three hair ties, gather your hair at three different points on the head. One at the top, and two at the sides. This also helps to reduce stretching, keeping your curl pattern intact.
Pros
Want to learn more about curly hair? Discover your hair type and porosity here on LOOKFANTASTIC. What's more, you can even shop according to your hair type - just look at the Curly or Afro & Textured hair sections.

Our team of beauty experts cover everything from makeup to skincare, picking out the most effective products from the best brands and latest trends. Stay up to date on everything beauty with the LOOKFANTASTIC blog, and find all your essentials in one place.