It's finally payday weekend! And what better way to end what feels like the longest month EVER? By treating yourself to some fresh new beauty picks, of course! Here at lookfantastic, we've been dropping the latest must-have beauty launches from the brands we know you love. So, if there's ever a right time to clear out your beauty cabinet and revamp it with some fresh new products, it's now. Turn payday into pamper day this weekend with our top 10 beauty round-up - designed for a girls' night in or prepping for your big night out…
Aquis X Poosh *EXCLUSIVE*
Looking for a quick and stylish way to dry your hair? Look no further. Protect your locks from heat damage with the Aquis X Poosh leopard print hair turban. Exclusive to lookfantastic, this super handy turban by hair gurus Aquis is in collaboration with Poosh by Kourtney Kardashian, which means it's guaranteed to be a sell-out! Reducing hair drying time by 50%, this leopard print turban is perfect for all hair types, including curly or delicate hair. Fans of this stylish hair turban say: 'Since using the Aquis hair turban, I've really noticed a difference in my hair texture, shine, and strength, and way less damage overall.'What's more? It's ideal for taking to the gym or for when you're travelling on the go!
Giovanni Leave-In Conditioner
The winter season can take its toll on your hair, causing it to feel dry and dehydrated. Give your locks the TLC it deserves with the Giovanni Direct Leave-In Conditioner. This conditioner not only smells unreal, but also has a lightweight formula that doesn't feel heavy on the hair. Suitable for all hair types, this product works to detangle, soften and leave your locks looking thicker and shinier. Perfect for your pamper evening with the girls, leave it on overnight for the best effects.
Garnier Organic Konjac Sponge *AS SEEN IN THE LOVE ISLAND 2020 VILLA*
Invest in a more sustainable and eco-friendly beauty regime with the Garnier Organic Konjac Sponge. Designed for cleansing, exfoliating and removing makeup, this sponge is initially hard and softens when soaked in water. Use it on the surface of your skin on its own or with your favourite cleanser, makeup remover or exfoliator. Simply rinse your konjac sponge clean and once dry, it will return to its hardened form. After use, your skin will feel fresher and appear more glowing! 
Filorga Scrub & Detox Exfoliator *EXCLUSIVE*
Exclusive to lookfantastic, the Filorga Scrub & Detox Exfoliator is the ultimate self-care treatment this season. Work the formula into congested, tired skin once or twice a week. The scrub contains activated carbon that acts by exfoliating deep into the pores to remove dead skin. After exfoliating, rinse your skin to reveal a brighter, more rejuvenated complexion.
Eve Lom Rescue Peel Pads *EXCLUSIVE*
If you love the iconic Eve Lom Cleanser, then you're guaranteed to adore the Eve Lom Rescue Peel Pads! Exclusively available right here at lookfantastic, these pads are perfect for using after cleansing and work to buff away dead skin cells and leave your complexion looking more youthful and replenished. What's more? The pads are made from 100% biodegradable materials, meaning you'll achieve a deeper, more thorough cleanse.
Dr. Brandt Wrinkle Smoothing Cream
Non-invasive treatments are becoming increasingly popular, so forget about going under the needle. Thanks to Dr. Brandt Wrinkle Smoothing Cream, you can achieve smoother, more youthful-looking skin from the comfort of your home. Part of the brand's popular 'Needles No More' range, the cream works to target the signs of ageing and reduce the appearance of fine lines and wrinkles on the forehead and between the eyebrows. Treat yourself this payday!
GLAMGLOW Supermud Mask
Nothing says 'girls' night in' more than a face mask treatment. The GLAMGLOW Supermud Mask is this season's must-have face mask. Enriched with Glycolic, Salicylic and Lactic Acids, use it as a full mask or to treat single blemishes. Apply a thin layer to the skin and leave the mask to work its magic for 5-20 minutes. Rinse away with water and your skin will be left feeling noticeably fresher and more radiant! What's more, the Supermud mask is unisex, so if you're having a night in with your other half this Valentine's Day, it's the perfect pick!
Sarah Chapman Skinesis Liquid Facial Resurfacer
Known for her expert skincare, Sarah Chapman is the Holy Grail of the facial world. And if it's good enough for Meghan Markle, it's good enough for your beauty shelf. The Sarah Chapman Skinesis Liquid Facial Resurfacer is best applied to freshly cleansed skin morning or evening. The liquid works to reduce the signs of ageing and sun damage by resurfacing the skin and restoring its natural qualities. Apply with a cotton pad and sweep across your face for an instantly revitalised and glowing complexion.
Bobbi Brown Vitamin Enriched Face Base
Up your skincare game with Bobbi Brown Vitamin Enriched Face Base. More than a moisturiser, this product can be used on its own as a daily moisturiser, as a primer before foundation or as an overnight cream. Enriched with Shea Butter, this product works to smooth your skin and keep it hydrated. However you choose to incorporate Vitamin Enriched Face Base into your skincare routine, it's a surefire gamechanger. 
EISENBERG Cleansing Makeup Removing Gel
Dry January is officially over, so if you're out partying this payday weekend, don't forget to remove your makeup with EISENBERG Cleansing Makeup Removing Gel. Apply to a konjac sponge or face cloth to massage into the skin and lift away makeup and impurities. The transparent gel has dual-action to act as a cleanser and leave your skin feeling revitalised and radiant.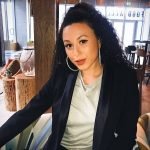 As a beauty obsessive, I'm always trialling and testing new, exciting brands and product discoveries. With over 6 years' experience in beauty writing, including freelancing on the Net-A-Porter beauty desk, I have lots of useful beauty hacks, tips and tricks to share. I'm constantly seeking the latest hair products to make my curls ultra-bouncy and defined. The Cantu Coconut Curling Creme is my Holy Grail! My lipstick collection is always expanding – and my favourite lip product of the moment has to be a nude lipgloss for the ultimate everyday look.