You can count on bronzer to add or enhance a sunkissed glow to your complexion. When used correctly, in just a few seconds, bronzer can add warmth to your face, cheat an afternoon in the sunshine and enhance a lit-from-within radiance.
As makeup trends come and go (hello bronzed goddess of the early '00s) the basic techniques never go out of style. That said, following the mainstream popularity of expertly contouring the face, the differences between face bronzer and contouring products tend to get confused with many people thinking they are one and the same.
Bronzer and contours are used for different purposes and require different techniques in application. Here, we'll be sharing what bronzer makeup is used for, as well as expert tips for a perfect bronzer application.
What Is Bronzer?
Bronzers are typically warm toned products that are available in gel, cream, liquid and powder formulations. Bronzers are available in two different finishes, some bronzers are matte in tone and others are shimmery. It's all about finding the bronzer that best suits the makeup look you're aiming for and of course, your personal taste.
What Is The Difference Between Bronzer And Contour?
Whilst a matte bronzer can help add a little shadow to the contours of your face, it isn't the right product to use to expertly contour with as it will create an unnatural warm-toned shadow, as opposed to a cool-toned shadow. Contour products are cool in tone and always matte in finish.
 How Should Bronzer Be Applied?
Apply bronzer after finishing your base makeup of foundation, concealer and powder. Only apply your bronzer to the areas of your face where the sun would naturally hit it such as the high points of your cheeks, the bridge of your nose and your temples.
The Best Bronzers
For more inspiration, check out our best bronzers edit.
 The benefit Hoola bronzer is a matte bronzer that aims to brighten your complexion whilst supplying a gorgeous glow. The easily buildable bronzer can be dialled up or down for full impact or more minimal makeup looks. Apply to your cheeks, forehead and nose for a healthy complexion.
Bronzer and highlighter go hand in hand, so get the best of both worlds with the Revolution Pro Sculpt and Glow. The rich golden brown sculpting shade is complimented by the pearlescent particles in the highlighter shade. Both shades catch the light to cast a sultry, golden-hour glow and a lit-from-within appearance.
Get your bronzey glow on with the Lottie London Matte Powder Bronzer, this lightweight pressed powder is easily blendable and buildable whilst creating a sunkissed glow. Ideal for sculpting your cheeks and adding depth to your foundation, you can cheat a summer holiday in just one application.
Looking for a smooth and lightweight bronzer? The Revlon SkinLights Prismatic Bronzer offers a sunkissed radiance thanks to crystal-like pigments. The silky and smooth formula blends effortlessly with your skin without appearing cakey or chalky, only radiant and bronzed.
The Wet n' Wild Color Icon Bronzer is infused with gel gliding across skin as easily as a cream, making blending and building a bronzed look super simple. Apply the powder bronzer to your cheekbones and forehead for a sunkissed glow.
The Revolution Pro 4K Bronzer Palette is a quad of finely milled bronzing powder that will melt into your skin. Thanks to soft lit-from-within colours, you can wear them alone, or together depending on the makeup look you're aiming for.
A dusting of the Barry M Cosmetics Staycation Bronzer is all you need to become a glowing goddess. This two-tone bronzing palette contains one matte shade and one shimmer shade that are both blendable and soft to apply without appearing chalky.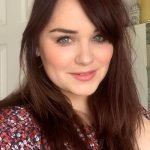 I've been writing about hair and beauty for over 10 years. I am a collector of vintage perfume and my go-to look always includes a bold pink lip! For more, visit https://www.goodgollymisshollie.co.uk