Blondes may have more fun, but they can't always be the life and soul of the party. Any permanent blondie will tell you there's one major drawback to having lighter, luscious locks. Spoiler alert: it's the upkeep.
Maintaining bright, balanced blonde is a full-time commitment, requiring regular toning and colour touch-ups. But what if we told you there's a way to banish brassy tones and keep your blonde looking fresh and radiant all year long?
The answer to your haircare woes lies with Olaplex. Equipped with patented bond-building technology to fortify damaged strands, Olaplex formulas are big hitters in the haircare industry. And now, keeping blonde hair vibrant is easier than ever, thanks to the brand's new No. 4P Blonde Enhancer Toner Shampoo. Enriched with concentrated pigments, the purple shampoo works to neutralise harsh yellow tones for renewed life and balanced colour.
We challenged 3 members of our beauty squad to the Olaplex blonde-boosting challenge. Our team road-tested Olaplex's toning shampoo for 2 weeks to see if it really made a difference to their manes. Let's just say, the results are game-changing!
Amy G, Partnership Marketing Manager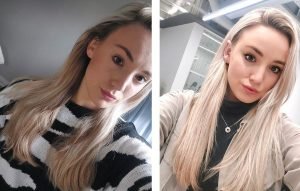 No stranger to a trip to the salon, Amy colours her thick, ashy blonde hair every three months. "Brassy tones are a concern for me. I can see when my hair is becoming brassy and less bright, usually after I go a few washes without using purple shampoo.'
After just two weeks of using Olaplex 4P, Amy noticed a visible difference in the brightness of her blonde: 'The 4P shampoo completely toned my hair and cooled any warm tones. It is the strongest purple shampoo I've ever used and more of a toner I would say! Therefore, I recommend taking breaks in between washes."
When taking breaks from the 4P shampoo, it's important to nourish your strands, as coloured blonde hair typically has a dryer texture. "I recommend doing a weekly hair mask, adding hair oils to your routine, and most importantly using Olaplex's purple shampoo every other week!"
Opt for a nourishing, moisture-rich treatment to soothe hair weakened by chemical processing, like the No.8 Bond Intense Moisture Mask. No. 8 features the same bond-building technology as other Olaplex heroes, designed to leave bleached strands feeling soft, strong and manageable. Plus, it creates healthy-looking shine and renewed vibrancy in coloured hair.
Ellie H, Campaign Manager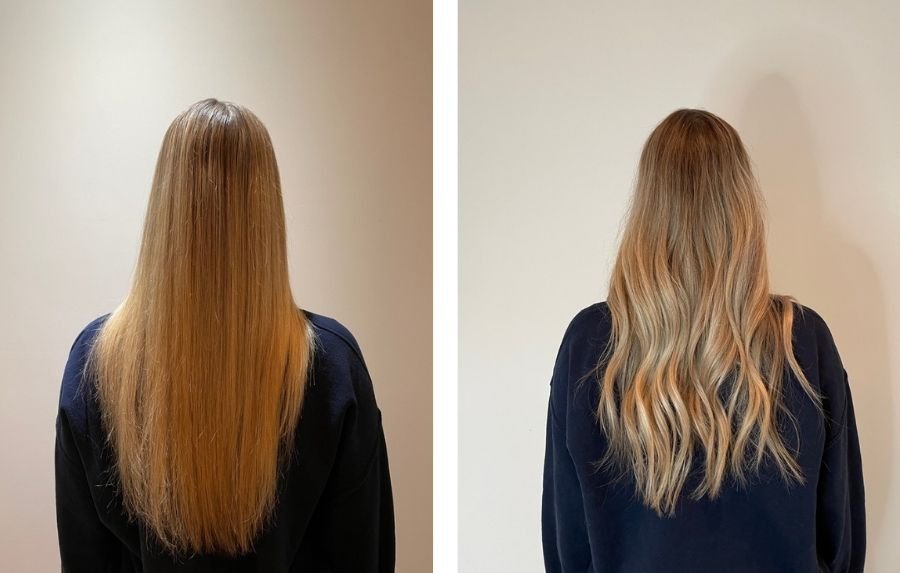 Ellie's fine, honey-blonde hair is prone to yellow hues between salon appointments. But after just one wash with Olaplex's purple shampoo, she saw visible lift in her colour. "I noticed the change in brightness immediately – even my friends and boyfriends commented on it! We could really see the difference around my face-framing strands, as they were ashier to begin with. I'm so glad I've found a caring and nourishing product to help stretch my colour between salon sessions."
To further protect her blonde locks from colour-fade, Ellie swears by an Olaplex entourage. "I use Olaplex No.7 Bonding Oil to protect my hair from heat, as I do curl and straighten my hair throughout the week. I also use Olaplex No.3 Hair Perfector during my Sunday re-set days as a mask to strengthen and hydrate my strands for the week ahead.
Amy W, Global Senior CRM Manager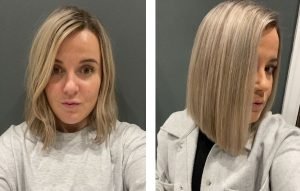 Amy W's ashy blonde hair is thick and wavy, and like most colour-treated tresses, needs extra attention between chemical treatments. Though brassy tones weren't really a concern for her, Amy's strands transformed to a brighter, ashier finish after just two washes with the Olaplex No. 4P Blonde Enhancer Toner Shampoo.
"The purple shampoo is a great product for maintaining my blonde. It brightens and keeps my ashy tones in place, and it's also a lot easier than expected to slot into your haircare routine. A lot of purple shampoos are drying on my hair – but not this one!"
How to keep your blonde fresh
If you're looking to protect, nourish and refresh your blonde, follow our full Olaplex routine here…
1) Cleanse and Tone
Cleanse and tone in one simple step with the Olaplex No. 4P Blonde Enhancer Toner Shampoo. A little goes a long way, so massage a small amount of product into your hair, then rinse thoroughly. Enriched with purple pigments, the cleanser helps to neutralise and correct harsh brassy tones, leaving your blonde brighter than ever.
Make sure to take breaks from using the 4P purple shampoo. Instead, replace with the No.4 Bond Maintenance Shampoo to freshen and fortify your strands without stripping your colour.
2) Nourish and Replenish
Show colour-treated strands some love with weekly hair treatments and oils that hydrate from root-to-tip. The No.3 Hair Perfector has achieved cult-favourite status for its ability to strengthen and replenish dry, damaged hair. Bond-building patent technology helps to restore weakened bonds and reinforce structure for strong, healthy-looking strands.
Always condition the lengths of your hair with a colour-safe formula. The No.5 Bond Maintenance conditioner smooths the appearance of fly-aways while restoring shine and strength to stressed-out strands.
3) Strengthen and Protect
Keep coloured hair safe from breakage or heat damage with protective, conditioning formulas. Apply No.6 Bond Smoother before heat styling to wet or dry hair; the reparative, leave-in treatment helps to minimise the appearance of dullness, dryness and damage.
Go out on a high note with the No.7 Bonding Oil. Protecting from heat up to 232°C, this fortifying hair oil helps to minimise styling damage and the look of split ends while enhancing shine.
Want to know more? Check out our detailed How to Use Olaplex guide here...