It's the launch we've all been waiting for, we finally have the missing piece to the Olaplex puzzle...the No.8. One of the most exciting products in the range, the No.8 is infused with the brand's signature bond-building technology but also offers a new benefit.
Not only does the No.8 strengthen brittle and weak strands, this new formula also moisturises. As dryness is a key concern amongst anyone who has dabbled in bleach or heat styling - we could not wait to try this one out.
In this Olaplex No.8 review, we tried out the new product on four different hair types and textures, ranging from bleached to virgin hair as well as curly. Since many of us have gone without a haircut for much longer than we would've liked, this gold star launch could not have come at a better time. If you're excited to get out again but worried that your hair is looking a little worse for wear - this product is exactly what you need.
If you want to learn everything there is to know about the newly landed No.8, check out our complete guide, where we answer the most common questions.
Why don't you join the Olaplex beauty train and see what all the fuss is about?
Sophie - thick, dry & frizzy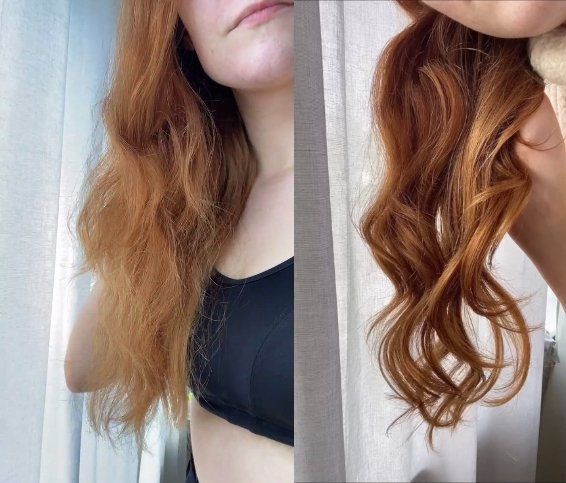 Olaplex novice, I was so excited to try their new No.8 hair mask after hearing so many people rave about the brand. Due to lockdown, like many others I haven't had a hair cut in almost 6 months which has left my hair looking a little worse for wear. I wanted to give my hair a refresh with something to nourish my ends and give me some volume and shine and the No.8 hair mask did exactly that!
It's really simple to use. After doing my usual wash routine, I applied the product through slightly damp hair (focusing on the lengths and ends) then did a simple plait so I could leave the mask in whilst I got on with other things round the house. Then after 10 minutes I rinsed it out to reveal smooth, silky hair. After letting my hair air dry, I noticed that my ends, which were previously frizzy and course, felt nourished and much softer. Olaplex No.8 has become a staple in my hair care routine and I use it once a week to refresh and revive my tresses!
Gigi - curly & brittle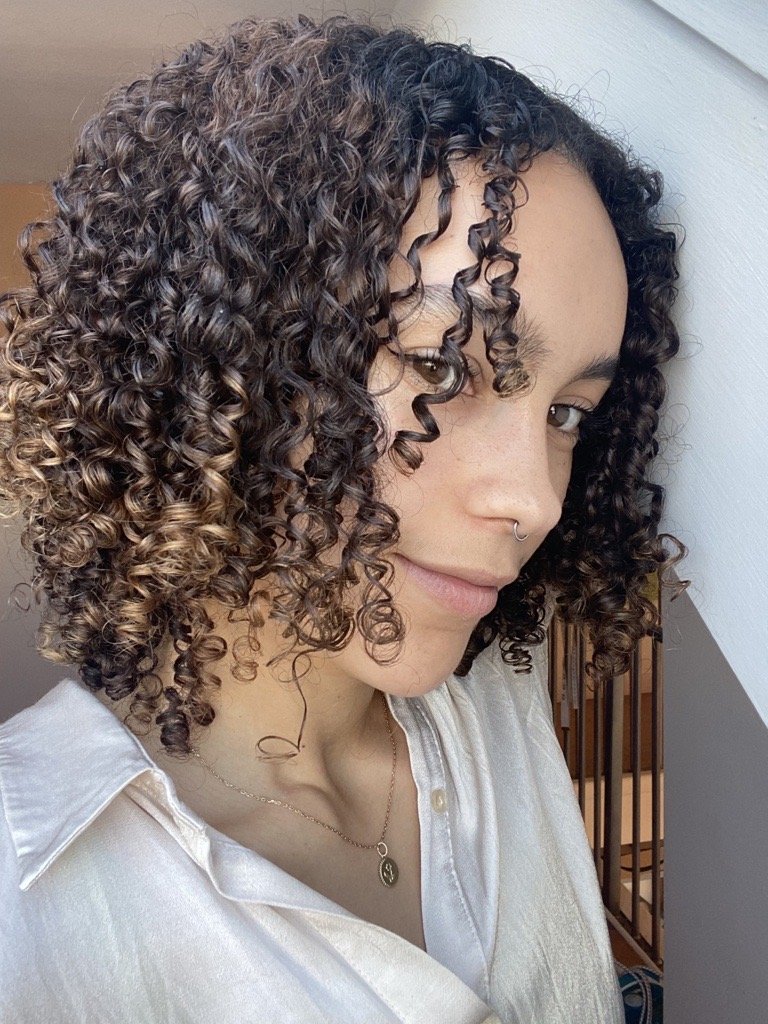 I am a newbie to Olaplex and now I can really see what all the fuss is about. I used to think it was only for people with straight, bleached hair - but this Tried & Tested completely changed my mind.
A small amount of this product goes a seriously long way. When I say a little, I mean one single pump. That's right - if you have shoulder-length hair, that's all you need! As my hair is so coarse and dense, I settled for three, and my hair was still saturated with product.
The directions say that you should use the product on freshly shampooed, towel-dried hair. Now, if you're a curly girl, you'll know that post-shampoo is when your hair is most in need of detangling, and one pump of No.8 isn't going to give you enough slip to detangle. To work around this, either pre-poo or use a lightweight conditioner after the shampoo but before No.8 to detangle.
I personally use the Olaplex after my Wonder Water, another product that I previously thought wouldn't work on my hair type. The Wonder Water is great for detangling my hair pre-Olaplex. It's so lightweight that it doesn't get in the way of the Olaplex, but it's still got enough slip to let me detangle.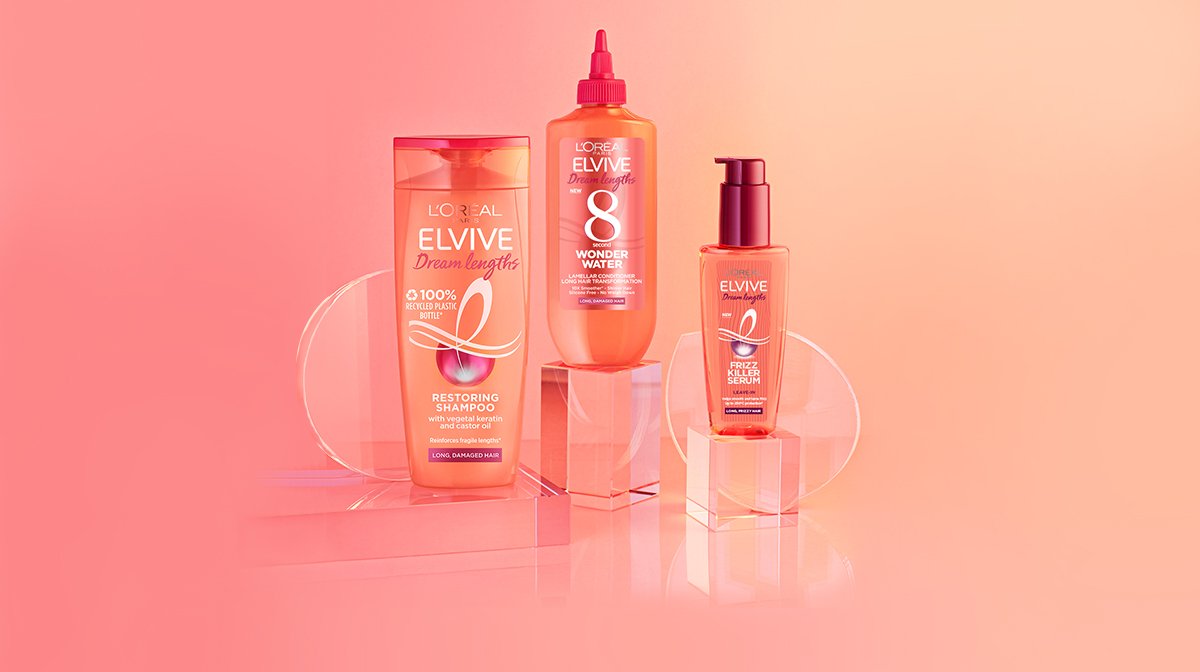 Danielle - bleached & dry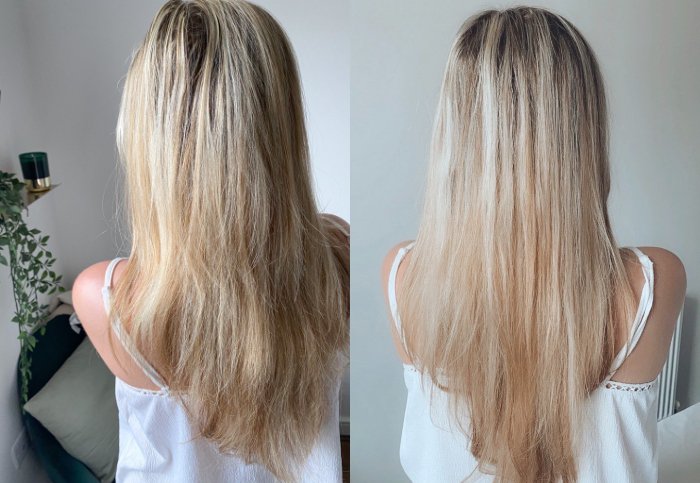 When I saw there was going to be a new Olaplex product coming out, I couldn't wait to try it. I already use a few of their products that have already transformed my hair so much over the last few months, and I can safely say No.8 is now going to be a firm staple in my routine. Since going blonde last year my hair has been more dry, brittle and damaged. After incorporating the No.8 into my normal hair wash routine, my hair has already started to feel softer and more nourished!
After shampooing, I use a generous pump or two and pull the product through the top of my hair to my ends and leave for 10 mins before washing out and conditioning. It smells amazing (as do all Olaplex products) and the consistency was super easy to worth with. Can't wait to use this more and level up my hair game!
Danni - frizzy & damaged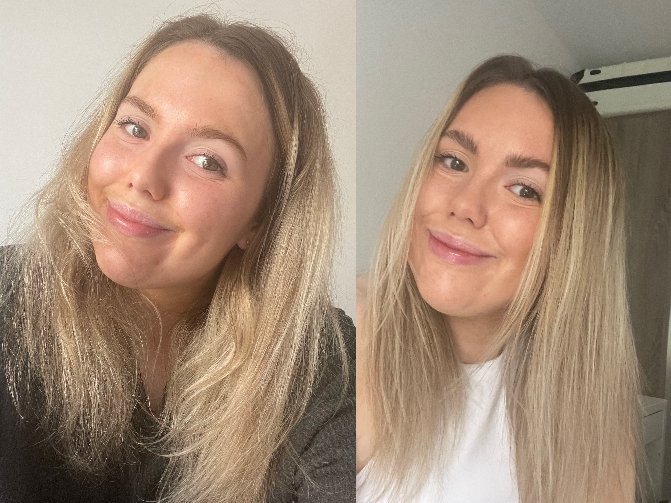 I am a HUGE Olaplex fan! I love all their products and I just had to have their latest launch – the No.8 Moisture Mask. My hair is naturally frizzy and dull and could definitely do with some extra shine. I also bleach it and use lots of heat (I love a super straight look!) meaning it's quite damaged, particularly on the ends.
Firstly, I love the fact the bottle of the no.8 mask has a pump! This makes it super easy to dispense the amount you need and to ensure you can get all the product out of the packaging. With Olaplex a little definitely goes a long way, I used 2 pumps on the ends and mid-lengths of my hair as I find this is the area where I need the moisture most. The consistency of the mask is fairly thick - it feels super nourishing and moisturising.
As you can see from the before and after the mask has definitely helped to add shine to my hair, it looks much less 'straw like' and has reduced frizz. I also feel like it has helped to enhance the colour of my hair (after a long time without the salon!). My hair also feels noticeably more hydrated and it feels super soft! This is definitely a must have if you want to get that super sleek locks and will be a much loved addition to my haircare routine.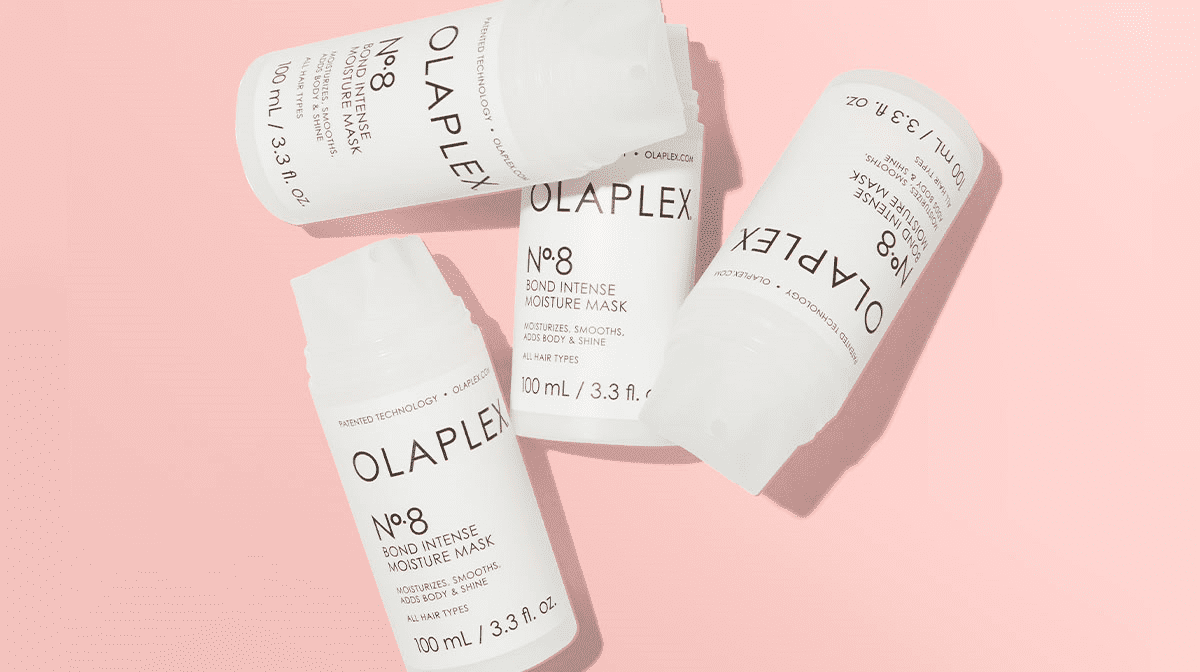 Advice
How to Use OLAPLEX No.8
Obsessed with the Olaplex haircare range? Discover how the new Olaplex No.8 can rescue damaged hair with its patented bond repair technology.

Our team of beauty experts cover everything from makeup to skincare, picking out the most effective products from the best brands and latest trends. Stay up to date on everything beauty with the LOOKFANTASTIC blog, and find all your essentials in one place.