Like a genie in a bottle, Olaplex has been working wonders on hair from around the world, putting the spring back into the step of our overprocessed tresses. Loved by influencers and hairdressers alike, this magical formula has helped so many of us hold onto our hair and sidestep the damage we probably deserved (bleach lovers, you know what I mean). But what about curly hair? We've noticed that so many of you want to know which Olaplex products are best for the curly hair gang, so we asked an expert.
We caught up with Christin Brown, a celebrity curl specialist, to find out which Olaplex products are best for curly hair. Best known for her transformative curly cuts and unique Pintura colour method, Christin's salon, LunaBella Makeup & Hair in Santa Barbara, has treated curly hair royalty.
Featured in ELLE, ALLURE, Vogue Italia and recently Forbes, she has worked with celebrities such as Yara Shahidi, Ashley Blaine Featherson, Tamera Mowry-Housley, and Angela Manuel Davis, to name but a few. Leading the natural hair revolution, Christin uses Olaplex as her go-to, reviving curls that are recovering from years of straightening treatments.
Christin revealed the best Olaplex products for curly hair, answering some of your most asked questions, as well as sharing some industry insider tips and tricks. Enjoy!
Does Olaplex work on curly hair?
Absolutely! Olaplex is truly for all hair types!
Which Olaplex products are best for curly hair?
My fave products for curls are both the No.3 take-home treatment and the No.6 Bond Smoother. The No.3 is absolutely a must-have for all curls because our hair needs protection like no other. The bond-building technology surpasses any traditional treatments and gets straight down to the core of rebuilding the hair' structure from the inside out. A knockout product!
The No. 6 Bond Smoother is different from a lot of cream stylers that are on the market today. This leave-in cream is designed to provide curls with a ton of hydration, moisture, and help with frizz. Apply on wet curls and either airdry or diffuse for the best results.
Olaplex No.3 Hair Perfector 100ml

Olaplex No.6 Bond Smoother 100ml
How do you use Olaplex on curly hair?
As a stylist and colorist, I use Olaplex in a few different ways. I add the Professional Products to all of my colour, lightener, and toners which protects the integrity of the hair structure and curl pattern while processing. Then, I follow up with No.4, 5, 6 and 7. The newest member of the family, which is No.8 is such a luxurious Mask for all hair types. I feel like it shines especially with curly hair because it's able to penetrate deeper into the hair providing long last results. My clients will then maintain their new-do at home with No.3 and No.8.
Olaplex No 3, 4, 5, 6 and 7 Bundle

Olaplex No.8 Bond Intense Moisture Mask 100ml
Does Olaplex need to be left on for longer for curly hair types?
Personally, I'm not a big fan of the "leave it on longer for better results" because that's not always how it works. In this case with Olaplex, 10 minutes is truly all you need for your No.3 Bond Perfector to give life-changing results to your tresses over time.
Do you need to use more product for curly hair?
Within the curly community, many of us are under the impression that using more product will always be the way to go. While I completely understand because most products' standard "recommended amounts" are not enough, I'm constantly reminding my guests that Olaplex products are super concentrated and less product can be perfect.
Start with the recommended dosage and then if you feel the need to add more, start with more water in the hair first. Sometimes water can provide the additional ingredient that your hair needs.
How can curly girls use No.8 after shampoo if we need to detangle with conditioner first?
Actually, Curly girls can detangle while No.8 is in the hair. There is no need to apply a conditioner prior to using No.8. You can simply shampoo, apply No.8, detangle and then rinse & style your hair.
Shop all Olaplex, here on LOOKFANTASTIC.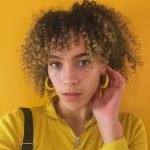 As a haircare obsessive, I'm always on the lookout for new products and methods that will define my crown. I can never stick with a hairstyle for too long, and I love to pair minimal makeup with a bold lip. I specialise in haircare, with a mission to make all hair types and textures look and feel fantastic. If you're after a new routine or product – I'm your girl, I've tried every haircare challenge and all the curl creams I can get my hands on. I couldn't live without my wash-and-go routine, and I follow the Curly Girl Method religiously. Unable to find my perfect salon, I've always cut, braided and dyed my own hair, working as a freelance hairdresser since 2016. Although I'm a long-time fanatic, I've been writing about beauty since 2019, working with haircare specialists from Cantu, Boucleme and Mielle Organics to uncover the best tricks and tips. Felicia Leatherwood is my haircare guru, and Scary Spice is my all-time icon.