Your morning skincare routine protects your skin from the sun, as well as other environmental factors such as pollution and harsh weather. The benefits of your morning skincare routine don't stop at protection either, as a good regime also helps to prepare your skin for a flawless makeup application.
Discover our Night Time Skincare Routine guide.
In the morning, many of us are generally in more of a hurry to get out of the door to work or an appointment. Therefore, you may want to keep your morning skincare routine nice and simple to save you time. If you are looking to curate the perfect quick and easy morning skincare routine, we've enlisted the help of two skincare experts to share their professional advice.
The Perfect Morning Skincare Routine
Meet The Skincare Experts
The experts helping you to nail down the perfect morning skincare routine are   Alexia Medlock, Bioderma's UK National Brand Manager and Dr Emma Craythorne MBChB FRCP. Emma is a consultant dermatologist, Mohs and laser surgeon, she is also the lead for specialist skin cancer at Guys Cancer Centre and the dermatology surgery and laser unit at St John's Institute of Dermatology.
Step 1: Identify your skin type
It is important to use skincare products that are targeted specifically for your skin type. Dr Emma Craythorne's motto is: "My skin is not your skin and your skin is not someone else's skin" which reiterates that everyone's skin can behave differently - It is important to see what works for you.
"Most of us have no idea what skin type we have and a study carried out about 15 years ago verified this, showing that most of those who classified themselves as having oily skin did not have and actually had dry skin. It really is a minefield and the key to optimal skincare is to ensure that you truly understand the true skin type that you have and the skin needs to maintain optimal health".
If you think you have identified your skin type incorrectly, or you are curious to learn more about the various skin types, discover our in-depth guide on how to identify your skin type, here you will be able to identify if you have normal, combination, oily, dry or sensitive skin.
Step 2: Cleanse your skin
Begin your morning skincare routine by cleansing your skin. Our experts recommend double cleansing if you have time in the morning to do so. Double cleansing is a method of using both an oil-based cleanser and a water-based cleanser to remove any makeup residue and excess oil and dirt from your face. Want to learn more about this cleansing method? Discover our expert guide, what is double cleansing?
When it comes to choosing a cleanser, find a cleanser that includes hydrating ingredients that allow your skin to retain moisture throughout the day. Look for hero ingredients such as glycerin, ceramides and hyaluronic acid all of which will help you to achieve a radiant, bright complexion. You may also have a preference for the kind of cleanser you are using, as a general rule of thumb, oil cleansers are best suited to dry skin types, cream cleansers are suitable for all skin types and foaming cleansers are best suited to oily skin types.
"Oily skin types and those using high amounts of sunscreens etc might do well with a foaming cleanser or a cleanser with salicylic acid in to ensure good clearance of the opening of the sebaceous units (pores)".
Optional Step: Use a micellar water
After you have cleansed your skin, an optional step is to use a micellar water to further ensure your skin is clean and hydrated. The Bioderma Sensibio H2O cleansing micellar water was the very first micellar water brought to the market in the '80s and remains one of the most gentle face cleansers for all skin types. The formula is made up of micelles (composed of glycerine) to cleanse and cucumber extract to soothe and decongest.
Step 3: Moisturise
Moisturiser is an important step in your skincare routine, it not only hydrates and softens your skin but also helps to create a beautiful radiance. Look for moisturisers that contain hyaluronic acid, ceramides and petrolatum.
"The idea behind this is to restore and rebuild the skins barrier in order to protect the inside world from the outside and that means the skin won't dry out as readily. It also means that things that might irritate the skin are less able to do so and you have a reduction in redness. For many skin health needs - moisturising is the key to restore the balance."
Step 4: Apply SPF
It is incredibly important to apply your SPF at the start of the day to help protect your skin from the damaging UVA/UVB rays and environmental aggressors which can cause premature ageing.
Dr Emma Craythorn says: "I actually call it RS - radiation shield - because it is more than just the sun - the problem continues on rainy days / cloudy days / and if you are doing this from a beauty perspective then it is as much the UVA you are targeting as the UVB and this comes through windows to. If you are doing it from a health point of view for something like melasma then you also have to think about the visible light particularly for those with darker skin types and use products that not only have UVA and UVB filters but also iron oxide for visible light filters".
We hope you have found this morning skincare routine useful, especially if you are looking for a quick, easy and effective regime to implement.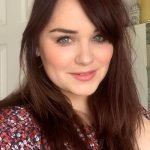 I've been writing about hair and beauty for over 10 years. I am a collector of vintage perfume and my go-to look always includes a bold pink lip! For more, visit https://www.goodgollymisshollie.co.uk