Cleansing is the first and arguably the most important step in any skincare routine. At the end of a long day, there is no better feeling than removing your makeup and knowing that you are cleansing away the pollution and bacteria that has accumulated on your skin throughout the day. It is these environmental aggressors that contribute towards a number of skin complaints including breakouts, premature ageing and hyperpigmentation. This is where double cleansing can help.
What is double cleansing?
Double cleansing involves washing your face using two different kinds of cleansers. The first being an oil-based cleanser, or micellar water and the second being a water-soluble cream, gel or lotion that is targeted to work with your specific skin type.
The process of a double cleanse is a very thorough way of removing any impurities from deep within your pores. It isn't necessary to double cleanse twice a day as over-washing your face can lead to dryness and irritation, however, double cleansing is recommended for your final evening cleanse.
How do you double cleanse?
 Firstly, use a micellar cleansing water or a cleansing oil to break down the initial layer of makeup, oil and dirt from your face. Use a cotton pad saturated in product to remove all of the visible makeup from your face. This may take a few goes before all traces of waterproof eye makeup and base makeup is removed. Once you've done this, massage your favourite cleanser into your skin for a few minutes and follow on with a deeper and more thorough cleanse with a warm flannel.
What are the benefits of double cleansing?
 Double cleansing is ideal for people who wear heavy makeup or use waterproof eye makeup products, as the process ensures all traces of product and oil are removed from your skin effectively. By double cleansing, you are removing dead skin cells and impurities from your skin that may lead to pesky breakouts and dullness.
The best cleansers to double cleanse with
 Interested in introducing double cleansing to your skincare routine? Here are some of the best double cleansers to try, as recommended by our skincare experts.
The best 'all in one' double cleansers
Suitable for all skin types, The INKEY List Oil and Water Double Cleanser removes all traces of makeup. The bi-phase formula combines an oil and water layer to dislodge and remove particles of makeup and impurities. Without leaving you skin feeling dry, or irritated, the gentle blend of sea buckthorn and sweet almond oil nourishes your skin whilst removing stubborn makeup.
For a powerful dual-action cleanser, choose the Lierac Double Nettoyant Double Cleanser Balm-in-Oil. This gentle face wash performs a double cleansing effect, clearing away makeup and pollution from your face quickly and effortlessly. The balm texture transforms into an oil and then a milk when put in contact with water for a magical skincare experience.
The best cleansing oil to double cleanse with
For a vitamin-enriched cleansing oil, choose the DHC Double Cleanse Essentials Set. Enriched with olive oil, this soft oil transforms into a milky emulsion when in contact with water. Lifting away makeup and impurities you can count on this oil cleanser for a hydrated and nourishing glow.
The best micellar cleansing water to double cleanse with
Begin the first step of your double cleanse with the Caudalie Micellar Cleansing Water. Suitable for all skin types, this micellar water attracts dirt like a magnet, gently yet effectively removing it from your skin without causing any irritation.
Double cleansing really is as easy as it sounds and can be a truly effective way to thoroughly cleanse your skin of makeup, oil and grime. Give it try!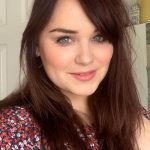 I've been writing about hair and beauty for over 10 years. I am a collector of vintage perfume and my go-to look always includes a bold pink lip! For more, visit https://www.goodgollymisshollie.co.uk