Also known as the 'first solo winner of Love Island', Amber Gill won the title back in 2019 with her bubbly personality and great chat. Since then, she's been running her own fitness programme as well as launching her own fashion collection at Miss Pap. What Amber hasn't given us until now, despite much demand, is her curly hair routine.
We always wondered if her hair is so big because it's full of secrets, and it seems we were right. Teaming up with Living Proof, the Love Island queen finally dished the details on her routine and methods, which you can discover below...
Shampoo
Amber starts her curly hair routine with the Living Proof Curl Shampoo. Massage the product into your scalp, working the shampoo in with your fingers. Don't worry about shampooing the ends, the suds will clean the length of your hair when you wash it out.
The great thing about Living Proof's formula is how delicate it is. Gentle yet effective, the shampoo uplifts dirt and build-up from the scalp, without stripping the strands of their essential moisture. Your hair will feel clean and soft once your rinse it out, rather than dry and straw-like.
Condition
Rake the Living Proof Curl Conditioner through your hair, focusing on the mid-lengths and ends. Leave it in for a couple of minutes to let it work its magic.
The texture will feel rich and creamy, providing your hair with the perfect amount of slip for detangling. Just make sure you're delicate with your comb. Your hair is its most vulnerable when wet and prone to breakage - so comb carefully!
Dry
Always dry your hair in a microfibre towel. Don't use a conventional cotton towel on your luscious locks, as the fibres are too tough for our delicate curls. The rough fibres rub against the hair, creating friction, which can even lead to breakage.
If your microfibre towel hasn't yet arrived, an old T-shirt will do! Just make sure it's clean and wrap it around your head like you would a towel.
Aquis Hair Turban Waffle Luxe Dream Boat
Style
Sometimes your hair can dry a little too much from the microfibre towel, so you can dampen it again with a spray bottle or a curl refreshing spray. The Kerastase Curl Manifesto Refresh Absolu Spray is ultra-hydrating, working to moisturise the hair with a fine mist. It also has an easy push lock to secure the spray, making it ideal for travelling.
Next, go in with the Curl Moisture Boost Serum to give your curls an extra boost of moisture. The consistency is so lightweight that your curls will effortlessly absorb the formula, leaving them silky to the touch. Move around the head in small sections, trying your best to cover almost every curl.
Then, go in with the Curl Elongator. This product is perfect for those with tighter textures, as it helps to fight shrinkage. Again, focus on the mid-lengths and ends as you rake lots of product into the hair, working in larger sections. To give your hair just a little bit more moisture, go in with the Curl Definer. Focus on the very ends of your hair, where it dries out the quickest.
Living Proof Curl Elongator 240ml

Living Proof Curl Definer 190ml
Once your hair is saturated with creamy products, go in with the Curl Defining Gel. Scrunching the product into your hair will help to create definition and leave bouncier curls.
Finally, leave your hair to air dry for a couple of hours while you get on with other things. Then, voila! Say hello to big, bouncy and defined curls!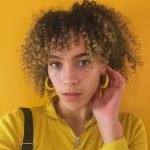 As a haircare obsessive, I'm always on the lookout for new products and methods that will define my crown. I can never stick with a hairstyle for too long, and I love to pair minimal makeup with a bold lip. I specialise in haircare, with a mission to make all hair types and textures look and feel fantastic. If you're after a new routine or product – I'm your girl, I've tried every haircare challenge and all the curl creams I can get my hands on. I couldn't live without my wash-and-go routine, and I follow the Curly Girl Method religiously. Unable to find my perfect salon, I've always cut, braided and dyed my own hair, working as a freelance hairdresser since 2016. Although I'm a long-time fanatic, I've been writing about beauty since 2019, working with haircare specialists from Cantu, Boucleme and Mielle Organics to uncover the best tricks and tips. Felicia Leatherwood is my haircare guru, and Scary Spice is my all-time icon.