DIARY PACKED WITH PLANS? GET FLAWLESS WITH THE HELP OF OUR MAY BEAUTY BOX!
With 6 products inside, plus a hand-bag friendly hand sanitizer to keep you safe on the go - worth over £50. The perfect monthly treat to get you Summertime ready.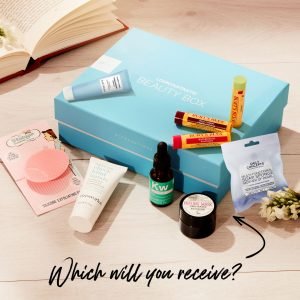 What's in the box?
Comfort Zone Hydramemory Cream Gel – 15ml – worth £11.25
This moisturising gel cream is infused with Hyaluronic Acid and a blend of natural extracts that ensures your skin has up to 24 hours of double hydration. With 92% natural origin ingredients, a formula completely free from silicones and a light 'sorbet' texture.
ECOOKING Peeling Mask – 15ml – worth £9.90
This is an effective face mask with peeling effects to tighten and smooth your complexion. Its active ingredients rid your skin of dead skin cells and encourages cell production, which over time decreases the appearance of fine lines and wrinkles. Your skin will prickle upon application and may look red after use — this is completely normal.
Dr Botanicals Kiwi Eye Serum – 15ml – worth £14.90
A lightweight, quick-absorbing serum formula eye treatment that combines superfood ingredients to create a soothing treatment to defend the delicate eye area against external aggressors. Use regularly to see a visible reduction of signs of ageing.
Burt's Bees Lip Balm (Cucumber/Cherry/Watermelon) - full-size – worth £3.99
A deliciously flavoured version of the cult-classic lip balm. Formulated to condition and moisturise the lips, for a pout that everyone will be buzzing about. You'll receive either refreshing cucumber, super sweet cherry or fresh watermelon this month.
The Vintage Cosmetics Company Silicone Exfoliating Pad – full-size – worth £3.99
A soft silicone bristle facial pad, designed for use with your favourite cleanser to deeply cleanse your pores and remove any dead skin cells. Use regularly to reveal a gorgeous, glowing complexion.
This Works Stress Check Kind Hands Cream – 30ml – worth £6
An intensely moisturising hand cream, perfect for replenishing skin after washing or sanitising. The formula locks in essential hydration and provides fast-acting relief, without leaving any sticky residue. Also enriched with the This Works Stress Check fragrance to uplift your senses with every use.
PLUS a FREE L'oreal Paris Hand Sanitizer – worth £2.69.
Subscribe now from just £13!