Whether we want to tame frizz, add a curl or simply straighten our hair, we always reach for our ghd hair straighteners.
Iconic in the world of haircare, ghd are always at the forefront of styling technology, bringing out new straighteners and stylers to help you avoid bad hair days and effortlessly achieve whatever style you wish to create.
Which is the best ghd hair straightener for me?
5 of the best ghd hair straighteners
ghd Original Styler
The styler that made everyone fall in love with ghd - the ghd Original Styler, now in a new and improved version! Loved for creating sleek and smooth everyday styles, the Original Styler is the perfect place to start if you're new to ghd.
With ceramic heat technology which keeps the stylers at the optimum styling temperature of 185°C, the Original Styler creates a frizz-free finish every time your style your hair and only takes 30 seconds to heat up. The round barrel design also makes it so easy to curl and wave your hair without snagging or pulling.
Perfect for: all hair types
ghd Gold Styler
If you long for sleeker, smoother and healthier looking hair, look no further than the ghd Gold Styler. Featuring two new generation heat sensors which distribute heat evenly across each strand of hair you style, the ghd Gold Styler ensures sleek, beautiful hair from root to tip.
With an improved heat up time of 25 seconds and ultra-sleek plates for snag-free styling, you can transform your hair quickly and easily. For extra safety, the stylers are fitted with an automatic sleep mode which shuts down the straighteners after 30 minutes of not being used.
Perfect for: Frequent styling
ghd Platinum+ Styler
Featuring breakthrough predictive technology, ghd Platinum+ Styler is world's first ever smart styler which predicts your hair's needs. Delivering heat which is kinder to your hair, Platinum+ allows you to style, straighten and curl your hair without the serious damage. The intelligent irons utilise patented ultra-zone technology to ensure the best temperature is consistently maintained across the whole plate for perfect results.
Both plates have a high-gloss finish for a smooth, snag-free glide which makes creating your perfect style so easy. With a unique wishbone hinge, the Platinum+ Styler gives you the ultimate control to curl, straighten or smooth your way to your dream hair.
Perfect for: all hair types
ghd Max Styler
Perfect for long, curly or thicker hair, the ghd Max Styler allows you to achieve maximum effects with minimum effort. Just like the Original Styler, the Max Styler is equipped with ceramic heat technology to ensure a consistent and even styling temperature.
With wider plates, ghd Max Styler makes achieving a smooth, sleek style much less time time consuming. Styling larger sections of hair with ease and taming frizz in naturally curly hair, Max Styler is ideal for those who want to simply achieve smooth, sleek locks with minimal effort.
Perfect for: longer hair
ghd Mini Styler
If you have short hair, tight curls or have a fringe, the ghd Mini Styler could be the perfect hair straightener for you. Allowing you to do more with short hair and get closer to your roots to tame frizz with slimline half inch plates, the Mini Styler makes it so easy style your hair and achieve a smooth, sleek finish.
The rounded, narrow plates can be used to create curls, waves, flicks or simply straighten your hair and are perfect for those with shorter locks. The smooth floating plates allow the styler to effortlessly glide through your hair and leave behind the ultimate shine for a salon-worthy finish.
Perfect for: longer hair
ghd Unplugged Cordless Styler
35% lighter than the Platinum+ Styler, this mini-me version offers all the performance of a full sized straightener, with the compact nature of a travel tool. Featuring dual zone technology, this small but powerful straighteners offer twenty minutes of styling making it perfect for touch ups, or switching up your style on the go.
Charged using a USB cable, this handbag-sized styler is easy to charge in your car, with a laptop or even on a plane.
Perfect for: styling on the go
Discover the complete ghd range...
Although ghd are known and loved for their hair straighteners, they also design wonderful hair dryers and curlers to help you achieve a perfect finish every time your wash, dry then style your locks.
Which are the best ghd hair dryers?
ghd Air Hair Dryer
With a lightweight, ergonomic design, the ghd Air Hair Dryer not only dries hair but also includes advanced ionic technology to tame frizz and control flyaways. A powerful wattage of 2100 allows a high pressure air flow for a quick and easy blow dry and varying temperatures mean you can tailor your blow dry to your hair type.
ghd Helios Professional Hair Dryer
The lightest and fastest dryer of the ghd range, this hairdryer utilises Aeroprecis™ Technology to deliver a 75mph airflow. Boasting multiple power and temperature controls, including a cool shot, this powerful dryer tames flyaways and conquers frizz for a beautifully smooth and sleek finish.
Which are the best ghd curlers?
ghd Creative Curl Wand
With a tapered 28mm-23mm wand, the ghd Creative Curl Wand creates beautiful, natural curls and beachy waves for a relaxed finish. Perfect for shorter hair or those who want to create a chic, undone look, the wand gives you ultimate control over your style.
ghd Curve Soft Curl Tong
Perfect for creating beautifully soft and bohemian curls, the ghd Curve Soft Curl Tong will give you your bounciest blowdry look yet. The tong itself is 32mm, making it super for creating curls which aren't as tight, this is the best ghd hair curler for you if you want a more relaxed look.
ghd Curve Classic Curl Tong
Achieve beautiful bouncy curls with the ghd Curve Classic Curl Tong, a 26mm curl barrel which creates beautiful waves and curls on even short hair styles. With a protective cool tip to give you more control over your style, the Curl Tong contains breakthrough ultra-zone technology which guarantees the right curling temperature of 185°C is maintained throughout styling.
ghd Curve Classic Wave Wand
Love waves in contrast to curls? Then you will adore ghd's Curve Classic Wave Wand. Creating beautiful looking beach waves thanks to its 38-26mm tapered barrel, the wand is great if you love the bohemian look with waves that look as relaxed as you feel. Plus, it feels super lightweight, making it incredibly easy to use.
Want to try out other brands? Check out our best hair straighteners guide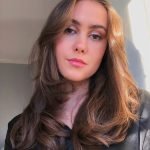 As someone with an affinity for all things beauty, discovering fantastic new products is my not-so-secret obsession. Over the years I've tried and tested a mountains worth of creams, serums and cleansers, finding some of my favourite 'holy-grail' products along the way. However, I'm always on the lookout for more ways to nourish my hair, perfect my dewy base, or enhance my skincare routine. Working as a beauty blogger for over 3 years, I've been lucky enough to collaborate personally with lots of amazing beauty brands including Christian Dior, The Body Shop and Dermalogica. I've used the Dermalogica special cleansing gel religiously since I first got it and their products are some of my ultimate skincare faves. When it comes to cosmetics, NARS Sheer Glow foundation is definitely my go-to - I live for a light, glowy base!