Male grooming is BIGGER than ever, as more men are wanting to look their best and smash the stigma that goes with male beautification.
Data reveals that searches are up significantly year on year for best men's skincare (+124%) and skincare for men (+83%). With this boom in interest, LOOKFANTASTIC wanted to find out just how popular male grooming has become.
Men care about skincare
The Ordinary is the most popular men's skincare brand IN THE WORLD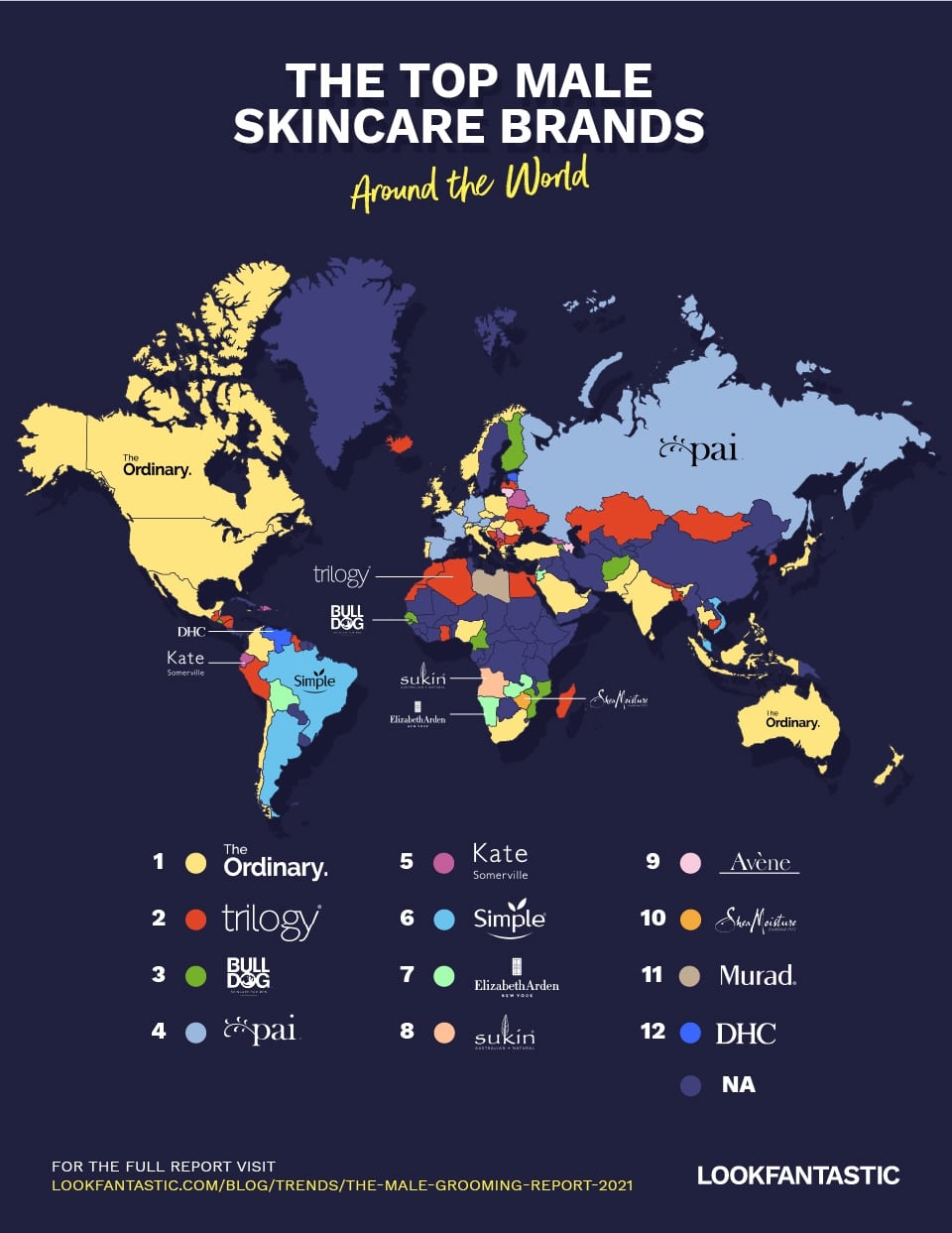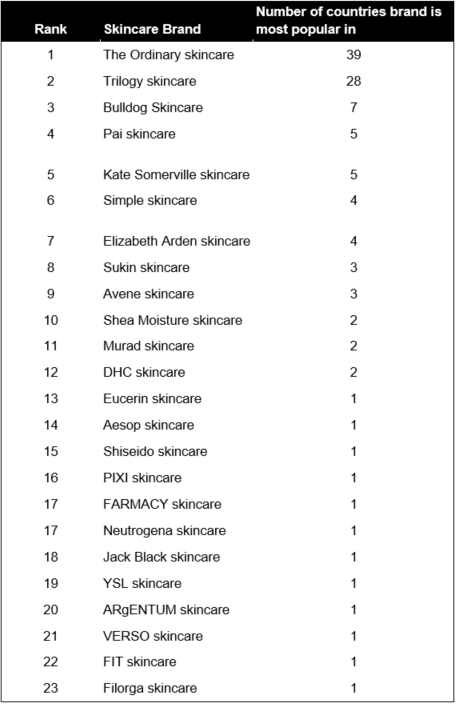 So, what is the top male skincare brand? Unsurprisingly, coming in first place across 39 countries in the world is the skincare sensation, The Ordinary. Thanks to the likes of TikTok and other social media platforms, this brand has shot up in popularity over the past year due to its efficiency as well as its value for money. The Ordinary is the most popular skincare brand for men in countries such as the United Kingdom, United States, Canada and Ireland, to name a few.
Coming in second is the ethical, sustainable and natural skincare brand, Trilogy, which is the top skincare brand in 28 countries across the globe including the likes of Iceland and Bangladesh.
Finally in third is Bulldog, a brand dedicated to purely men's skincare which comes out on top in seven different countries including Finland and Armenia.
C you later sun damage: Vitamin C tops the list of the world's most popular skincare ingredients!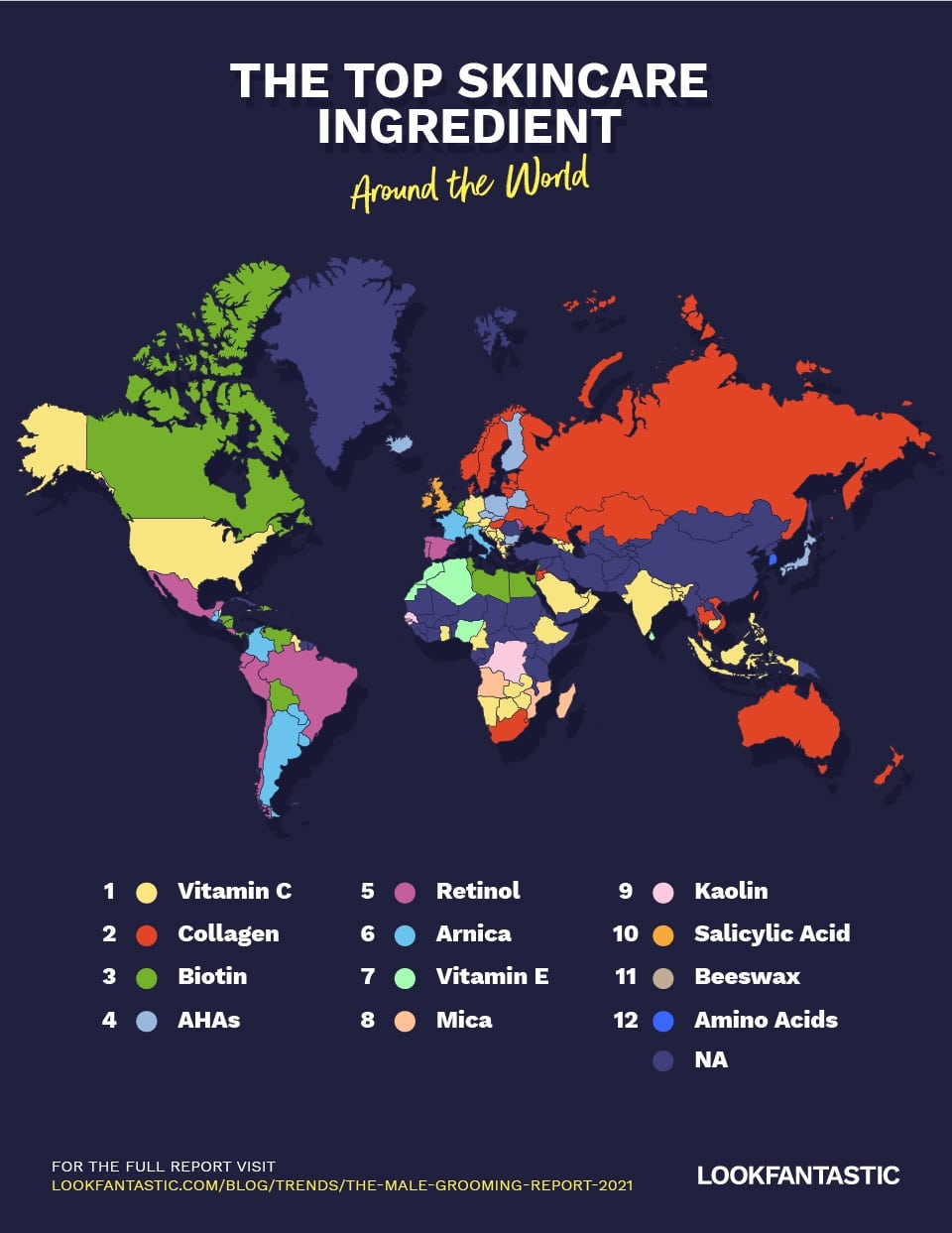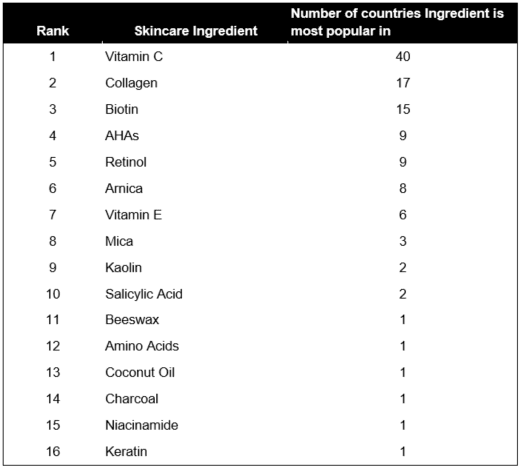 Starting a skincare routine can be quite daunting, with lots of different products and ingredients to look out for, therefore it may help newbies to know what other men around the world are using as a starting point.
We analysed the search volumes of skincare ingredients most frequently found in skin products for men, discovering which ingredient was the most popular across the world.
At the top is the holy grail of skincare ingredients, Vitamin C. This ingredient was the most popular in a whopping 40 countries. Following closely behind are the likes of Collagen, Biotin, AHAs and Retinol. But what are these ingredients and what are they good for?
Vitamin C is a multi-functional ingredient as it promotes collagen production, which has the potential to thicken the dermis, diminish fine lines, and is essential for firm and youthful skin. It is also an antioxidant which means it protects skin cells from getting damaged by UV exposure.
Collagen can help improve the elasticity of your skin as well as reducing visible wrinkles and increasing blood flow to the skin. This means that it prevents our skin from sagging, giving us that youthful and plump look that we all want.
Biotin is an essential vitamin that gives not only your skin but also your hair and nails, an added glow to make you look younger and healthier.
AHAs are commonly used within anti-aging skin care products as they aid in reducing signs of aging, whether that's wrinkles, fine lines or dark spots. They also help improve the texture of your skin and its elasticity.
Retinol is a multi functional skincare ingredient that helps with a plethora of skin problems such as reducing fine lines and wrinkles, fading age spots, improving skin colour and softening rough patches of the skin.
Male skincare concerns and how to solve them
LOOKFANTASTIC skin experts have also revealed how to solve some of the most common male skincare concerns.
Acne
If you are a fan of the clean shaven look, make sure you are changing your razor regularly to avoid a build-up of bacteria, we love the BullDog sensitive skin blades, so you always have one to hand.
Introduce Salicylic Acid into your routine to prevent breakouts, salicylic acid gets deep into the pores to break down any debris, oil and dead skin cells that can trigger acne. Do a patch test for 24 hours before using. Either choose a cleanser that contains salicylic acid such as the Tik-Tok famous CeraVe SA Cleanser or as a targeted treatment such as the Origins Super Spot Remover Blemish Treatment Gel.
If you are a serial picker, you may also want to invest in the widely popular spot stickers, like the Cosrx Acne Pimple Master patch. These skincare ingredient infused patches work their magic overnight to help reduce the inflammation of spots, healing them quicker and preventing the temptation to pop a spot and push more bacteria under the skin.
Razor Burn Tips
Use shaving cream to reduce the irritation between the razor and the skin, we recommend the Elemis Men Ice Cold Foam Shaving gel which helps reduces redness and irritation while moisturizing the skin and contains Witch Hazel to purify calm the skin
Exfoliate to remove the dead skin cells and prevent razor burn. Add the Nip and FabGlycolic scrub which contains Glycolic Acid to your skincare routine to exfoliate the skin and you can also add a Salicylic Acid product to exfoliate deeper in the pore.
Dry Skin
Use a moisturiser to reduce water loss within the skin, the first aid beauty ultra repair cream brings immediate comfort to tired, itchy, and flaky skin.
Apply Hyaluronic Acid to damp skin. Hyaluronic Acid holds up to 1000x its weight in water so this will help with water retention within the skin. We recommend the Avene thermal spring water, as it also has soothing properties
Also, always use a day cream with SPF, sunburn and dry skin are not a pleasant mix. As sunnier days approach, consider investing in an SPF-infused moisturiser. CeraVe facial moisturising lotion which has SPF 25 is ultra-hydrating too.
Haircare for men
Matrix is the most popular haircare brand, topping the list in 45 countries!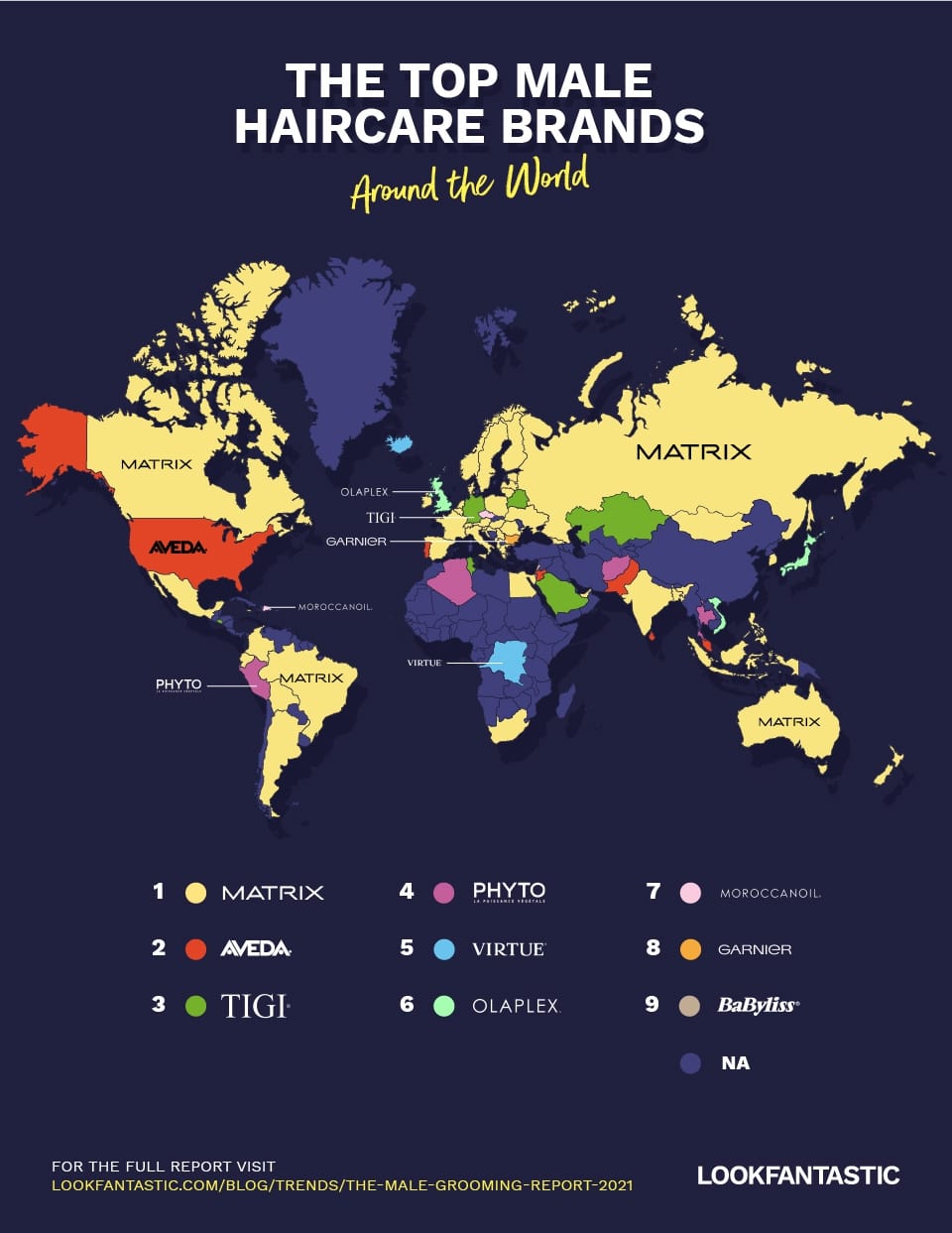 "Some of the worst mistakes in my life were haircuts" - Jim Morrison
Haircare matters to most men, but which hair care brands do they turn to? According to the data, the most popular haircare brand is Matrix, which comes out top in 45 countries across the world and is a firm favourite in the likes of Australia, France, and Italy.
Coming in second is Aveda, an industry go-to for high-performance and quality hair care products. The brand came top in eight countries across the globe including the United States and Portugal. The iconic brand TIGI, founded by award-winning hairdresser Anthony Mascolo, placed third. Mascolo's brand was the most popular in seven different countries including Germany and Tunisia.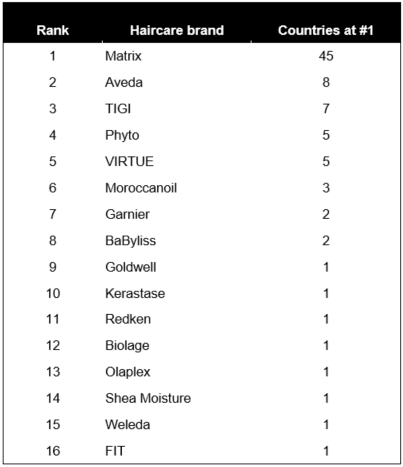 Zayn Malik has the most coveted 'do in the world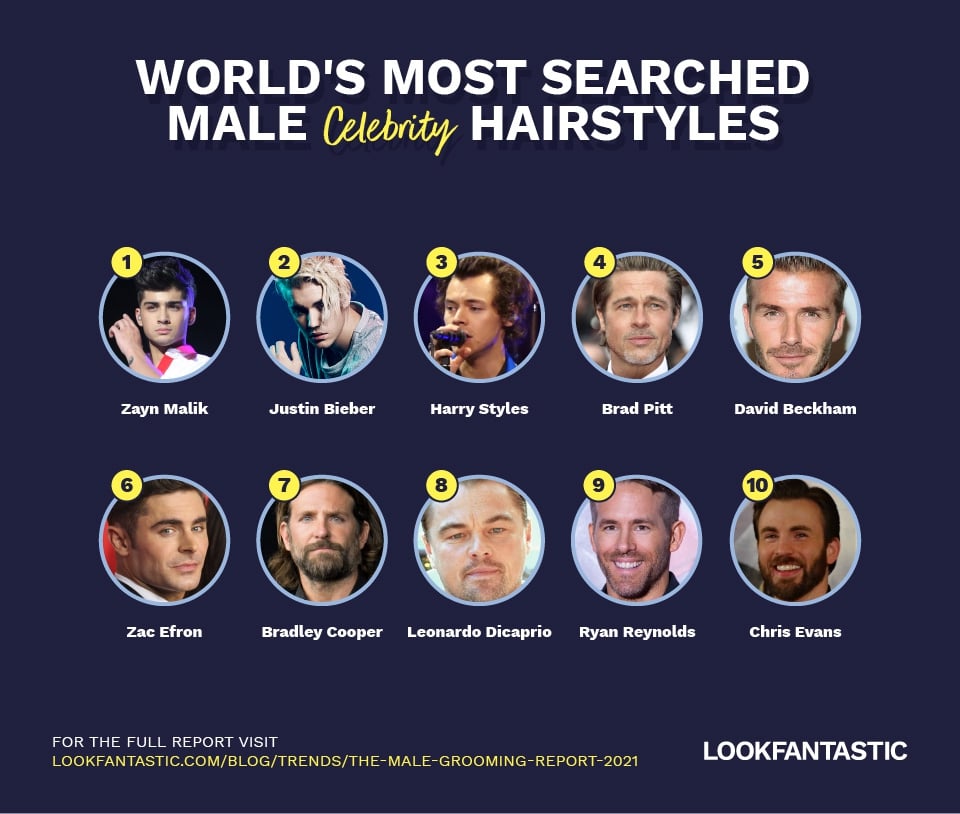 Now that we have the products nailed, we wanted to find out which hairstyles were the most on-trend. According to our analysis, ex-One Directioners are providing men with the most hair-inspo. Zayn Malik's hairstyle was by far the most popular with over 707,000 searches, followed by Harry Styles' quiff coming in third with 442,300 annual searches. However, second place goes to Justin Bieber who, during his Baby-era, made teenage boys across the world desperate to replicate his look. He has 553,000 searches each year for his hairstyles.
Male celebrity hairstyles which receive the most annual searches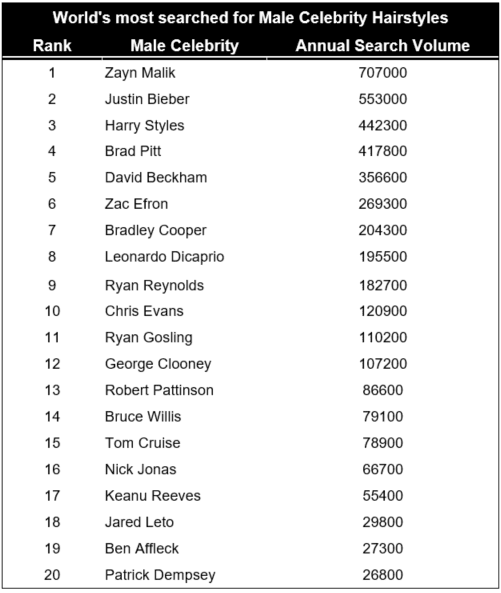 The top 20 features a surprising male celeb, Bruce Willis who has famously been rocking a bald head since the 90s. We're not sure if his appearance on the list is due to fans of his Die Hard 'do or other bald men simply checking out a celeb who is rocking the hairless look.
Beard envy: Zac Efron leads the pack when it comes to impressive facial hair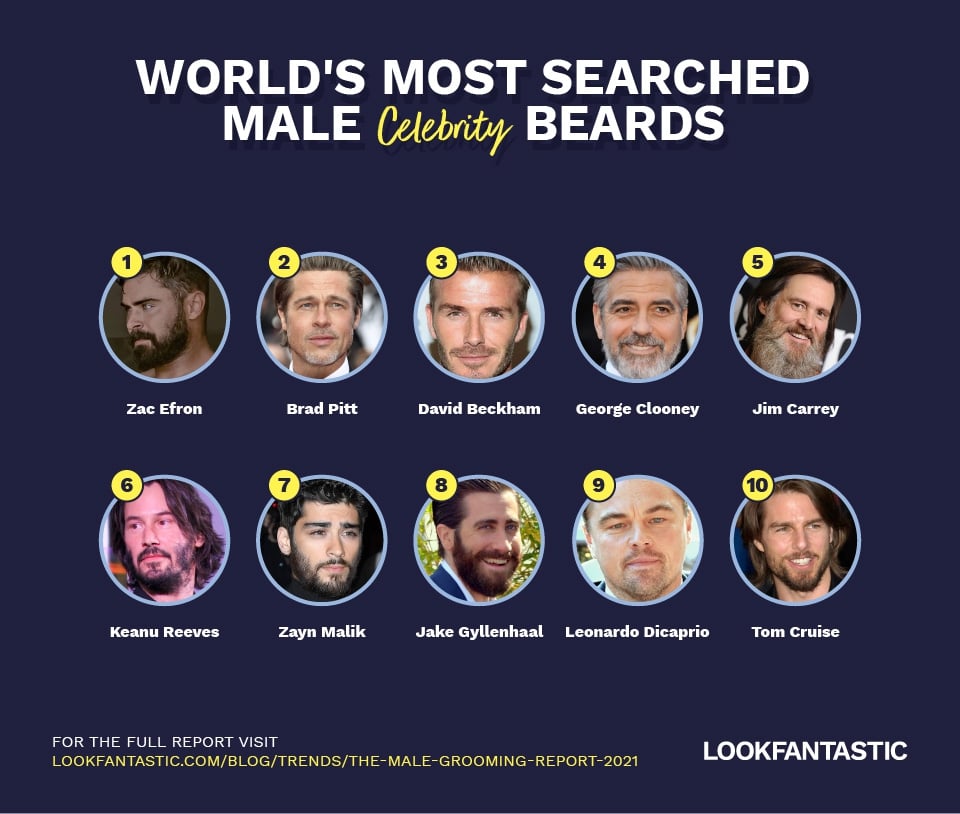 Although the younger celebrities might be the most searched for for their hairstyles, when it comes to enviable facial hair it's predominantly the older gents who are racking up the searches.
Zac Efron reigns supreme at the top of the list with 172,400 searches per year for his facial hair, which is unsurprising after the internet went wild for his beard in his recent Netflix documentary Down To Earth. Coming in second and third are the more matured heartthrobs Brad Pitt with 114,200 searches and David Beckham with 88,600 searches.
Male celebrities with the most annual searches for their beards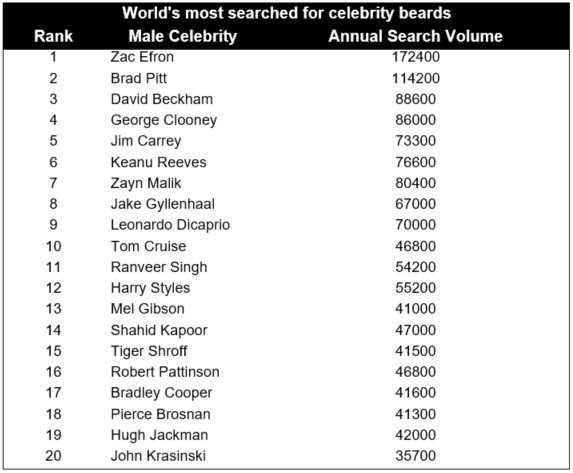 Goatees are the G.O.A.T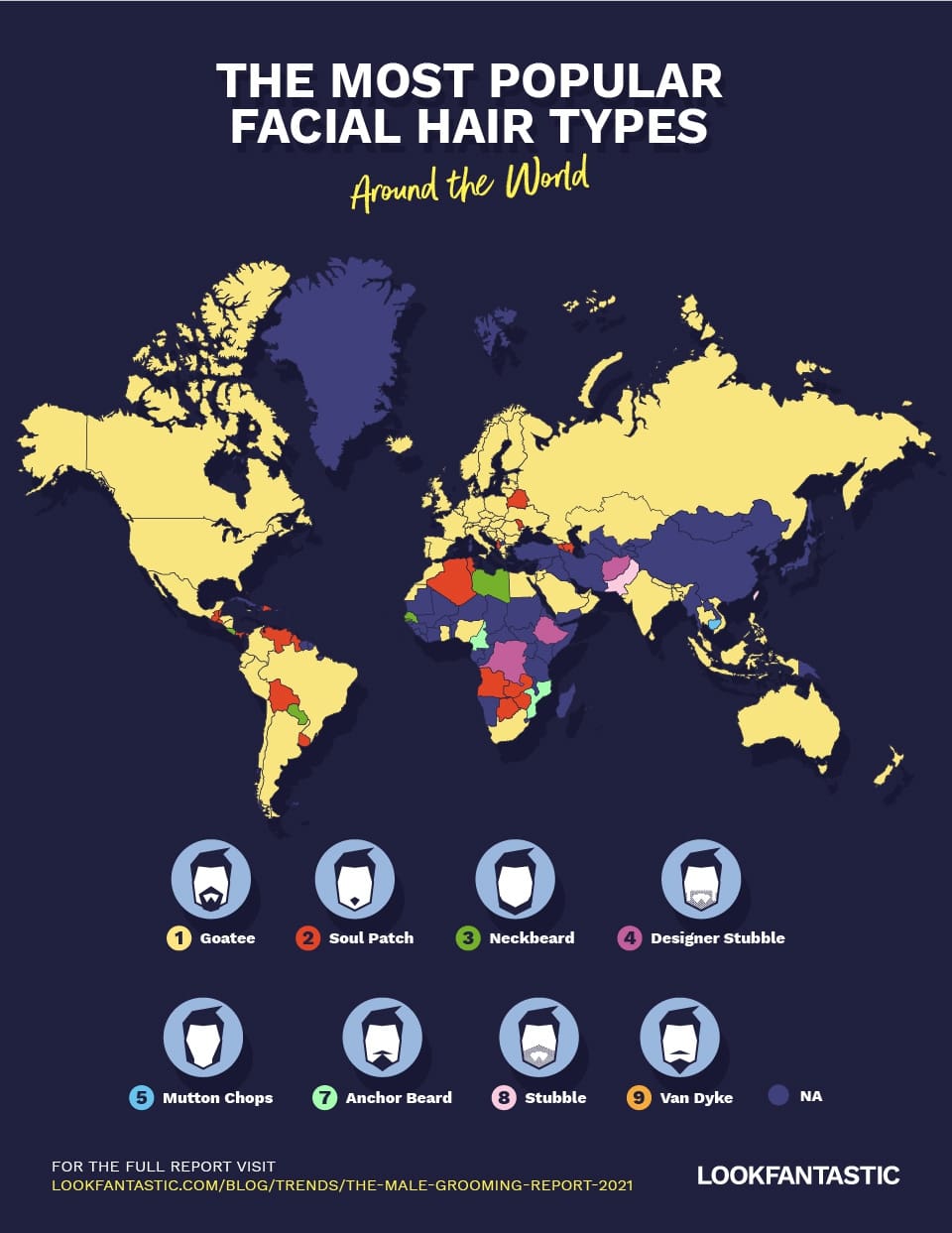 The most popular facial hairstyles across the world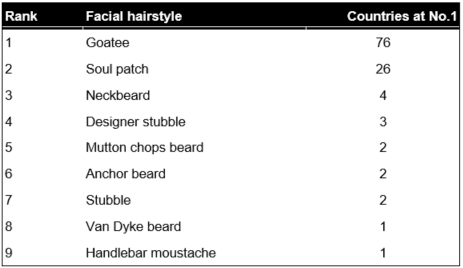 When it comes to facial hairstyles, there are lots to choose from, from a bit of wild stubble to Robert Downy Jr's famous anchor beard  - but which is the most popular across the world?
According to the data, the style that comes in first is a goatee - donned, at one time, by the likes of The Rock, Brad Pitt, and Ryan Gosling, it's the favourite in 76 countries. Coming in second is another surprising one, the soul patch which came into prominence in the 1950s and 1960s, and is apparently still one of the most popular styles in 26 different countries.
How to get the perfect shave
If you are the type of man that likes to remain fuzz-free, we have put together a quick guide to how to build a routine that will become second nature to you:
Step 1 - WARM AND SOFTEN SKIN
Preparation is key when it comes to shaving. Make sure you wash your face thoroughly before with hot water or drape a hot towel over it in order to open up your pores and loosen your hair which will make for a smoother shave.
Step 2 - SHAVING CREAM
We recommend investing in a good quality shaving cream that's not only thick but also moisturising. Make sure you massage the cream with your hands using an upward circular motion - this will lift hairs so that your razor can glide smoothly over the skin.
RECOMMENDED PRODUCT: Taylor of Old Bond Street Shaving Cream Sandalwood, £10.95
Step 3 - GO WITH THE GRAIN
Shaving against the grain means you could risk irritating your skin as well as encouraging ingrown hairs, so make sure you follow the grain when you shave to avoid these problems.
RECOMMENDED PRODUCT: Bulldog Sensitive Bamboo Razor, £12.00
POST-SHAVE
The most important step is the last one - what you put on your face afterwards. We recommend using an oil-free moisturiser or a post-shave balm in order to keep your skin nourished and soothed.
RECOMMENDED PRODUCT: Natio For Men Calming Aftershave Balm, £7.20
Gentlemen, it is never too late to start a grooming routine. Check out our men's skincare and men's hair care and start looking after you!
Methodology
In order to determine the most popular skincare brand and ingredient, as well as hair care brand, the brands and ingredients listed under the male skincare category on LOOKFANTASTIC were used and the search volume for each in every country that allowed results was analysed.
The analysis included 246 skincare brands, 46 skincare ingredients and 92 haircare brands.
The most popular male celebrity hair and beard was found by using a tool and entering "male celebrity hair" and "male celebrity beard" and analysing the full list to determine the top 20.
Most popular facial hairstyles were determined by gathering a list of 39 facial hair types and analysing the search volume in every country.

Our team of beauty experts cover everything from makeup to skincare, picking out the most effective products from the best brands and latest trends. Stay up to date on everything beauty with the LOOKFANTASTIC blog, and find all your essentials in one place.