Looking good and smelling amazing has never been easier thanks to the LOOKFANTASTIC Scent Edit.
This National Fragrance Week, unlock the magic of these 6 luxurious Eau de Parfums in The Scent Edit today to discover your new signature scent. From floral aromas to musky notes, there's a complete sensory delight to be experienced with these eponymous perfumes. Sample each one at your own pace, yours for just £55! And with every purchase, you'll receive a £55 voucher inside the box - redeemable on the full-size fragrance of your choice!
Unleash the magic of scent with this complete collection…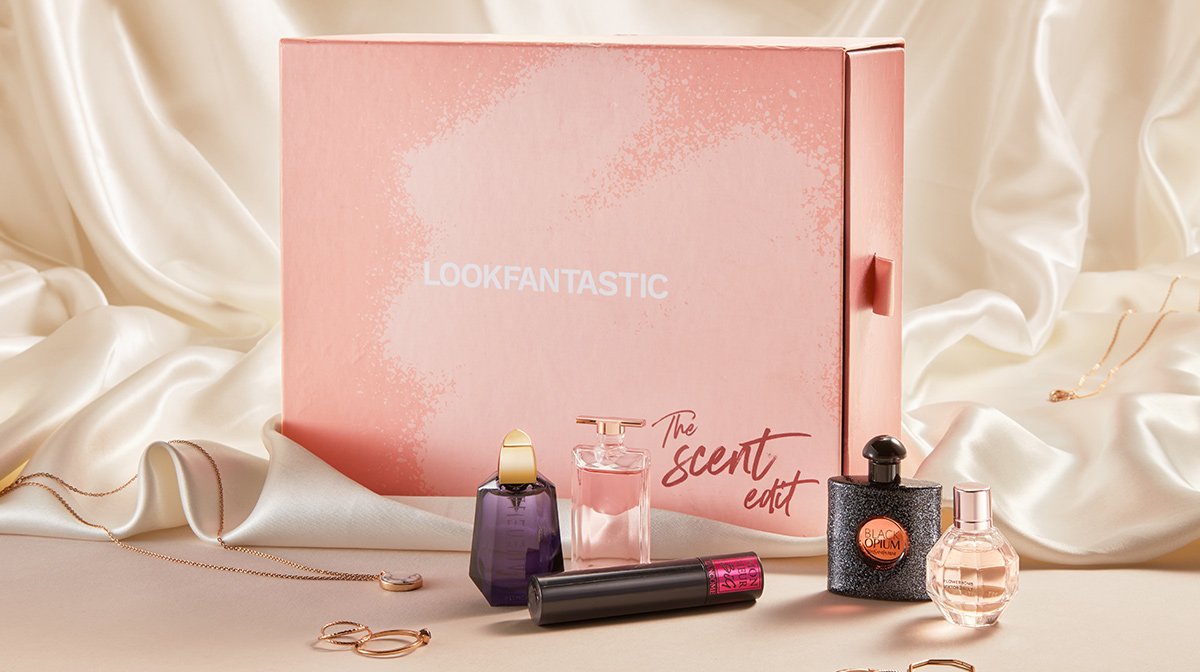 What's in the Box:
Mugler Alien Eau de Parfum- 6ml
This intensely feminine fragrance transports you to another world. Sambac Jasmine intoxicates the senses with warm, mystical scents, whilst Cashmeran Wood envelopes the skin in a warm, musky note. Finally, White Amber lifts the fragrance with elegance and spark, leaving a lasting impression.
YSL Black Opium Eau de Parfum Miniature- 7.5ml
Addictive and captivating, this perfume invites you into a sensual world of Black Coffee and Creamy Vanilla, encapsulating the bold, adventurous nature of the modern woman. The heart notes of Orange Blossom and crisp White Flowers invigorate the senses – a perfect complement to the deeper notes of Coffee and Patchouli in the base, which give this perfume its flair.
Viktor & Rolf Flowerbomb- 7ml
Unleash a floral explosion Viktor&Rolf's iconic Flowerbomb Eau de Parfum. An addictive combination of floral notes and warm woody undertones creates the ideal perfume for sensory bliss. Tea, Bergamot and Freesia provide the top notes for the scent, with an intense and rich undertone of Cashmeran and Patchouli.
Lancome Idole- 5ml
The luminous floral heart of this fragrance lends subtle notes of Patchouli Essence, Cedar Essence and Vanilla Extract creating a dewy, yet radiant freshness. Sustainably sourced Rose Essence create a fresh and elegant floral infusion. Light enough for daytime wear, this fragrance is truly the embodiment of modern, empowered femininity.
Lancome Mr. Big Mascara- 2ml
This ultra-creamy formula delivers an instant volume that lasts all day. An oversized fibre brush takes your eyes to the next level, appearing bigger and more intensified with amplified density and unparalleled fullness. Even better, there's no need to touch up with up to 24 hours of volumized lashes.
PLUS- Two surprise Eau de Parfum samples included in every box!
Not subscribed yet? Subscribe today. Shop the LOOKFANTASTIC Scent Edit Here.
As the Beauty Editor for LOOKFANTASTIC Beauty Box I'm always hunting for a good beauty story, I like to remain ahead of the trends. But aside from this, I'm a keen reader and writer in my spare time. You'll find me with my head in a good book most of the time- Beauty & Fashion related or otherwise! You'll often find me obsessing over the latest tropical-scented body oil or lathering on the coconut moisturiser. As you may have already guessed, I have a natural affinity for all things tropical. Beauty and grooming for me is escapism, a little slice of heaven away from the day-to-day.