With the help of the lookfantastic December Beauty Box...
With party season in full swing, lookfantastic are here to add that extra bit of sparkle to your festivities – and what better way than with our December Beauty Box, complete with 6 beauty products to help get you all glammed up!
We hope you're loving everything inside...but if you haven't had the chance to get your hands on it, don't worry! Subscribe today - we promise you won't be disappointed!
If you're struggling to decide what party makeup look to go for this Christmas (or maybe you have so many parties to attend you need to switch things up!), the lookfantastic December Beauty Box has got you covered. Whether you're looking for a full-glam eye look, or perhaps something more toned down and natural, the Sleek I-Divine Palette found in your Beauty Box is here to help. Here's how…
Sleek MakeUP I-Divine Palette in Au Naturel -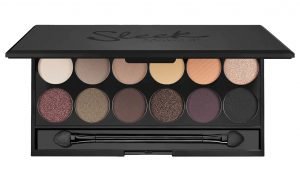 If you received the Au Naturelmakeup palette in your December Beauty Box, here's our guide to achieving a beautiful, natural glam look – suitable for all skin tones and eye colours.
Step 1: Dip a blending brush into the shade Cappuccino¸ and blend through your crease using windscreen wiper motions.
Step 2: With a smaller, more defined blending brush, blend Nubuck through the outer V of your eye to slightly darken.
Step 3: Take Honeycomb all around the eye area, right up to the eyebrow to blend everything together.
Step 4: Using a flat brush, pack Taupe all over the eyelid for that vital bit of Christmas sparkle!
Sleek MakeUP I-Divine Palette in Oh So Special - 
Are you a lover of copper and orange shades? If so, this is the look for you! The Oh So Special palette is great for a more warm-toned glam.
Step 1: Start by mixing shades 3 and 9 on a blending brush, tap of the excess and work into the crease.
Step 2: For added depth, take shade 10 on a smaller brush and blend through the outer V.
Step 3: Pack shade 4 all over the lid with either a brush or your finger.
Step 4: With a big blending brush, take shade 9 again and blend out the edges, right up to the eyebrow.
Step 5: Using your finger, sweep shade 2 under the brow bone and on the inner corner of your eye.
Sleek MakeUP I-Divine Palette in Goodnight Sweetheart - 
If cool-toned glam is more your thing, then the shades in Goodnight Sweetheart might be more your cup of tea – think pinks, purples and silvers...
Step 1: With a blending brush, take a small amount of shade 3 + 8 and blend through the crease. Deepen the outer V with shade 10 if desired.
Step 2: With a flat brush (or finger) pack shade 7 on the outer half of the eyelid, then shade 6 on the inner. Don't forget to make sure the two colours are blended together in the centre part of your eye!
Don't forget to finish all eyeshadow looks with the Eyeko Black Magic Liner and Eyelure 117 Fluttery Light Lashes (also in your December Beauty Box!)