It's fair to say that the classic cat-eye flick has dominated eyeliner trends for years. But whilst this chic style will never go out of fashion, in recent times, people have begun to experiment with their eye looks more than ever. If you're looking to spread your (liner) wings and try a new style this season, we've put together a list of some of the hottest styles you can try yourself at home.
Brown liner
Switching up your shade is a super simple, yet effective way of transforming your liner for a softer look. Stepping away from the harsher black and opting for a muted brown tone creates a more subtle style that is perfect for day to night wear.
Not only is brown liner more likely to compliment your eye colour, but it can also open up your eyes rather than making them look more narrow. Don't like doing a precise flick? Try using a brown pencil liner and smudging it around the edges for a perfectly 'undone' look.
What you need:
The ideal way to jazz up your classic flicks for party season, adding a layer of gold glitter along the top of the liner is a quick fix to make your eyes really pop! Whether you're a gold glam girl or a sparkly silver lover, this trick works with any glittery tone you like.
To get your sparkle looking sharp, spritz a precision brush with a setting spray and dip into your favourite shadow before applying. This will prevent fallout and make for a super pigmented finish!
What you need:
If the conventional cat eye feels a little boring to you, you can add a touch of drama to your look simply by altering the placement of your liner. Instead of running along the waterline and extending out into a flick, try taking your liner right up to the brow bone.
Not only will this open up your eye and create the illusion of larger lids, but you can afford to be a little less precise, cutting out hours of sitting in front of the mirror with a Q-tip trying to make those pesky flicks match up!
What you need:
Why have just one flick when you can have two? This layered trend is a great way to incorporate some colour into your eye looks. Whether you love pairing pastels or neon tones are your thing, all you need for this look is two colours you love and a (fairly) steady hand.
You can create this trend by running the liner along the waterline, or if you want to take it to new heights, try drawing the liner just underneath the brow bone for a more dramatic look.
What you need:
For lovers of an intricate liner look, this reverse liner trend is perfect for you! Instead of using the liner to create the colour, you 'line' your lids by removing colour in funky patterns.
Whilst it might seem complicated, this look can be easy to achieve. Simply start by drawing a pattern of your choice on your lids using eyelash glue. Once dried, colour your lids however you please with your favourite shadow palette. Then, simply start peeling away the lash glue carefully to reveal a clean line of colour!
What you need: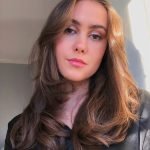 As someone with an affinity for all things beauty, discovering fantastic new products is my not-so-secret obsession. Over the years I've tried and tested a mountains worth of creams, serums and cleansers, finding some of my favourite 'holy-grail' products along the way. However, I'm always on the lookout for more ways to nourish my hair, perfect my dewy base, or enhance my skincare routine. Working as a beauty blogger for over 3 years, I've been lucky enough to collaborate personally with lots of amazing beauty brands including Christian Dior, The Body Shop and Dermalogica. I've used the Dermalogica special cleansing gel religiously since I first got it and their products are some of my ultimate skincare faves. When it comes to cosmetics, NARS Sheer Glow foundation is definitely my go-to - I live for a light, glowy base!